Tournament of Stars underway in North Carolina
Six-day event brings over 100 top high school players together, runs through Sunday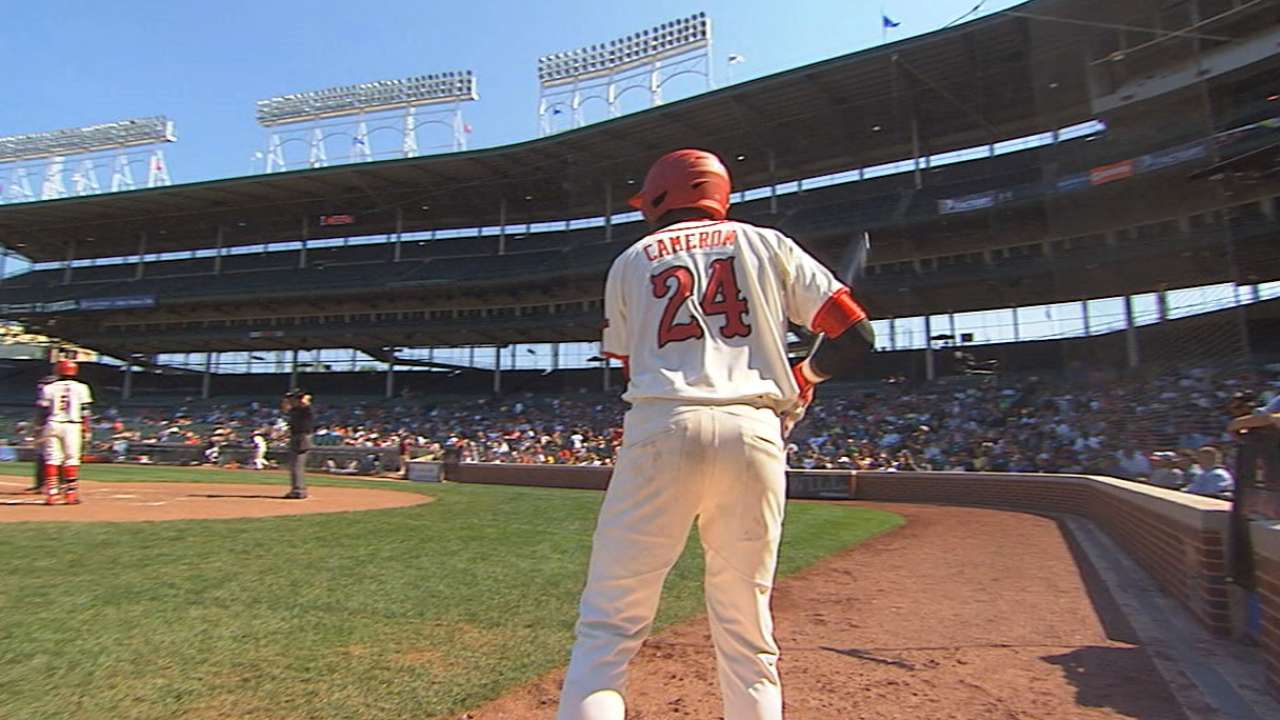 The summer showcase circuit is now in full swing.
Perfect Game held its annual National Showcase last week. This week, the scouting industry turns its attention to USA Baseball's Tournament of Stars.
The six-day event, held at the National Training complex in Cary, N.C., brings over 100 of the top high school players in the country together. The vast majority are those who will make up the top prep prospects for the 2015 First-Year Player Draft, which is why scouts flock there to get a nice long look at the talent.
"It's good to get the early look," Reds scouting director Chris Buckley said. "It's a good event. I always have guys there. We have plenty of guys there, getting all the names, starting to work on the next [Draft]."
There are several top 2015 Draft-eligible players for scouts to get an early look at, including Daz Cameron (son of former big leaguer Mike), who might be the top prep position player in the class. Also participating in the event are Nolan Kingham, a right-hander whose older brother, Nick, is No. 89 on MLB.com's Top 100 Prospects list; Nicholas Shumpert, the son of Terry, who spent parts of 14 years in the big leagues; and Stephen Kolek, who just saw his brother Tyler go No. 2 overall in the recently completed Draft.
The Tournament of Stars began with an evaluation day on Tuesday, where all players were put through their paces, running 60-yard dashes, taking infield/outfield as well as batting practice. Games began Wednesday morning. The six teams play three games each during pool play, with games at 10 a.m., 1 p.m. and 4 p.m. ET on Wednesday, Thursday and Saturday. Friday is held open for a second evaluation day. The event finishes on Sunday with medal games. The gold medal game is at 12:30 p.m.
There are several ways to follow the Tournament of Stars action. For the first time, games at the Tournament of Stars will be streamed live at USABaseball.com. During pool play (Wednesday-Saturday), the 10 a.m. and 4 p.m. games will be broadcast live on USABaseball.com, with streaming action concluding with the gold-medal game at 12:30 on Sunday. USABaseball.com also has live stats for every game. There are also real-time updates on Twitter using the hashtag #TOS14USA.
The Tournament of Stars is much more than just a showcase for scouts. USA Baseball uses the event for its own evaluation to help form the National 18 and Under team that will compete at the COPABE 18U Pan American Championship early this fall in Lagos de Moreno and Aguascalientes, Mexico. That message was conveyed loud and clear to all of the players at a meeting at the start of the event.
"While there will be upwards of 200 pro scouts, agents and college recruiters at the TOS, this is NOT just another 'grand' stage/showcase," Ray Darwin, the interim 18U National Team Director, told the players. "This is the nation's premier opportunity for the 18U players as USA Baseball assembles the country's best ballplayers, to select the best team, to represent the world's greatest nation, in the earth's greatest game -- baseball. This is where baseball and passion intersect, and it is truly a once-in-a-lifetime opportunity."
The initial group of 108 players will be whittled down to 40 by Sunday. In late August, the 18U National Team trials will take place to get that group down to the final 20-player roster that will head to Mexico. Head coach Andy Stankiewicz will work with new 18U team director Shaun Cole and others in the USA Baseball family to make those decisions.
"It's very hard, especially with the talent we have here," Stankiewicz said during a break from Tuesday's evaluation. "We're facing some tough decisions, but it's to be expected when you have identified players from across the country as the elite in their class."
"From an evaluation standpoint, all these guys are extremely talented," Cole said. "But how do they act when they fail? Those are the dynamics we have to evaluate."
Jonathan Mayo is a reporter for MLBPipeline.com and writes a blog, B3. Follow @JonathanMayoB3 on Twitter. This story was not subject to the approval of Major League Baseball or its clubs.