Gausman great as O's down Rays
Young righty earns third straight win since his latest callup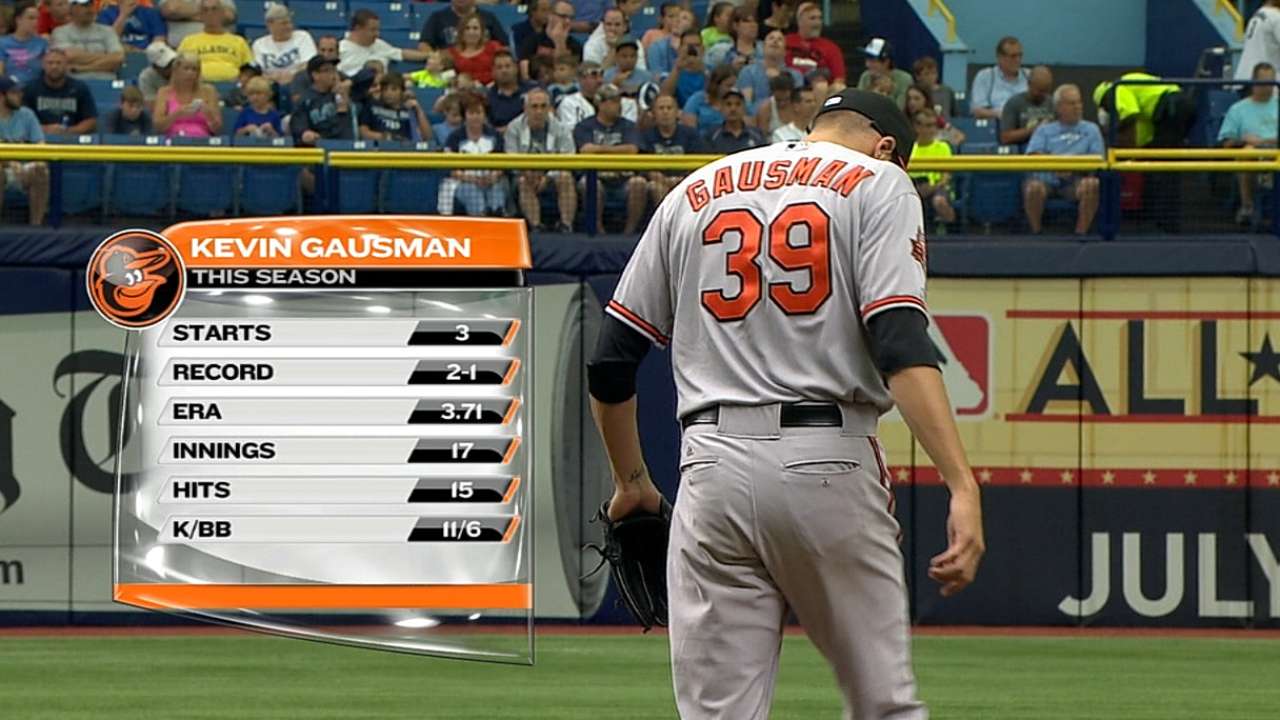 ST. PETERSBURG -- With the Orioles currently harboring six starters -- something manager Buck Showalter has said will sort itself out -- one thing has become incredibly clear: rookie Kevin Gausman isn't going anywhere.
The 23-year-old -- who was recalled from Triple-A for a second time to start on June 7 -- turned in his third consecutive impressive outing on Wednesday afternoon, with a career-high 111-pitch performance over six scoreless innings. Gausman's gem -- which could have unraveled in a bases-loaded first -- coupled with a two-out RBI double from red-hot Steve Pearce and Nelson Cruz's 22nd homer was enough for the O's to edge Tampa Bay, 2-0, to cap off a series win.
"What a great job by that guy," catcher Caleb Joseph -- who celebrated his 28th birthday -- said of Gausman's first-inning escape effort. "He continued to make quality pitches over and over and over. Sometimes with a guy with less maturity you will see them leave the ball over the middle and that's where the damage is done. But he kept battling and battling. Even when the first guy got on, the second guy got on, he still made quality pitch after quality pitch."
There were several borderline pitches in that first inning, but Gausman was able to keep his cool, recording a pair of strikeouts, both on a split-changeup, and getting David DeJesus to fly out.
"Honestly, I tried to dig deep right there and I was kind of thinking, 'OK, I'm going to need my best stuff this inning whether I blow out later in the game and get tired, this is big, I need to get a zero right here,'" Gausman said. "That's really all I thought about."
It was a huge lift for Baltimore, which improved to 7-1 over Tampa Bay this season, and showed just how far Gausman has come since his rookie year last season. Gausman has pitched to a 0.94 ERA and is 3-0 since his latest promotion, holding the Rays to five hits and a walk in Wednesday's win.
"It's frustrating," Showalter said of the borderline pitches in the first inning that helped load the bases on a walk, infield single and an error.
"What are you going to do? Quit? He knows [Alex] Cobb's pitching. He knows runs are going to be at a premium. A lot of guys, as soon as they get the first out, they get a little bit in swing mode. There are so many borderline pitches, if that. He didn't just get caught up in that. Hats off to him. I don't know if I could have done it. I was getting ready to join the clubhouse guys."
Gausman was able to rebound nicely from the 35-pitch first, having only one clean inning but getting a double play to end the second and pitching around a one-out single and wild pitch in the fifth.
"After the [first] inning, that's what [pitching coach] Dave [Wallace] and Caleb both came and said to me, 'Don't worry about what's going on behind the plate. Just make your pitches and guys are going to be swinging,'" Gausman said. "They were pretty aggressive so I felt like I got some strikes that way. That's just part of the game."
At 92 pitches to start the bottom of the sixth inning, Gausman gave up a leadoff double to Evan Longoria on the eighth pitch of the at-bat to spur some bullpen activity. But he struck out James Loney and got a huge break when Ben Zobrist flied out on his 111th pitch, and Longoria was doubled up, running full bore for a puzzling inning-ending double play.
"Just a mental mistake," said Longoria, who thought there were two outs. "It's something that can't happen. I told [Rays manager Joe Maddon] it looks great if it bloops in accidentally and we end up scoring a run there, but it looks terrible when you run into the third out, you get doubled up with another guy potentially able to drive you in there with two outs. Those are the things that we've been trying to preach around here to not let happen. I'm disappointed in myself that it did today. It just can't happen. That's all."
Longoria's mistake was enough to get Gausman through six innings, and right-hander Tommy Hunter followed with a perfect six-up, six-down to bridge to closer Zach Britton, who improved to 9-for-10 in save opportunities.
"His main pitch is the fastball. When he commands that pitch, he's unbelievable, like today," Cruz said of Gausman. "And also Tommy. We need him badly and it was nice to see him pitching that well today. I think, for his confidence, it was good."
Pearce continued to reward Showalter's confidence, coming up clutch again for the Orioles. Fresh off a big two-run homer in Tuesday's 7-5 win, Pearce watched Nick Markakis reach on a two-out error from second baseman Zobrist and then drilled Cobb's offering into the right-field corner for an RBI double. Pearce, who advanced to third on Matt Joyce's errant throw, raised his average to .324 with a large group of family and friends on hand to watch the Lakeland, Fla., native.
The unearned run was the only run Cobb would allow over seven dominant innings, as the Rays' righty struck out six and allowed four hits.
Cruz greeted reliever Kirby Yates with a one-out solo shot in the eighth inning that hit off the catwalk in fair territory to push the O's lead to two. Cruz, the Major League leader in homers and RBIs, raised his totals to 22 and 58, respectfully.
"We're playing pretty good baseball the last few weeks," Cruz said. "Facing the top pitchers ... and to be able to come up with a W, it was important."
Brittany Ghiroli is a reporter for MLB.com. Read her blog, Britt's Bird Watch, and follow her on Facebook and Twitter @britt_ghiroli. This story was not subject to the approval of Major League Baseball or its clubs.