Abreu, Dunn slug White Sox past Giants' Hudson
Two-run HR, three-run shot open cushion; Sale improves to 6-1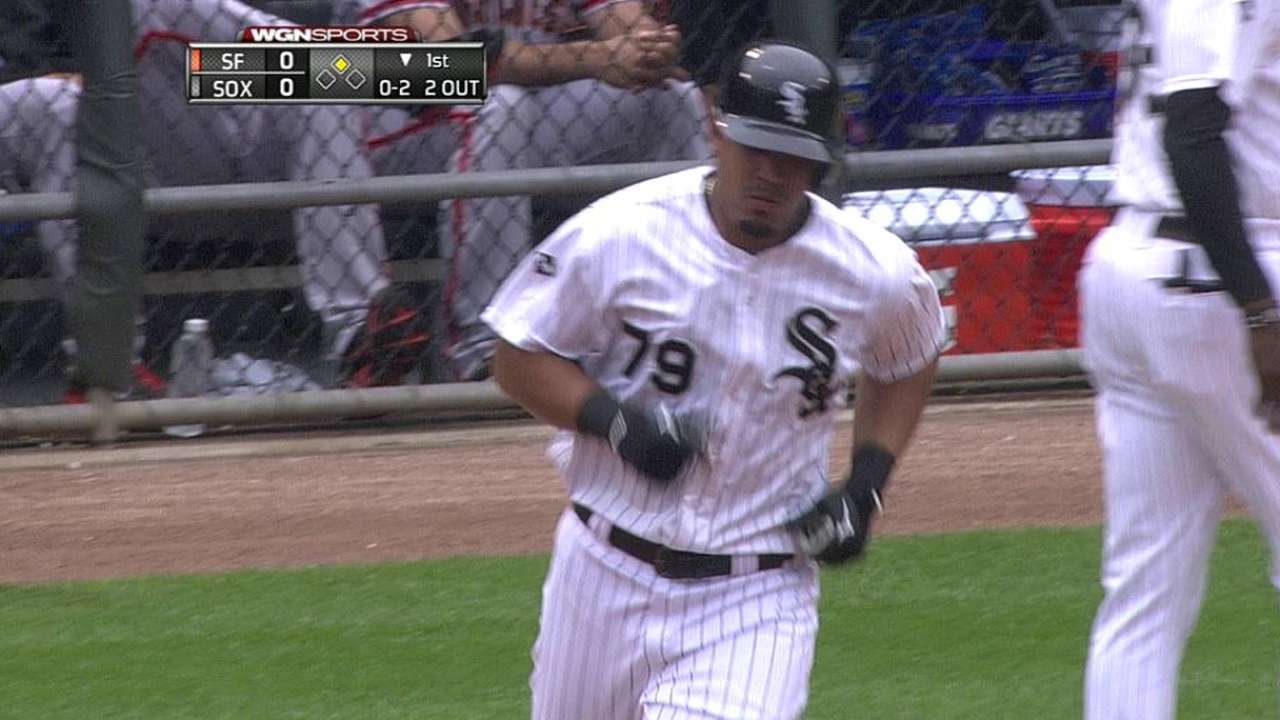 CHICAGO -- However mild it may have been, it was the first bit of bad publicity for Jose Abreu since he joined the White Sox.
For the second time in two games, the rookie sensation did not run out a play that was an easy out. A frustrated Abreu swung and missed on a dropped third strike on Tuesday, and opted not to run to first. Immediately upon Abreu's return to the dugout, bench coach Mark Parent and manager Robin Ventura lectured the Cuban transplant. When asked about it Wednesday morning, an emotional Abreu made it clear the issue was behind him.
Wednesday afternoon, Abreu wasted no time putting aside any lingering frustrations from the previous day. He obliterated a Tim Hudson changeup in the first inning for his 20th home run, making him the third-fastest player to reach that mark in MLB history. That two-run blast, along with a three-run shot from Adam Dunn, proved to be the difference as the White Sox won both games of their two-game set against the Giants with a 7-6 victory at U.S. Cellular Field.
"I never though of any record breaking or anything like that," said Abreu through manager of cultural development Lino Diaz. "I was just concentrating on coming in and doing my job daily, and I'm fortunate enough that things have happened and, once again, I've just got to thank God for that. I've continued to do the things to help the White Sox win."
Abreu reached the 20-homer plateau in 58 career games, a pace that trails only Mark McGwire (56 games) and Wally Berger (51 games). He also became the third-fastest in franchise history to 20 home runs in a single season, behind Jim Thome (49 games in 2006) and Frank Thomas (46 games in 1994).
Even more impressive is that Abreu's homer came on an 0-2 pitch -- a hanging changeup on the inner half of the plate -- that was also the third pitch of the at-bat. The 38-year-old Hudson had allowed a home run in that scenario only twice before.
"You never know what you are going to get, whether it's a 3-for-4 night with two singles and a double or homers or how far they are going to go or anything like that," said starter Chris Sale. "It's fun to watch him learn as quickly as he has and really just dominate the game in his first year."
Following leadoff singles by Conor Gillaspie and Abreu to open the fifth, Dunn jumped on another 0-2 Hudson pitch -- this time a high fastball -- and sent it 402 feet into the seats in right for a 7-2 Sox lead. It was the 452nd homer of his career, tying him with Carl Yastrzemski for 35th on the all-time list.
The home runs by Dunn and Abreu, along with a two-run single in the fourth by Tyler Flowers that snapped an 0-for-25 skid, were just enough to make a winner out of Sale. He picked up his sixth quality start and third in his last four outings by allowing three earned runs in six-plus innings.
"He was erratic. I think he was forcing it on occasion," Ventura said. "He didn't quite have the location that he normally has. Getting it back in the middle of the plate, he was probably just trying to throw strikes at some point. He's still a good pitcher. You sit there and split hairs over that, but he at least gets you to the spot where you need to be."
San Francisco made things interesting in the final three innings. Buster Posey made it 7-3 with a sac fly in the seventh, but the visitors left the bases loaded The Giants pushed across two more in the eighth on Gregor Blanco's double and Hunter Pence fielder's choice, and cut the deficit to 7-6 in the ninth on Tyler Colvin's sacrifice fly. Closer Ronald Belisario left the tying run on base by getting Ehire Adrianza to fly out to center.
That final out secured Chicago's second straight victory following a four-game losing streak. After being swept by the Royals over the weekend, the White Sox took both games from a team that, even on a 1-8 slide, is tied for the best record in the National League (with Milwaukee, which played later Wednesday).
"Our guys, they're tough. They just keep grinding," Ventura said. "We know we didn't play well against KC, but put it behind you and you keep going. The schedule keeps going and it doesn't stop.
"If you want to look in the rearview mirror and wallow on that, you're going to get beat a lot more. These guys seem to stay with it and grind it out."
Joe Popely is an associate reporter for MLB.com. This story was not subject to the approval of Major League Baseball or its clubs.