Hudson roughed up before spirited rally falls short
Former ERA leader allows seven runs in 4 2/3; club drops fifth straight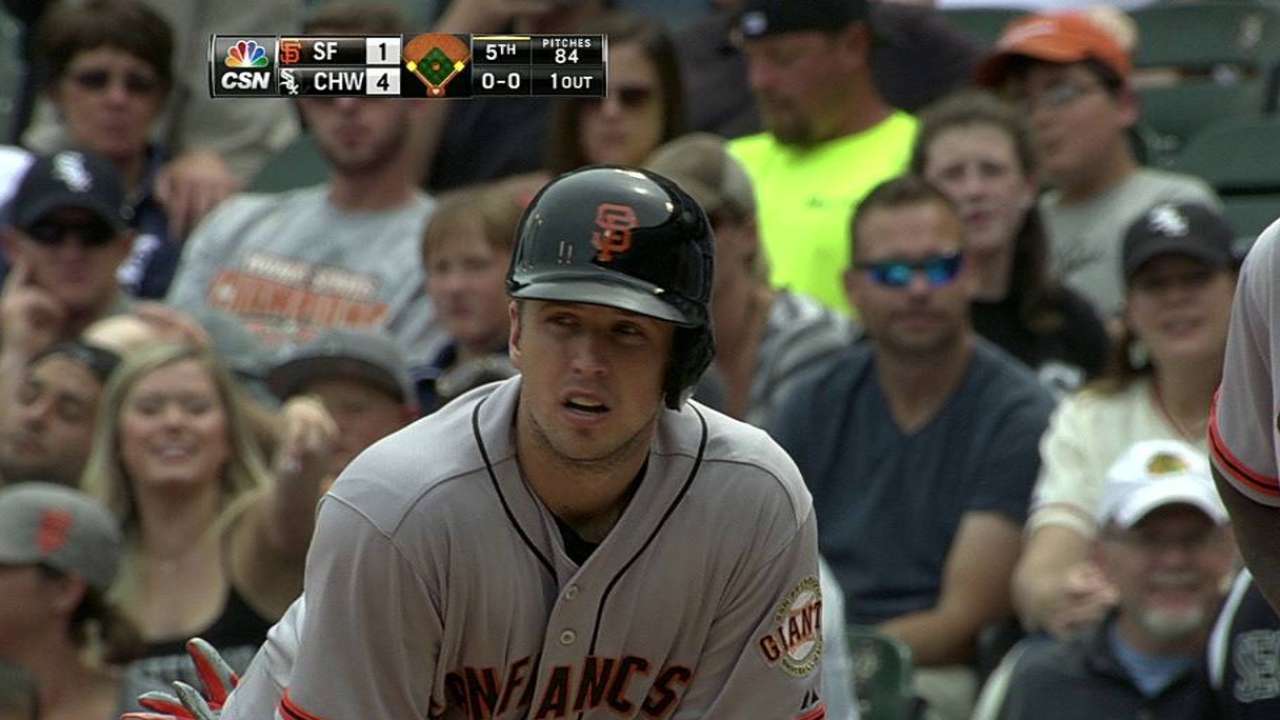 CHICAGO -- The losing continued for the Giants, but their resurgence may have begun.
They performed fiercely in Wednesday's 7-6 loss to the White Sox, ignoring deficits of 4-0 and 7-2 before ultimately absorbing their season-high fifth consecutive defeat.
Chris Sale, Chicago's formidable left-hander, struck out four of the first five hitters he faced. Then the Giants left the bases loaded in the third inning, brought the potential tying run to the plate in the fifth and eighth innings, twice filled the bases in the seventh and had the possible go-ahead run at bat in the ninth.
Though the Giants went 5-for-12 with runners in scoring position, they also stranded 11 runners, prompting manager Bruce Bochy to remark, "It seemed like we were a hit short in four or five innings."
San Francisco's eighth setback in nine games didn't resemble the trio of last weekend's come-from-ahead losses against Colorado. Nor did it echo the defeat that started this slump, the 9-2 rout administered by Washington on June 9. This effort prompted hope for the Giants instead of despair.
The Giants (43-29) no longer own the Major Leagues' best record. That distinction now belongs to the Oakland A's (44-28). But, said Giants outfielder Gregor Blanco, "The way we should lose is the way we lost today. We played a great game."
Blanco legitimately could have reserved some praise for himself. He went 3-for-4 with a run and an RBI while becoming only the second left-handed batter to record a hit this season off Sale. Josh Hamilton of the Angels is the other.
"It kind of doesn't mean anything," Blanco said, "because we lost."
Blanco may receive more chances to stoke his competitive fire in the near future. The Giants sent center fielder Angel Pagan to Phoenix, the next stop on their trip, ahead of the rest of the team to have his stiff back examined. Bochy acknowledged that Pagan, who has missed three consecutive games, might receive a pain-killing injection in an attempt to return him to the lineup. If Pagan doesn't respond to treatment, Blanco likely will inherit center field and the leadoff spot.
That happened after Pagan's left hamstring injury sidelined him last season. Blanco proceeded to hit .199 in July and August as the Giants faded into irrelevance. Now, with a .346 batting average (27-for-78) in his last 29 games, Blanco feels primed to assume the spotlight this time, if necessary.
"I know for sure I'm more ready now than last year," Blanco said. "A lot of offseason training -- I know that it has to pay off."
In a rare occurrence, Tim Hudson's presence on the mound failed to pay off for the Giants. San Francisco's steadiest starter this year had delivered five of his seven victories following defeats. But Hudson lasted just 4 2/3 innings, his shortest outing of the season excepting his three-inning stint in the May 22 suspended game at Colorado. He allowed all of Chicago's runs, a personal season high, and the 12 hits he surrendered matched a career high that he last reached on Sept. 2, 2005, when he pitched for Atlanta against Cincinnati.
This was Hudson's 440th career start and only the ninth in which he did not record a strikeout.
"It's frustrating, no question about it," said Hudson (7-3). "The guys played their butts off all day behind me and fought right to the end. To score six runs on the day I pitch, we should win those games."
Hudson repeatedly embraced trouble when he appeared on the verge of avoiding it. He twice yielded homers on 0-2 pitches -- in the first inning, when Jose Abreu lined a two-run clout, and in the fifth, when Adam Dunn belted a three-run tall ball. It was Dunn's 452nd career homer, tying him with Carl Yastrzemski for 35th all-time.
Hudson said that the split-fingered fastball that Abreu clobbered "wasn't quite buried as much as I wanted." As for Dunn, Hudson wanted the White Sox behemoth to chase a high fastball. Hudson said he didn't throw it high enough.
Hudson also yielded a two-run single in the fourth inning to Tyler Flowers, Chicago's ninth-place hitter, who was in an 0-for-25 skid. That helped drop Hudson's lifetime record at U.S. Cellular Field to 1-4 with a 9.78 ERA in six starts.
Chris Haft is a reporter for MLB.com. Read his blog, Haft-Baked Ideas, and follow him on Twitter at @sfgiantsbeat. This story was not subject to the approval of Major League Baseball or its clubs.