Eovaldi roughed up in finale as Marlins lose Stanton
Slugger homers, eventually leaves game with left wrist contusion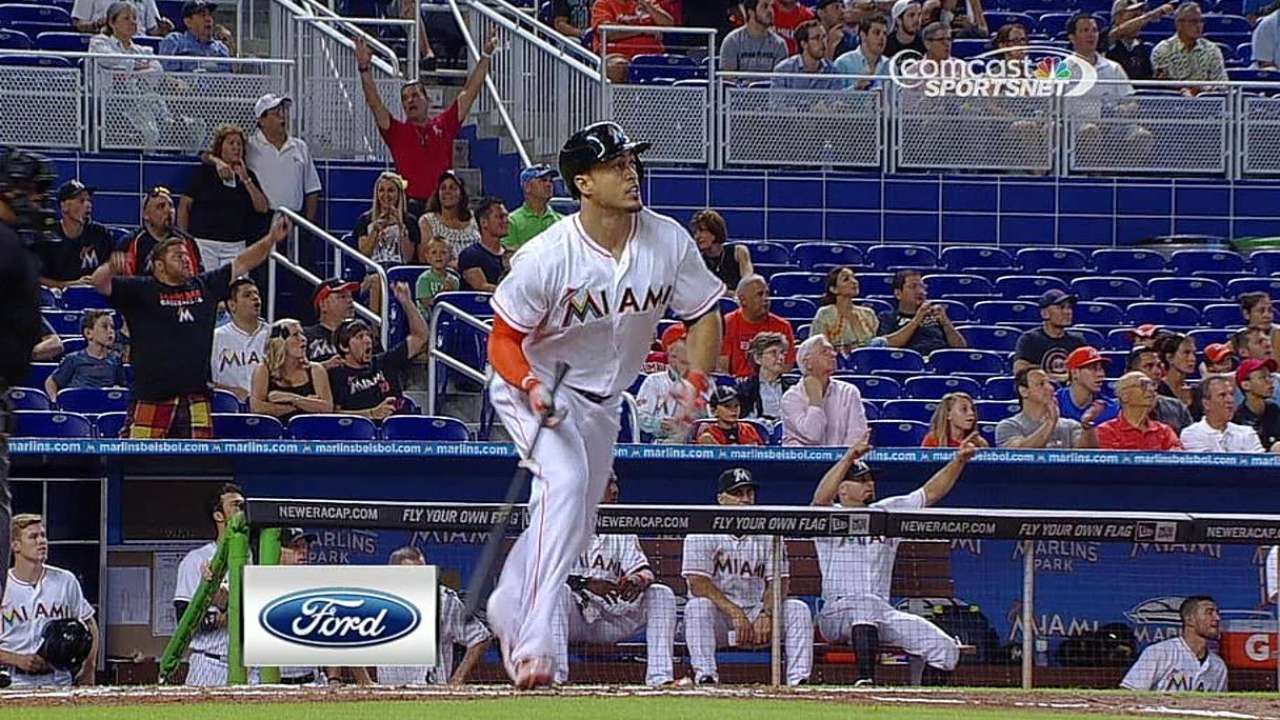 MIAMI -- Nathan Eovaldi surrendered a big blast, and the Marlins almost endured a huge jolt when Giancarlo Stanton was lifted with a bruised left wrist.
All around, it was a painful Wednesday afternoon for Miami at Marlins Park.
Nate Schierholtz blasted a three-run homer off Eovaldi in the sixth inning that vaulted the Cubs to a 6-1 win over Miami in front of 27,032 in the series finale.
Stanton belted a home run in the first inning off Jake Arrieta, who struck out 11 in seven innings.
But in the fifth inning, Arrieta struck out Stanton and on the swing, the Miami right fielder winced in pain while shaking his left hand. Although Stanton played the field in the sixth, he was replaced an inning later by Reed Johnson.
The team is calling Stanton's injury a left wrist contusion, and the slugger is listed as day to day. Perhaps the best news of the afternoon is Stanton's bruise doesn't seem severe. There is some swelling on the outside of the wrist, but nothing serious.
Stanton was initially shaken up when running into the fence in the first inning on Chris Coghlan's double off the wall.
"That double, it just bruised his hand," manager Mike Redmond said. "I saw him kind of grimace in that first at-bat, and then he hit the home run. So I wasn't too concerned. I think as the game went along, it looked like it continued to get a little sore on him.
"At that point, being down, 5-1, we wanted to make sure we got him out of there. We need this guy for the long haul. He wanted to stay in. But I'm thinking about tomorrow and the next day. We got him out of there, precautionary."
From a pitching standpoint, Eovaldi had his second straight rough outing. The right-hander gave up five runs on nine hits in six-plus innings. The game was tied at 1 before the Cubs scored four times in the sixth inning. Starlin Castro delivered his second RBI double of the game, and Schierholtz broke it open with his three-run blast.
"We've got to make pitches when we need to," Eovaldi said. "We'll hit that groove and be coasting, and then that one inning kind of tumbles on us. We've got to bear down in those situations, and make that one pitch. It's really what it all comes down to, one pitch and make an out. We have to keep that in mind and keep attacking."
In Eovaldi's last start, he gave up six runs on 10 hits in 4 2/3 innings in a no-decision against the Pirates.
"This has been a common theme for our starting pitchers," Redmond said. "They've struggled to get through that sixth inning or sometimes the fifth inning, and giving up the big numbers. They put up the big number, the four spot. It's tough to win ballgames that way."
After dropping two of three to the Cubs, the Marlins fell to 2-4 in the 10-game homestand. Although they are 24-15 at home, they've lost four straight three-game series at home. They did sweep two from the Rays on June 4-5, but last took a three-game set at Marlins Park from the Phillies on May 20-22.
"It was kind of the same thing that happened over there, too," Stanton said, referring to dropping two of three at Wrigley Field earlier in the month. "We didn't play our best against this team. They got four out of six against us. No good."
In the first inning, the Cubs took the lead on Castro's RBI double.
The way Arrieta was pitching, Chicago didn't need much run support to take the series.
"He's just commanding his fastball better, and his breaking ball is starting to really get some bite and location," Cubs manager Rick Renteria said. "He's just pitching and attacking hitters. He's got great stuff and it has a lot of movement, and when he executes, he's pretty good."
Stanton carried the Marlins even in the first inning with his two-out, solo home run to right-center. Stanton is the first Miami player since 2008 to reach 20 home runs before the All-Star Break. Hanley Ramirez and Dan Uggla each had 23 that season. The club record in that span is held by Mike Lowell, who reached 28 in '03.
Eovaldi rejoined the Marlins in time for his scheduled start after he was placed on the league's paternity leave on Sunday. The right-hander returned to his home in Texas, and he became the father of a boy, Jace, born on Monday.
Eovaldi was back in Miami on Tuesday night and ready for his start. It was the long ball that proved costly.
"You can survive the one run," Redmond said. "But the big innings are what killed you, and that's what they did today."
Joe Frisaro is a reporter for MLB.com. He writes a blog, called The Fish Pond. Follow him on Twitter @JoeFrisaro. This story was not subject to the approval of Major League Baseball or its clubs.