Trio of speedsters stealing show while swiping bags
Fleet-footed Gordon, Hamilton, Altuve bring back somewhat of a lost art on basepaths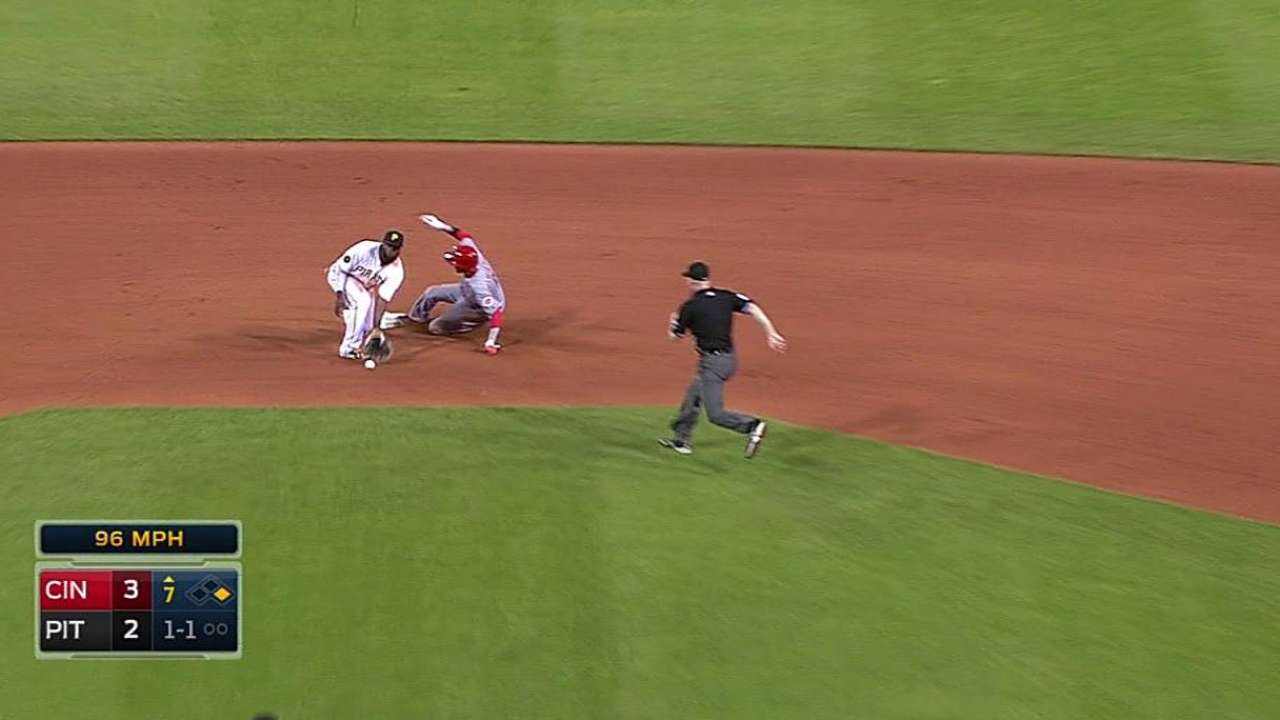 There hasn't been a player with more than 80 stolen bases in the Major Leagues since Rickey Henderson had 93 for the Yankees and Vince Coleman had 81 for the Cardinals in 1988. Heck, there's only been one guy who has stolen more than 70 since 1999. That was Jose Reyes, then with the Mets, in 2007.
There are reasons why the running game has become somewhat ignored since the mid-1980s. New smaller parks and more home runs made managers more willing to wait for the long ball. Sabermetricians argued that outs were too precious to fritter away by getting thrown out on the bases.
With the mathematical midpoint of the season rapidly approaching, a group of brazen runners -- led by Dee Gordon of the Dodgers, Billy Hamilton of the Reds and Jose Altuve of the Astros -- has started to change that calculus.
Going into play Wednesday, Gordon has 36 stolen bases. To put that in perspective, that's more than nine teams have totaled and just 10 short of what National League leader Eric Young had last season. Hamilton has 28 and Altuve 24. And these thieves all have something in common in addition to blazing speed and the guts to use it.
Each has a "been there, done that" mentor in his organization to teach and guide and encourage him.
For Hamilton, it's former Reds star Eric Davis, now a special assistant to general manager Walt Jocketty. Davis swiped 80 bags in 1986.
For Altuve, it's Coleman himself, who is in his second season as outfield and baserunning development specialist for Houston's Quad Cities River Bandits affiliate. He's the only player to steal at least bases in three straight seasons (1985-87).
And Gordon is fortunate to have a pair of tutors: Maury Wills works with Dodgers runners and Davey Lopes is the team's first-base coach. Wills led the NL six straight seasons (1960-65), including 104 steals in 1964. Lopes had 557 steals in his career, and his 83 percent success rate is third best of all time among players with at least 400 in their career.
"There's a lot more to stealing bases than speed," Rangers manager Ron Washington told MLB.com earlier this season. "It takes knowledge, awareness. Experience helps ... It's not about being fast. It's about technique and on-base percentage, getting on base. It's about having the aggressiveness to do it and being successful. It's about reading pitchers and reading counts, going on offspeed pitches. A lot goes into it, little baseball things that a lot of people don't see."
Hamilton and Davis both were converted from shortstop to center field, and Davis has worked with his protégé on that aspect of the game as well as baserunning.
"The thing that separates Billy from a lot of people is he's a student of the game," Davis told MLB.com during Spring Training. "He has so much pride that he doesn't like to embarrass himself. You can tell him something once, maybe twice, and it's like a recorder in his brain. He can turn around and implement what you told him to do very quickly. That's not the case with all youngsters."
"I'm sure with Billy, you're never going to underappreciate his speed or take it for granted," added Reds manager Bryan Price. "We get to see it every day -- every play at first base, every bunt, every ground ball, it's a bang-bang. Every base hit to center field is a possible double, based on how aggressively the center fielder goes after the ball. It's really exciting to watch."
Altuve had the opportunity to work with Coleman in Spring Training. The most impressive aspect of his season so far is that he's been thrown out just three times, giving him an 88.9 percent success rate.
Washington also noted the advantage of having great instruction.
"Teaching guys how to steal bases, Davey Lopes is the best in the game," he said.
One reason is that the game has changed, making it more difficult to run.
"There weren't a lot of slide steps back then [in the 1980s], guys holding the ball like they do now," Washington continued. "Guys had high leg kicks. You've got guys now who are quick to the plate and catchers with quick releases. Everything is timed now."
"Dee has everything you look for in a leadoff man," Lopes said. "It's just been a matter of maturing and trusting his talents."
Wills feels a kinship to Gordon. The seven-time All-Star was also told he was too small and would never hit enough to make it in the big leagues.
"I realized that I couldn't make the big leagues trying to be a slugger. I just needed to get on base any way I could," Wills told the Los Angeles Times this spring. "I think Dee's finally getting that. He's got to play his way. And the best way to play his way is to get on base.
"That's me all the way. I had two things: speed and a strong arm. Dee Gordon has that. Those are two things they can't teach you. They're God given."
When a runner takes off for second, he's on his own. Before that, though, he has a lot of support.
Paul Hagen is a reporter for MLB.com. This story was not subject to the approval of Major League Baseball or its clubs.