Bats quiet all day, Sox swat back-to-back HRs in 10th
Papi, Napoli go deep, seal sweep; Lackey masterful in scoreless start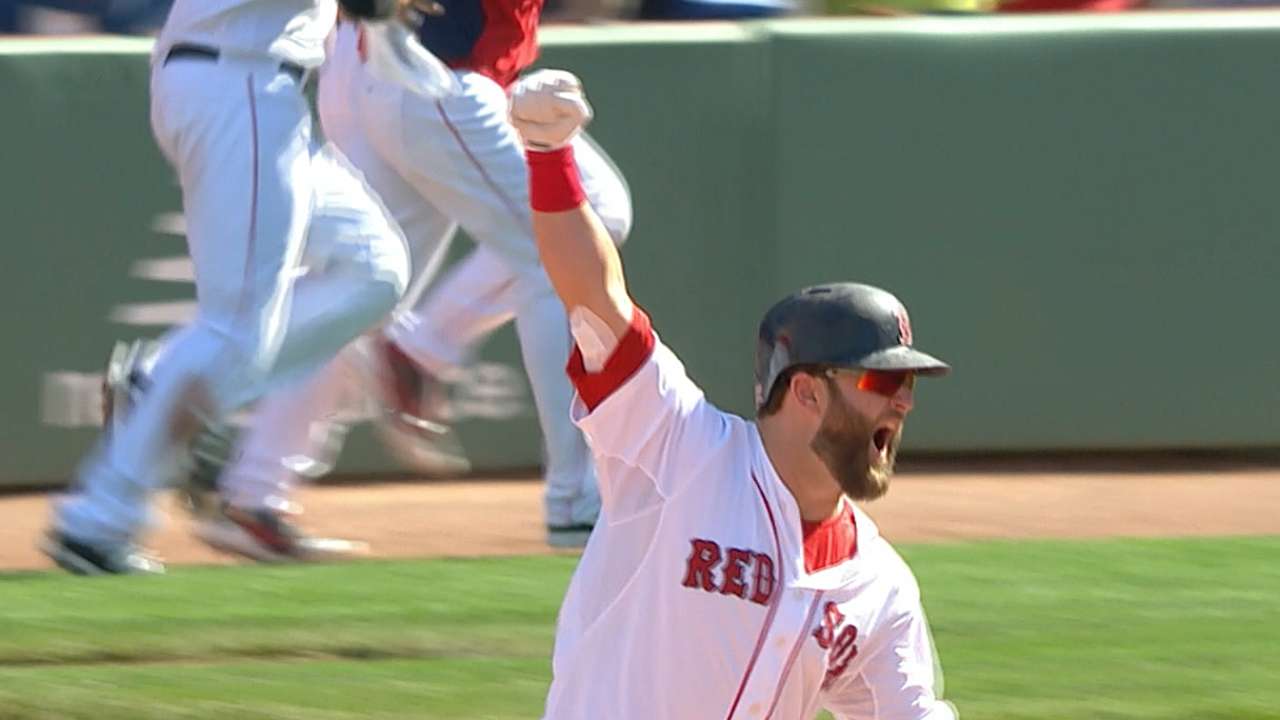 BOSTON -- By the time the bottom of the 10th inning rolled around on Wednesday afternoon at Fenway Park, the Red Sox were just hoping for some semblance of offense. A broken-bat single or a bloop that found some grass or maybe a liner to the gap would have been nice.
Through nine innings, they had all of one hit.
That's why the ending -- which contained double-barrel action from David Ortiz and Mike Napoli -- was so stunning and sweet.
The two sluggers went back to back, the latter a walk-off shot by Napoli that finished off a thrilling 2-1 victory to complete a three-game sweep of the Twins on Wednesday afternoon at Fenway Park.
The Red Sox were two outs from a loss when Ortiz took Casey Fien around Pesky's Pole in right field to tie the game. Then it was Napoli's turn, and he drilled an 0-2 pitch off Fien over the wall in center to end it.
"David comes up big once again. He'd been pulling off some balls. He stayed on a pitch from Fien and just hooks one inside the foul pole," said manager John Farrell. "I can't tell you the last time we went back to back. It's been a while. Couldn't have been better timing. David's home run gives us a huge lift just to knot it at 1, and Nap gets a fastball up on the plate, and a good way to finish a well-pitched three-game series here."
The last time the Red Sox finished a game with back-to-back homers was when the unlikely tandem of Darren Lewis and Jeff Frye pulled it off against the Twins on June 14, 1999.
It was just the third time the Sox have gone back to back this season and the first since April 26.
In the three-game sweep, the Sox mustered just five runs, making it clear how dominant their pitching was. The last time Boston won three straight games with five or fewer runs was at Toronto from Aug. 24-26, 1990. Dana Kiecker, Roger Clemens and Greg Harris were the starters in those games.
John Lackey was front and center in this one, firing nine scoreless innings while allowing three hits, walking one and striking out nine.
"Whatever way we can get it done," said Napoli. "Our pitching is picking us up right now and we just have to pick it up on the offensive side."
The selfless Lackey wasn't worried about taking a no-decision.
"It worked out great," Lackey said. "It really did. I did my job and you've got to give their kid [Kyle Gibson] a lot of credit. He's a talent. He threw the ball tremendous. For our two big guys to hit a couple dingers late like that could give us some momentum heading into the road trip."
Perhaps it can be a turning point for the defending World Series champions, who head out on their 10-game sojourn through Oakland, Seattle and New York with a 34-38 record.
"Like I say, we haven't been able to produce for our pitching," said Ortiz. "Our pitching has been outstanding lately. We just haven't been able to hit. To bounce back and win a game like that, like you said, it can turn around a season."
The game was nearly a crushing loss.
Koji Uehara's 21-innings scoreless streak ended at an inopportune time, as Chris Parmelee belted a solo homer just over the Boston bullpen in right-center to give the Twins the lead in the top of the 10th.
Three of Parmelee's four homers this season have been against the Red Sox. The other one was a walk-off blast against Andrew Miller on May 13.
"It felt good to contribute like that and get an RBI in such a pitchers' duel, but that's the way it goes sometimes," said Parmelee. "It was a splitter. [Uehara] left one up and I'm sure he wanted that one a little bit lower with two strikes."
Gibson was every bit as dominant as Lackey.
"I tell you what, that kid that pitched for them today, wow," said Ortiz. "He's very impressive. For a young kid to have that sense to know what he's doing and spotting his pitches the way he did, very impressive. This kid was spotting every pitch he threw. That's why he did so well."
The righty fired seven innings of one-hit ball, walking none and striking out eight. Boston's only hit against him was a double by Daniel Nava with two outs in the fifth. Before that, Gibson had retired the first 14 batters.
Ortiz thought he had a hit in the seventh when he laced a grounder that first baseman Joe Mauer bobbled after a half dive. The play was ruled an error, and Ortiz looked up to the press box and gave official scorer Bob Ellis a thumbs down, shaking his head as he walked off the field at the end of the inning.
"It's a play that Mauer makes with ordinary effort," said Ellis. "It looked like he got a true hop. It didn't look like the ball exploded on him. He got in position. His body language is telling me, 'I've got this ball.' It looked like a play you make with ordinary effort. I'm not saying Ortiz didn't hit it hard. It's a play I thought Mauer makes with ordinary effort."
Whatever frustration Ortiz felt was long gone by the time he took Fien around the foul pole and played setup man for Napoli.
"He ties the game right there, there's a chance I can end it. I go up there and take my chances sometimes," said Napoli. "It's not like every time he hits a homer I'm going up there trying to do the same thing. Just trying to have a good at-bat and hit it hard."
Ian Browne is a reporter for MLB.com. Read his blog, Brownie Points, and follow him on Twitter @IanMBrowne. This story was not subject to the approval of Major League Baseball or its clubs.