On verge of ending skid, Twins fall to Red Sox in 10
Parmelee's HR breaks tie, but fill-in closer Fien allows pair of homers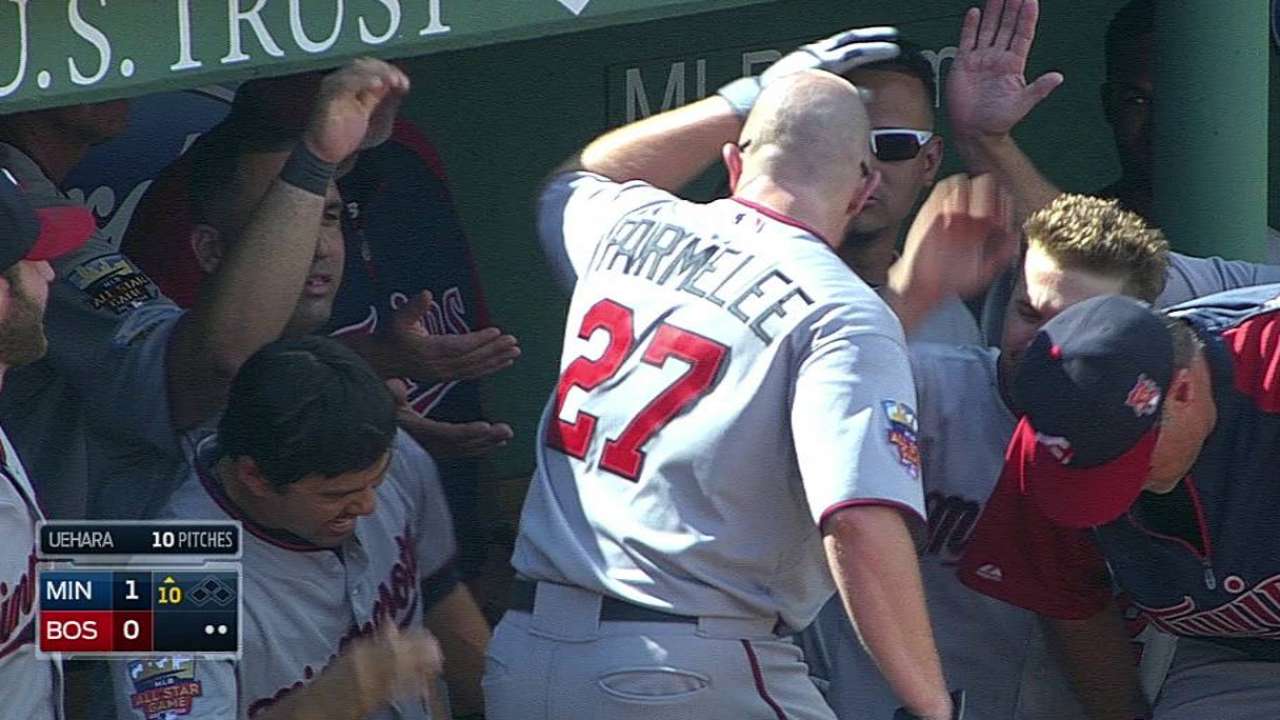 BOSTON -- The jubilation that came with Chris Parmelee's go-ahead homer off Red Sox closer Koji Uehara in the top of the 10th inning didn't last long for the Twins.
Instead, the Twins were left with heartbreak and a fifth straight defeat, as reliever Casey Fien gave up back-to-back homers to David Ortiz and Mike Napoli in the bottom of the inning to hand the Twins a 2-1 loss on Wednesday afternoon at Fenway Park.
It was another frustrating loss for the Twins, who have been wasting solid performances from their starters. This time, it was Kyle Gibson's impressive outing that was spoiled.
"It was a tough way to lose it," manager Ron Gardenhire said. "We gave up five runs in the series and that's good pitching. But it just hasn't been enough hitting."
Fien was called into the game to try to convert his second career save chance with closer Glen Perkins unavailable due to lower back stiffness. With one out, Ortiz connected on a 2-2 cutter that caught too much of the plate to tie the game, and Napoli ended it just three pitches later on an 0-2 fastball.
"It's the worst feeling in the world," Fien said. "When you have the pitching staff that threw like that and they ask me to come up big, and we come out with the 'L,' it's not a good feeling."
Fien's blown save came after Parmelee ended Uehara's 21-innings scoreless streak with a solo shot into Boston's bullpen in right field with two outs. It appeared to be the game-winner for the Twins, but it wasn't to be.
"It felt good to contribute like that and get an RBI in such a pitchers' duel, but that's the way it goes sometimes," Parmelee said. "It was a splitter. [Uehara] left one up and I'm sure he wanted that one a little bit lower with two strikes."
It ruined a strong start from Gibson, who threw seven scoreless innings for a third straight start, but was stuck with the no-decision. Gibson ran his scoreless streak to 22 innings, the third-longest streak by a starter in Twins history behind only Johan Santana's 33 scoreless frames in '04 and Francisco Liriano's 23 in '10.
"I just think my offspeed, I was able to command it today," Gibson said. "I kept it down in the zone except for a couple times. My changeup to lefties was probably my equalizer and kept them off my fastball."
Gibson retired the first 14 batters he faced before giving up a two-out double to Daniel Nava on a hard-hit liner over the head of Parmelee in right field. But Nava was stranded at second as Gibson was able to get A.J. Pierzynski to ground out to second base. It was the only hit Gibson allowed all afternoon, and he believed it was the best start of his young career.
"That kid, that pitched for them today, wow," Ortiz said. "He's very impressive. For a young kid to have that sense to know what he's doing and spotting his pitches the way he did, very impressive. This kid was spotting every pitch he threw. That's why he did so well."
Boston right-hander John Lackey outlasted Gibson with nine scoreless innings, scattering just three hits with nine strikeouts and one walk, but was also saddled with a no-decision.
Parmelee had the first two hits with a pair of singles in the second and fifth, reaching second in the fifth on a wild pitch with two outs. But he was left there with Eric Fryer grounding out to shortstop.
The Twins didn't get another hit against Lackey until Eduardo Escobar singled down the left-field line with one out in the eighth, but was thrown out by Nava trying to advance to second on the play.
It was another lackluster offensive effort from the Twins, who finished their nine-game road trip through Toronto, Detroit and Boston at 3-6 with five straight losses and are now a season-high six games under .500.
"We're glad we're going home," Parmelee said. "It was a tough end to the long road trip. So we're just excited to get home. Our hitting isn't what we want it to be, but we'll turn it around."
Rhett Bollinger is a reporter for MLB.com. Read his blog, Bollinger Beat, and follow him on Twitter @RhettBollinger. This story was not subject to the approval of Major League Baseball or its clubs.