A's pounce to continue hold over Darvish
Texas' ace 1-8 vs. Oakland; Norris racks up five RBIs off bench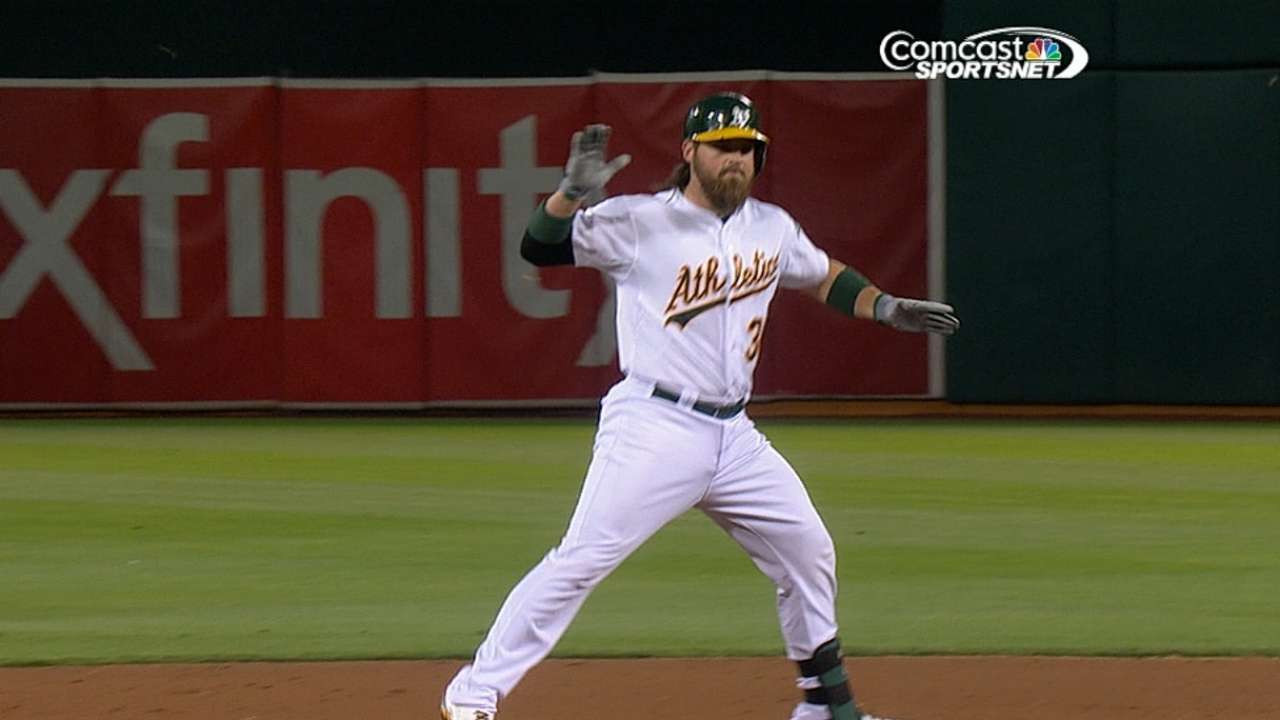 OAKLAND -- The A's continue to bring out the worst in Yu Darvish.
Dominant against everyone else, Texas' ace has repeatedly faltered against the A's, who stayed true to habit and knocked him around in a 10-6 victory at the Coliseum on Tuesday night to even this three-game set.
Derek Norris not only drove in half of those runs but did so in two at-bats off the bench. Oakland's other two catchers went 5-for-6 with two RBIs.
"A game like that, 7-for-8 combined, seven RBIs from the catchers, that's fun," said Stephen Vogt. "Obviously it's just a great team win. To have all three of us play in the same game and contribute, it's pretty special."
"It's pretty amazing," said manager Bob Melvin. "It's quite a luxury."
The A's knack for beating up on Darvish is also pretty amazing.
On the night, he was charged with seven runs, four of them earned, in just five-plus innings, all the while driving up his career ERA against the A's to 4.94 in 10 starts -- including a 7.59 ERA in four winless outings in Oakland.
He's 1-8 against the A's; 35-13 with a 2.88 ERA vs. everyone else.
"I saw him pretty well today, fortunately saw three pitches to hit and hit all three of them," said Vogt. "He's such a good pitcher and we've been fortunate enough to have success against him. I don't have anything to explain that."
Neither does Darvish.
"For some reason," he said, "I don't have good numbers against them."
The A's formula for beating him doesn't differ from their typical game plan against any other pitcher: Run up his pitch count and tire him out before he finds his rhythm.
To this point it's worked, as Darvish's three shortest outings of the season have all been against the A's. On Tuesday, they recorded five walks against the righty, who was pulled at 99 pitches after each of his first two batters of the sixth inning reached base.
Both scored when Norris came off the bench in place of John Jaso and belted a three-run homer to left field off righty reliever Shawn Tolleson, Norris' eighth of the season and sixth with at least two men on base.
Norris would come through again in the eighth against another right-hander, notching a two-run double off Jason Frasor, giving him five RBIs in just two at-bats -- and 34 in 187 plate appearances for the season. He had 30 last year in 308 plate appearances.
"He's done it before coming off the bench, and has a knack for it," said Melvin. "He's ready for the situation. He's got a nice, short stroke for coming off the bench and knows how to pinch-hit. You don't play for the majority of the game and you end up with five RBIs, it means you're taking advantage of your opportunities."
"That's something pretty special, but that's a credit to the team for getting on base and putting together opportunities for me," said Norris. "I've worked pretty hard on making my swing more consistent, just more level of a bat path, but ultimately trying to stay in the zone as long as I can with the bat. The longer you're in the zone, the more chances you have of barreling the ball. So that's my main goal, and I've worked hard on it. It's paying off."
Jaso did his part, collecting two hits off Darvish while catching Tommy Milone's 5 2/3 innings. Alberto Callaspo, who went 4-for-5 in Monday's opener, reached base in all four of his plate appearances in the middle matchup, collecting two hits and two walks in the win.
Darvish's ERA went from 2.11 to 2.39. And the A's extended their American League West division lead over the fourth-place Rangers to eight games, maintaining a 4 1/2-game advantage over the Angels, sitting in second place.
Milone allowed the Rangers three runs on five hits and one walk with three strikeouts spanning 5 2/3 innings during the D-No Show.
"It's a lot of fun to watch," said Milone. "It seems like he's doing that every time out."
"D-No is such a good baseball player," said Vogt. "He's having an All-Star caliber year, and I hope that gets recognized. What he's done off the bench, just what I've been fortunate enough to witness, it's incredible the way he comes in, he doesn't get big, he doesn't try to do too much and comes through all the time. You just can't say enough about how special of a baseball player Derek Norris is. It's just so much fun to be his teammate and watch him do it."
Jane Lee is a reporter for MLB.com. Read her blog, Major Lee-ague, and follow her on Twitter @JaneMLB. This story was not subject to the approval of Major League Baseball or its clubs.