Yu battles command, remains baffled by A's
Rangers ace walks five, falls to 1-8 in 10 starts vs. Oakland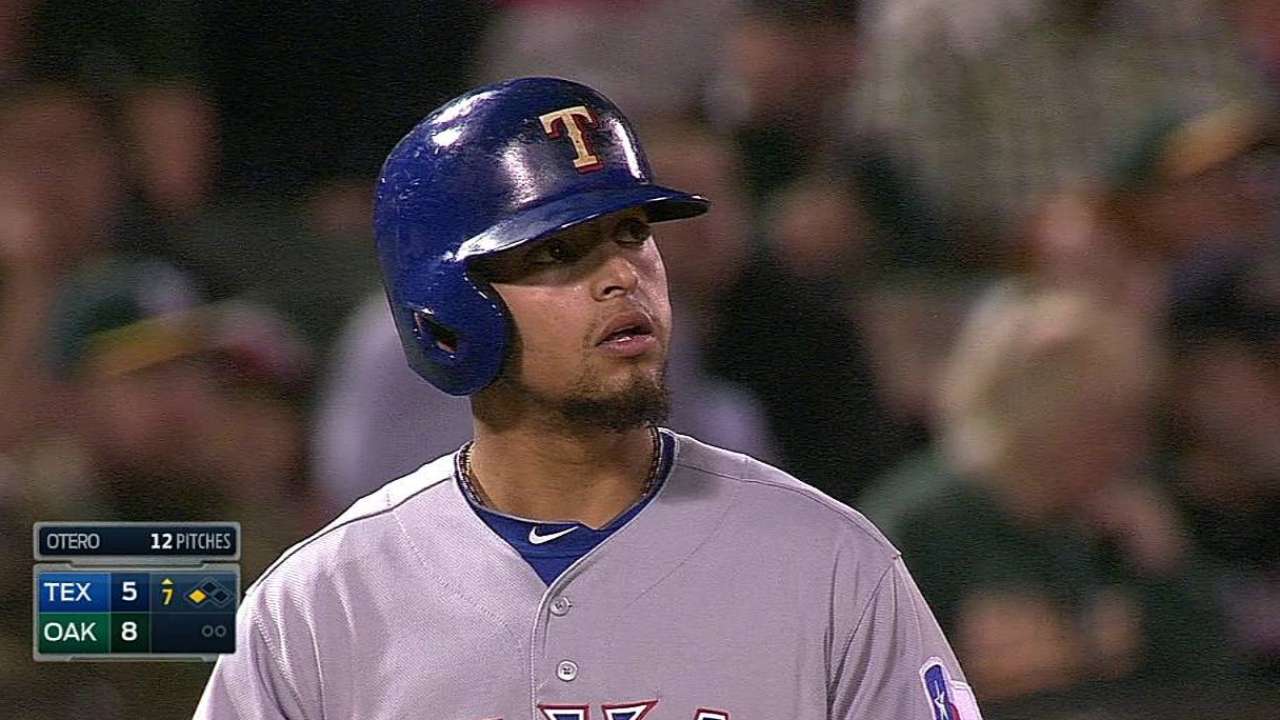 OAKLAND -- Rangers manager Ron Washington said Yu Darvish didn't have his good fastball command on Tuesday night. Darvish disagreed slightly with that assessment.
"Not just the fastball, I didn't have command of any of my pitches," Darvish said.
The result was another rough outing that left Darvish with a 4.94 ERA against the Athletics over the past three seasons and a 2.88 ERA against everybody else. That pretty much sums up his troubles against his arch-nemesis, troubles that continued.
Darvish allowed seven runs (four earned) in five-plus innings and is now 1-8 in 10 career starts against the A's after a 10-6 loss at the Coliseum. He is 0-3 with a 7.59 ERA in four starts at Oakland.
"For some reason, I don't have good numbers against them," Darvish said. "But I have to prepare for my next start. I'm not facing just the A's."
Darvish, who threw his first Major League shutout in his last start, managed to get through the first inning without giving up a run but was scored upon in each of the next five innings. Darvish gave up eight hits and walked a season-high five batters. He threw 99 pitches before leaving in his shortest outing since a 4-0 loss to the Athletics on April 28, when he lasted just 3 1/3 innings.
"We're fortunate," Athletics manager Bob Melvin said. "His stuff's so good. On top of that he's got like seven different pitches. You try to eliminate a couple, just not to get overload in your head as far as what you're looking for, but we've been really fortunate. We've made him work, we've made him throw some pitches, and we've got a few guys squaring him up and some guys have some good numbers off him, but it's not easy. He's about as good as you get."
Darvish was 6-1 with a 1.83 ERA in his last seven starts before the Athletics knocked him around.
"I don't know what it is about Darvish's style or how it just fits into our hitting patterns," Derek Norris said. "But one through nine, that guy was just grinding out every at-bat, whether he came away with an out or not. Every guy, it was a battle, and there weren't a lot of early outs. You could tell he was grinding, and that eventually wore him out and to the point where we got to him and scored some runs."
Washington said it all came down to lack of fastball command.
"Tonight he wasn't commanding his fastball," Washington said. "If he had been able to it would have been a different story. But he couldn't command his fastball, and after that there wasn't anything there he could find to get into the zone. It just wasn't his night.
"I don't know if he was frustrated. He was out there searching. Usually he finds something but tonight he couldn't find anything. He doesn't panic because he usually finds something in his repertoire. He just didn't find it."
Catcher Chris Gimenez said part of the problem was home-plate umpire Andy Fletcher wasn't giving Darvish the low strike zone.
"He had good stuff, we were just missing down in the zone," Gimenez said. "He wasn't giving us down in the zone and they made us pay for having to come up into the middle. They are a very sound team and they did an excellent job of making him put it up in the zone and not swinging at things that start in the zone and go out of the zone."
Darvish left the game with two on and nobody out in the sixth. The Athletics were leading 5-3 when Aaron Poreda came in and got two outs. But Shawn Tolleson gave up a three-run home run to Norris. The Rangers scored three in the top of the seventh but Norris doubled home two more runs in the eighth.
Those were the big blows on a night when the Rangers knocked Athletics starter Tommy Milone out of the game in the sixth. Rookie second baseman Rougned Odor was 2-for-4 with a home run and three RBIs.
"They are a really good team," Washington said. "They can score runs. We gave them some early opportunities and they took advantage of it, but the big blows were the three-run home run and the two-run double."
T.R. Sullivan is a reporter for MLB.com. Read his blog, Postcards from Elysian Fields, and follow him on Twitter @Sullivan_Ranger. This story was not subject to the approval of Major League Baseball or its clubs.