Giants' slide continues as Cain hit hard by White Sox
Starter allows eight runs (seven earned) over three-inning span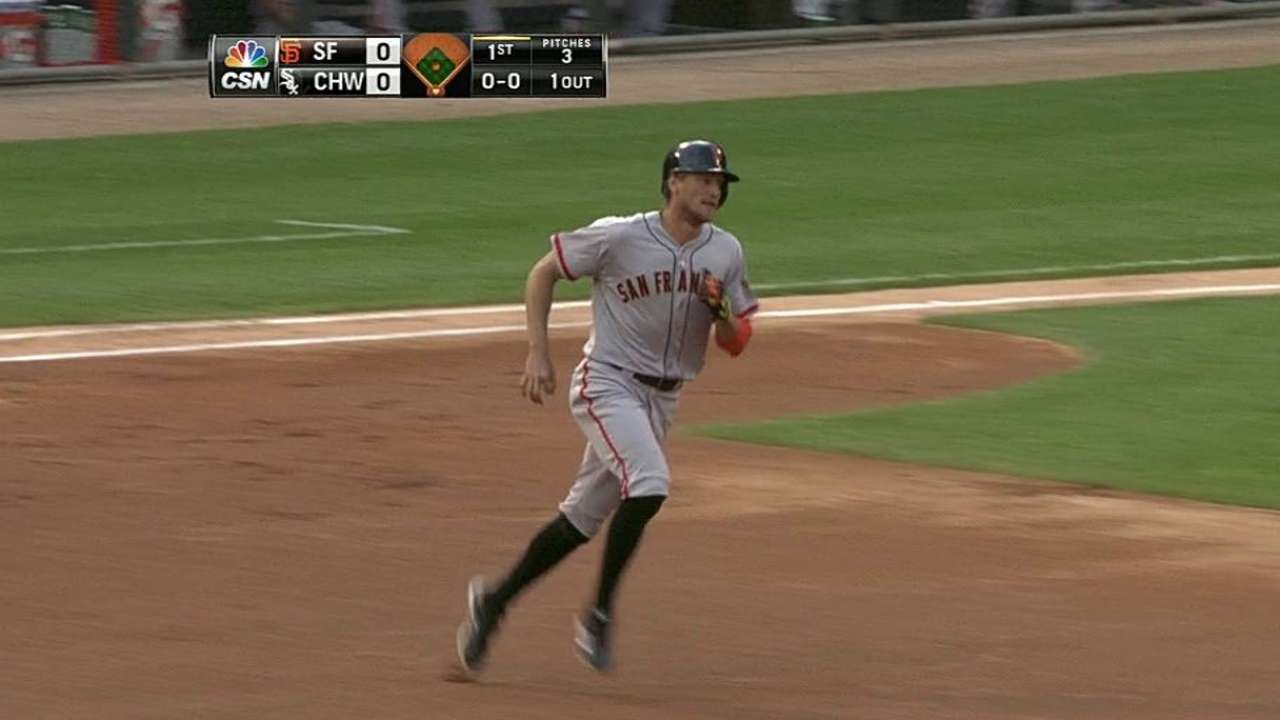 CHICAGO -- It's fair to say, to borrow a phrase that Giants manager Bruce Bochy uses when he's conceding a point, that Matt Cain is searching for some answers.
The Giants' No. 2 starter and three-time National League All-Star has shown hints of his top form this season. Too often, however, Cain has endured nights such as Tuesday, when he yielded all of Chicago's runs in five innings as the White Sox thrashed the Giants, 8-2.
San Francisco absorbed its seventh defeat in eight games and lost its first Interleague game of the season in seven tries. After three galling come-from-ahead losses to the Colorado Rockies, the Giants changed their pattern. Chicago scored eight unanswered runs after Hunter Pence's first-inning homer and Buster Posey's third-inning RBI single gave San Francisco a promising start against White Sox left-hander John Danks (6-5).
Not much drama developed from the Giants' perspective, though Cain's struggles certainly gave them plenty to ponder in the coming days.
He retired eight of the first nine hitters he faced before Adam Eaton singled to prolong the third inning. That brought up Gordon Beckham, who lashed a two-run homer. Chicago pulled away by scoring three runs in each of the next two innings. The eight runs Cain surrendered were one short of his career worst, which he reached against St. Louis on April 18, 2008, and April 7, 2013. The seven earned runs he allowed matched a season high.
Asked what he would concentrate on when he throws his between-starts bullpen session, Cain replied, "The biggest thing is just location.
"I just didn't maybe get [pitches] inside far enough or keep the ball down enough."
Bochy hinted more than that might be amiss with Cain, though he didn't offer any immediate solutions. Bochy observed that after Beckham homered, "his stuff flattened out, his slider flattened out and they took advantage of Matty being wild in the zone. What happens? I can't tell you, really, to be honest, except we'll look and see if there's any difference in the mechanics. We couldn't see it. He just started getting the ball up and pitches flattened out a little bit."
It was theorized that Beckham's third-inning plate appearance made the difference in Cain's evening. Cain went ahead on the count, 0-2, before Beckham worked it full. Beckham then fouled off a couple of pitches, staving off the inning's final out, before connecting to forge a 2-2 tie.
Cain denied that Beckham's homer upset his equilibrium. Bochy agreed: "That shouldn't have affected him. It just happened to be after that inning when things went awry a little bit."
Cain received little help, from his teammates or otherwise. Luck conspired against him in the fourth inning, when Alexei Ramirez's lazy fly ball fell for a single. Shortstop Brandon Crawford nearly caught the ball, but he had an unfairly long run, and left fielder Gregor Blanco had too far to travel. Later in the inning, the Giants' six-game errorless streak ended when Crawford barehanded Eaton's grounder and threw wildly past first base, scoring a run.
"Now we're compounding the damage," Bochy said.
Dayan Viciedo's two-run homer was the final indignity Cain endured.
"I threw a really bad changeup," he said. "The other ones weren't terrible, but they caught too much plate."
This provided ample support for Danks, who won his third game in a row.
"It was more of a battle today than the past couple of games, but it certainly helps to get eight runs scored for you early against a pretty darn good pitcher, too," he said. "I just tried to stay aggressive, and fortunately they just missed some pitches and guys made plays."
Losers of four consecutive games, the White Sox welcomed a victory over the club that entered the day with baseball's best record.
"It was good to have a day like this. We needed it," Beckham said. "It was nice to break out against a good team. We've got a quick turnaround, so hopefully we carry it over to tomorrow."
Chris Haft is a reporter for MLB.com. Read his blog, Haft-Baked Ideas, and follow him on Twitter at @sfgiantsbeat. This story was not subject to the approval of Major League Baseball or its clubs.