'Pen can't hold it for solid Samardzija in Miami
Valbuena gives ace shot at win, but Schlitter allows homer in seventh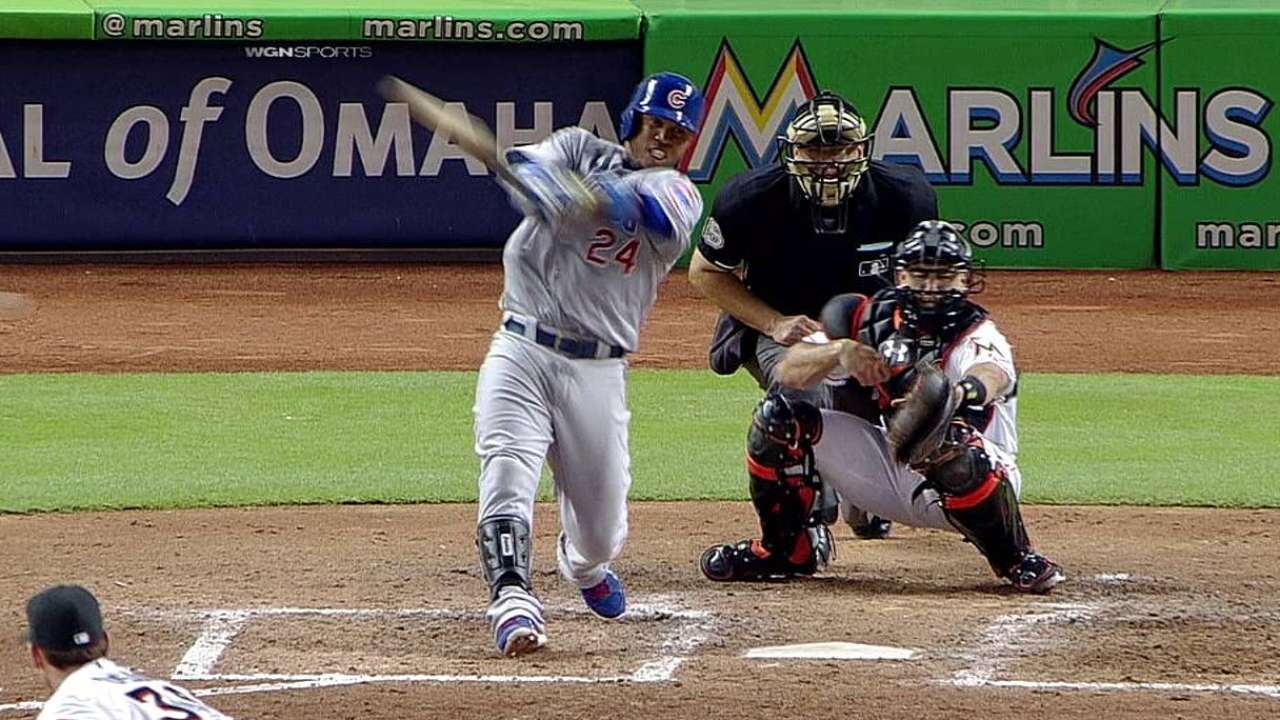 MIAMI -- Once again, Jeff Samardzija was denied a win.
Garrett Jones smacked a three-run homer with one out in the seventh off Brian Schlitter to lift the Marlins to a 6-5 victory Tuesday night over the Cubs and even the series.
Samardzija is the only pitcher in baseball to make at least 12 starts this year and only have two wins despite a sub-3.00 ERA (now 2.78). As well as he's done, the right-hander is trending among trade rumors. Will he still be in Chicago's rotation after the July 31 non-waiver Trade Deadline? The Cubs and the pitcher have discussed a long-term contract, but president of baseball operations Theo Epstein also is focused on stocking the farm system.
Is Samardzija immune to the speculation and rumors?
"Numb would be a good word," he said. "I'm just out doing my job. I feel good. I'm really excited, compared to these last two years of starting, I feel really good where I'm at with my routine and my arm feels great.
"I felt better [tonight] with the last 30 pitches than the rest of the day, so that's exciting. I'm going to keep doing my job and I'm not too worried about that stuff -- it'll take care of itself."
He's been able to ignore the chatter and questions from family and friends, who might be trying to get the scoop.
"There's really nothing to talk about," Samardzija said. "I told my agent early after Spring Training that I wanted to go out with no distractions and pitch. As far as I'm concerned, nothing has changed. I'm going out to do my job with no distractions. You have to win these ballgames, so you have to prepare for your team.
"Ultimately, when you get those close family and friends, they just want you to be healthy. They want you to make the next start. [They'll ask], 'Is your health OK?' Then right after that, they want to see you battle and compete every fifth day."
During a radio blitz in Chicago on Tuesday to promote his foundation's fundraiser, Epstein was asked about Samardzija's status. The pitcher will be a free agent after the 2015 season.
"The bottom line is nothing has changed," Epstein said on ESPN-AM 1000. "We think the world of Jeff. He has a year and a half left on his contract. We'd love to find a way to keep him in Chicago for a long time. He'd love to be a Cub for a long time, but it's a business and things aren't quite that easy. We're just not going to get into detail or give a public play-by-play."
Back to the game play-by-play, Rafael Furcal and Adeiny Hechavarria both singled to open the Marlins' first. One out later, Casey McGehee hit a potential double-play ball to first baseman Anthony Rizzo, who threw to second for the force. But shortstop Starlin Castro's throw back to first was wide, and Furcal scored on the error.
Junior Lake gave the Cubs a 2-1 lead quickly with one out and one on in the second, hitting the first pitch he saw from Anthony DeSclafani for his ninth home run. Samardzija added a sacrifice fly that inning.
The Marlins tied the game in a messy fourth. With two runners on, J.T. Realmuto hit a chopper to Samardzija, who dropped it, then tried to get the out at first, but his throw was off, loading the bases. DeSclafani hit into a double play, but Furcal followed with a two-run single.
"That pitch to Furcal I'd like to have back, and that comebacker I'd like to have back," Samardzija said.
What happened on the Realmuto play?
"I don't know," Samardzija said. "In my head, it was just this plan, a comebacker, and my momentum was taking me to third and I was going to Luis [Valbuena] and try to get the lead runner, and it just fell on the turf. It was stupid. It just makes your day that much harder."
Valbuena delivered an RBI double with one out in the seventh to put Chicago ahead, 4-3. At that point, Samardzija was in line for the win.
"He had to work hard the whole ballgame," Rick Renteria said of Samardzija, who convinced the manager to let him pitch the sixth, knowing the Cubs' bullpen was over-worked after Monday's 13-inning win.
Hechavarria reached on a bunt single off Schlitter to lead off the seventh, and one out later, McGehee walked to set up Jones' home run. Schlitter had success against left-handed batters, holding them to a .132 average this season. Renteria stuck with the right-hander because he felt if he called upon lefty Wesley Wright to face Jones, the Marlins would counter with pinch-hitter Jeff Baker.
"It was pick my poison," Renteria said. "We just weren't able to hold them at the end."
Did Jones think Renteria would call on Wright?
"I was 99 percent convinced that Wright was coming in and Baker was ready to go to possibly pinch-hit," Jones said. "I was ready to hit as well. All those things were going through my head. ... But Schlitter is a good sinkerballer, and they were probably thinking, 'Get a ground ball here.' I got a pitch up and didn't miss it."
This was the third time Samardzija has left a game with a lead and the Cubs have lost.
"It's the way it goes," Samardzija said of his tough-luck outings. "I go out and pitch and keep doing my job and keep making improvements. I really like how the ball has been coming out the last couple times. ... You pitch deeper in the games, and you have a better chance to win the game."
Carrie Muskat is a reporter for MLB.com. She writes a blog, Muskat Ramblings, and you can follow her on Twitter @CarrieMuskat. This story was not subject to the approval of Major League Baseball or its clubs.