Jones solves Cubs, lifts Marlins with late homer
First hit of series a three-run HR in seventh to pick up solid DeSclafani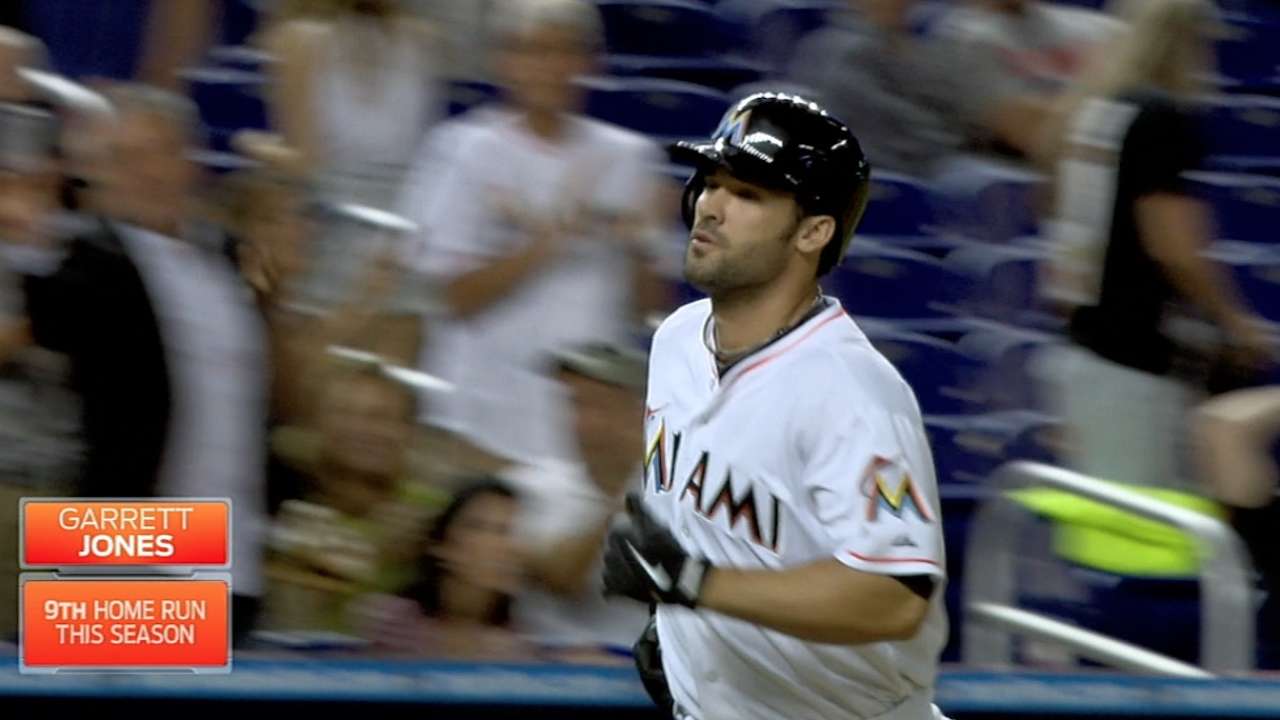 MIAMI -- Garrett Jones found a way to beat the shift on Tuesday night. Belt the ball out of the park.
Jones hit a three-run home run in the seventh inning off Brian Schlitter that lifted the Marlins to a 6-5 victory over the Cubs at Marlins Park.
Some defensive alignments by the Cubs took a few potential hits away from Jones the past two nights. The Miami first baseman was 0-for-9 in the series before he launched his ninth homer of the season, while bumping up his RBI total to 32.
"The shift has taken away some hits," Jones said. "It's frustrated me a little bit mentally. I was kind of chasing some balls out of the strike zone, trying to make something happen, instead of just staying focused in the strike zone. I was able to finally have an at-bat where I got a pitch and just squared it up. Not worrying about the shift or anything, and I was able to get it out of there."
The Marlins' bullpen was taxed after the team played 13 innings on Monday night and three extra-inning games over the last four days.
Steve Cishek, pitching in his third straight game, allowed a run in the ninth on Justin Ruggiano's sacrifice fly, but he collected his 16th save in 17 tries, and the Marlins improved to 36-34 on the season, and 2-3 in the homestand.
The offense received a big boost from Jones, who had gone 20 straight games without a home run.
Miami's rally took rookie Anthony DeSclafani off the hook. The right-hander worked deep into the game, allowing four runs in 6 1/3 innings. He threw 99 pitches, with 69 strikes, and he struck out five.
"I definitely wanted to give the bullpen a rest," said DeSclafani, making his third big league start. "I always want to go out there and give the team a chance to win and throw up zeros. There is a little extra pressure. I was glad I was able to do that, get outs and get into the seventh inning."
Chicago's Jeff Samardzija settled for a no-decision, giving up three runs (two earned) with eight strikeouts in six innings.
Jones' three-run shot to right bounced off the top of the wall and into the Marlins' bullpen, giving Miami the edge. Adeiny Hechavarria started the inning with a bunt single, and he moved to second on Giancarlo Stanton's grounder to second. Casey McGehee walked, and the Cubs huddled regarding how to approach Jones.
The Cubs had lefty Wesley Wright ready in the bullpen. Had there been a pitching change, Miami would have countered by pinch-hitting right-handed-hitting Jeff Baker for Jones.
"I was 99 percent convinced that Wright was coming in and Baker was ready to go to possibly pinch-hit," Jones said. "I was ready to hit as well. All those things were going through my head. I thought they were going to make the switch with Wright. But Schlitter is a good sinkerballer, and they were probably thinking, 'Get a ground ball here.' I got a pitch up and didn't miss it."
On a 1-0 pitch, Jones blistered his liner to right that had the distance to put Miami in front.
"It was pick my poison," Cubs manager Rick Renteria said. "We just weren't able to hold them at the end."
In Monday's 5-4 loss to the Cubs in 13 innings, Jones nearly ended the game in the 10th inning. But his long fly ball to right was foul by several feet.
On Tuesday, the bounce went Jones' way.
"It seems like Stanton and Casey have been on fire, obviously, all season," Jones said. "Casey has been swinging a hot bat. ... He gets a walk, and it was nice to be able to come through and help the team win."
Hechavarria finished with four hits, matching a career high initially set on April 4 against the Padres.
In the seventh inning, the Cubs claimed the lead on Luis Valbuena's RBI double off Sam Dyson. Chris Coghlan got the rally going with his one-out pinch-hit single off DeSclafani.
Dyson worked 1 1/3 innings and picked up his first big league win. After the game, the right-hander was optioned to Triple-A New Orleans because Miami is reinstating Nathan Eovaldi off paternity leave. Eovaldi will start in Wednesday's series finale.
The Marlins played catchup all night. In the fourth inning, they pulled even at 3 on Rafael Furcal's two-out, two-run single to center. Miami had taken an early 1-0 lead, capitalizing on Starlin Castro's throwing error to score an unearned run in the first inning. But Junior Lake hit a two-run homer for Chicago in a three-run second.
"It was a big hit, driving in those two runs," Marlins manager Mike Redmond said of Furcal's single. "He picked us up and we drove in those runs. He looks good. He looks energized. He's fired up."
Joe Frisaro is a reporter for MLB.com. He writes a blog, called The Fish Pond. Follow him on Twitter @JoeFrisaro. This story was not subject to the approval of Major League Baseball or its clubs.