Kings hoist Stanley Cup at Dodger Stadium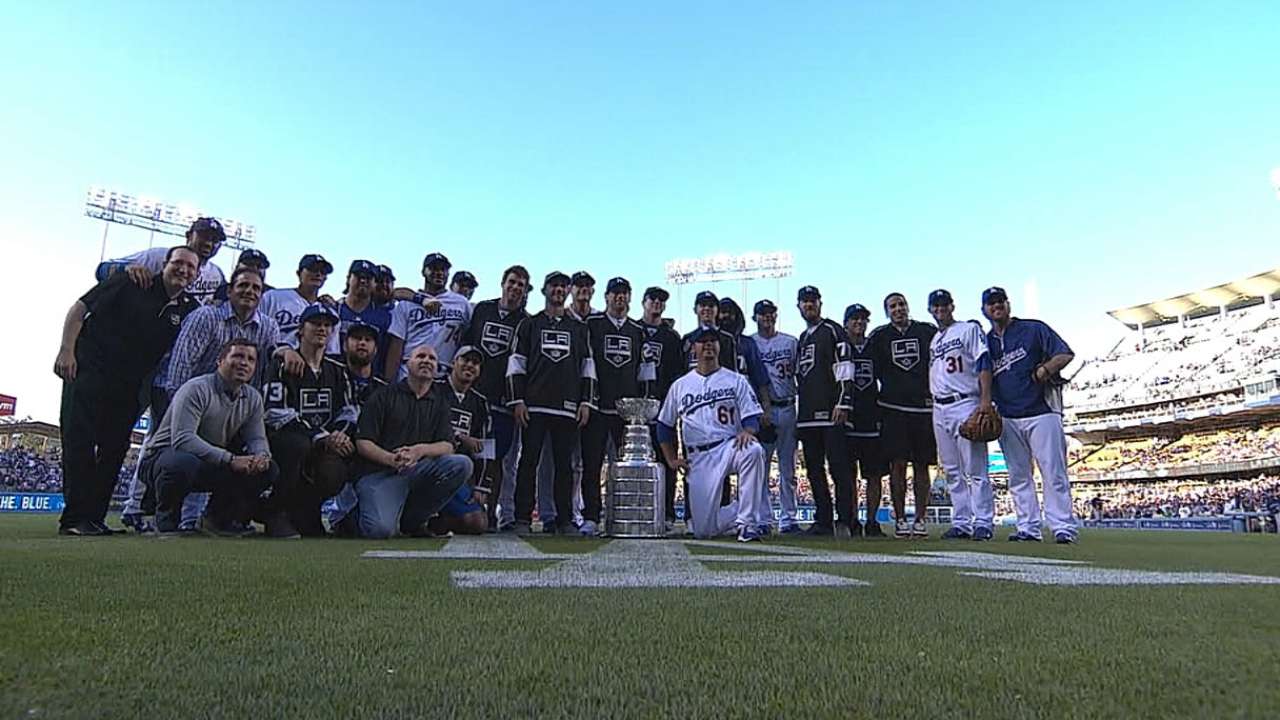 LOS ANGELES -- Don Mattingly could be the only one who knows how to shut down the Stanley Cup champion Los Angeles Kings.
"They like the ball down, out over [the plate]," the Dodgers manager joked Tuesday. "You gotta pitch them up and in. Cutters in would be good pitches to them."
Mattingly was on the field at Dodger Stadium with the Kings on Tuesday, watching them take batting practice hours before the Dodgers took on the Rockies. A few Kings went out to field grounders and shag fly balls, while others gathered around the cage at home plate, chatting with Mattingly and a couple of Dodgers while waiting for their turn in the box.
"I wasn't too impressed with my showing," Kings defenseman Drew Doughty said after his turn. "But I hit a few all right."
None of the Kings went deep, but there was a general consensus as to who their cleanup hitter would be.
"It looks like it's Jeff Carter so far," Doughty said of the club's forward. "He hit one off the top of the wall. No one else even came close to that."
After a parade and rally in downtown Los Angeles and Staples Center on Monday, the Kings brought Lord Stanley's Cup with them to Dodger Stadium for a pregame celebration. It's the second time they've earned the National Hockey League's most prestigious trophy in three years.
#WeLoveLA pic.twitter.com/UIyKo44uyb

- Los Angeles Dodgers (@Dodgers) June 18, 2014
Dodgers fans haven't been shy about expressing their love for the Kings, erupting in the sixth inning of Friday's game once defenseman Alec Martinez scored the title-winning goal.
"I actually heard about it," Kings forward Jarret Stoll said of the reaction at Chavez Ravine. "It's cool, just knowing how many fans are out there cheering for us and rooting for us and behind us. It's pretty special to feel that support."
The Kings' visit to Dodger Stadium on Tuesday was especially exciting for Dodgers reserve Jamie Romak, who was born in London, Ontario. Romak was among a few players gathered around the batting cage, along with catcher Drew Butera, pitcher Clayton Kershaw and Rockies first baseman Justin Morneau -- who also hails from Canada.
Romak said he felt at home talking hockey with the Kings and conversing with a few fellow Canadians.
"Jeff Carter, I grew up with," Romak said. "We played baseball and hockey together as kids for five, six years. So I knew him really well. I haven't seen him in a long time. Drew Doughty is from where I'm from. He knows my sister, and I just met him today for the first time.
"Drew and Jeff have now won two cups in L.A., and they were each on the last two Olympic teams that won gold medals, too, so it's really an unbelievable accomplishment. It's really cool."
While Mattingly once had a peak at the cup in New York when the Rangers won it, Romak has never had the chance to see it.
"They've brought it back to where I live before. Each guy gets a week with the cup at home, but with conflicting seasons, I've never been home for it," Romak said. "It'll be cool to see it today."
The @LAKings first pitch: https://t.co/guP7lbNpGn

- Los Angeles Dodgers (@Dodgers) June 18, 2014
As soon as the Kings brought the cup onto the field before the game, a "Go Kings, go!" chant brewed in the stands.
"It's been great everywhere we go, where we live, the parade and the rally and all of that stuff," Stoll said. "Yesterday was very special. Two years ago was special. This year was special. The way we did it this year was very, very difficult. Everybody's exhausted and spent and looking forward to some rest.
"You got to celebrate it. You got to enjoy it and have fun with it."
Michael Lananna is an associate reporter for MLB.com. This story was not subject to the approval of Major League Baseball or its clubs.