Trout picking his spots for stolen bases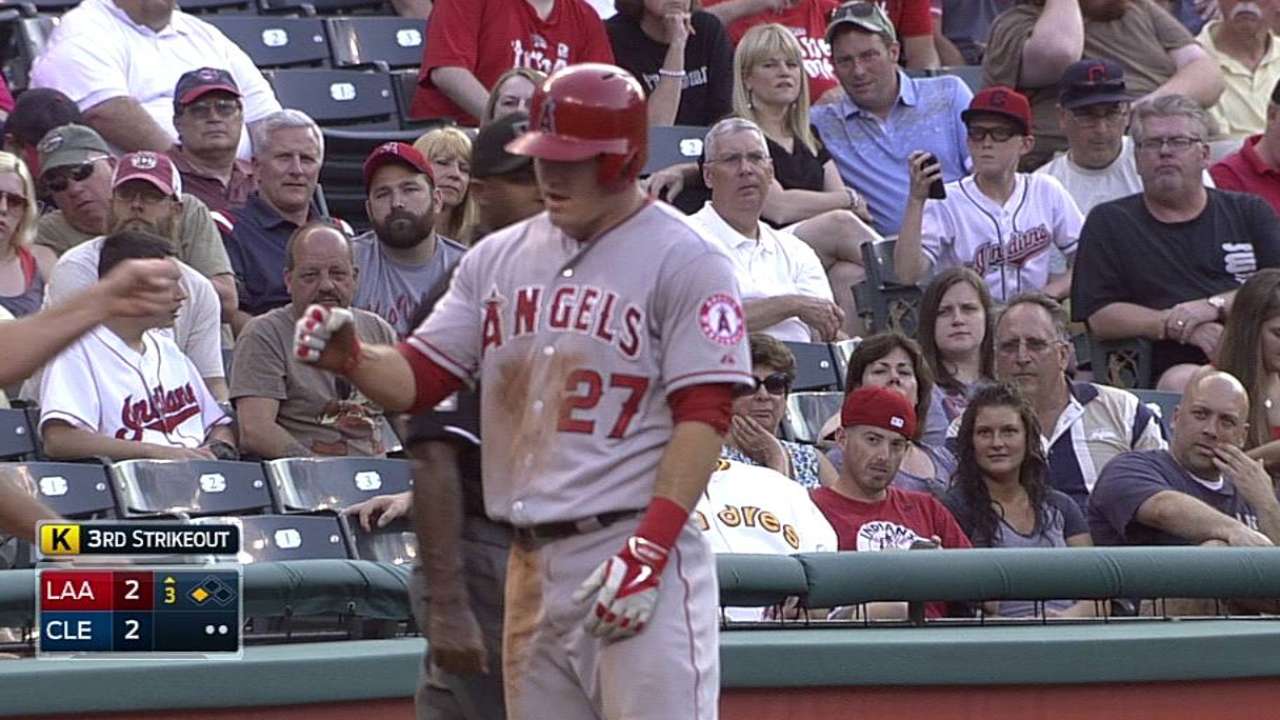 CLEVELAND -- Angels center fielder Mike Trout did something he hadn't done all year on Monday.
He stole two bases in one game.
It's surprising, perhaps even a little perplexing, that a player with Trout's speed, who gets on base so frequently, hadn't already done that multiple times through the season's first 11 weeks. But those two steals gave Trout just nine on the year, five shy of last year's pace, 19 shy of where he was at this point in 2012 and tied for 33rd in the Majors.
Since that breakout rookie season, Trout has noticed a major difference in how closely pitchers watch him and how much quicker they are to the plate when he's on first base.
"Every chance I get to go, I'm going to go," Trout said. "But I'm not going to run into outs."
Trout, who pretty much has a green light on the basepaths, has at least been efficient. He's stolen 11 bases without getting caught, dating back to Sept. 7 of last year, and his stolen-base percentage since 2012 -- 88.3 percent -- ranks first in the Majors among those with at least 90 steals in that span.
"I'm not just going to run into an out," Trout said. "I have to choose my spots for sure."
The Angels, like every other team, measure the amount of time that elapses from the time a pitcher starts his delivery to the time a middle infielder puts on a tag, then weigh it with the speed of the baserunner.
And despite Trout's speed, Angels manager Mike Scioscia said those opportunities have seldom been favorable.
"I think we've been pretty good at the percentages," said Scioscia, who added that Albert Pujols' presence behind him has no bearing on Trout's stolen-base opportunities.
"With Mike, you want to open him up a little bit when he gets the opportunity. But I don't know if I can count on one hand the times he's been on first base and a pitcher has been over 1.2 seconds to the plate. That's what we're running into, so you really need to pick your spots."
Alden Gonzalez is a reporter for MLB.com. Read his blog, Gonzo and "The Show", and follow him on Twitter @Alden_Gonzalez. This story was not subject to the approval of Major League Baseball or its clubs.