Bullpen falters late as Bucs drop see-saw affair
Grilli allows go-ahead homer after seventh-inning rally ties game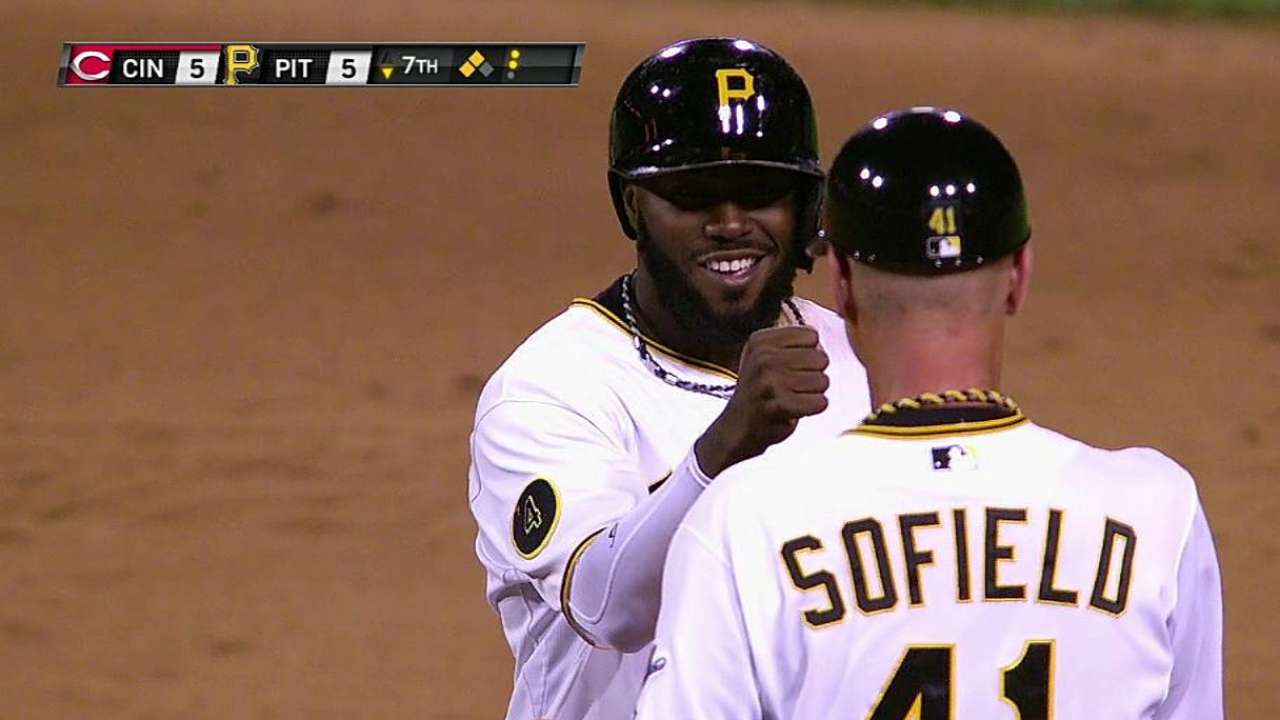 PITTSBURGH -- Until the last act, the Tuesday night drama in PNC Park pretty much followed playwright Clint Hurdle's direction.
Prior to another run-in with a right-hander who had already twice toyed with his Pirates this season, the manager laid out a good way to beat the Cincinnati Reds when their Johnny Cueto is on the mound.
"Your pitcher gives you a good enough effort, both leave with no mark and you win against the bullpen," Hurdle had said.
Precisely how it set up at PNC Park, where Brandon Cumpton went Cueto-to-toe for six innings with the Reds' ace and the Bucs rallied from a three-run deficit into a tie against Reds relievers.
However, Todd Frazier spoiled the resolution, leading off the ninth with a homer off Jason Grilli to give Cincinnati a 6-5 victory.
That was one big departure from Hurdle's scenario. So was the violation of another of his pregame plotlines.
"You've got to score people when they're on second base," Hurdle had said. "All those opportunities are magnified when you have an elite pitcher on the mound."
So you can put this under the microscope: the Bucs left 13 men on base -- nine of them on either second or third.
"We did what we needed to put yourself in position to score, and weren't able to capitalize," Hurdle said. "It cost us in the end. We've got to find ways to be a little more efficient all over the place, to get some of these one-run games coming back our way."
Pittsburgh's fourth consecutive loss in one-run decisions cost the Bucs third place in the National League Central. The Reds leapfrogged them by a half-game.
The Pirates had tied the game at 5 against the first wave of Cincinnati relievers, with three runs in the seventh -- on run-scoring singles by Ike Davis and Russell Martin off Sam LeCure, and Josh Harrison off Logan Ondrusek. Harrison had himself another big night, going 4-for-5 with two RBIs, the four hits matching a career high.
Then came a ninth inning that hugged the rails like a roller coaster.
Frazier's 16th homer on a 2-0 offering was the big dip for the 23,565 in the seats.
"Grilli missed on two breaking balls, and you doubt he'll throw him a third one, and he elevated a fastball Frazier could cover," Hurdle said.
"The first two pitches were offspeed sliders," Frazier concurred, "so that next pitch, I was looking for a fastball. I got it out over the plate and I was hoping I could hit it hard, that was all I was trying to do."
"You can't fall behind the first guy you face, especially in a tie ballgame. Frazier's a guy who dives on the plate, and I tried to move him off [with the breaking balls]. It didn't work out tonight," said Grilli, who may appear to have spent this season giving up crushing long balls but has in fact surrendered only three -- the one Tuesday night, and two earlier ninth-inning shots by Milwaukee's Ryan Braun.
Then, with two outs in the bottom of the ninth, Pirates fans got to shriek over a potential cage-rattler. With two men on and two outs, Clint Barmes laid into some Aroldis Chapman heat and sent a torch toward the left-center seats.
"It felt good off my bat. I got barrel to it, so I wouldn't say I didn't think it had a chance," Barmes said.
"I've been here too many games," Hurdle said. "It's a deep left field, so I just watch and see where it ends up."
It ended up in the glove of leaping left fielder Chris Heisey, who had entered the game in the seventh in a defensive move by Cincinnati manager Bryan Price, and whose first thought was, "Don't mess it up."
"You're in there for a defensive replacement late in the game, somehow the ball finds you," Heisey said. "Right when it was hit, I thought I had a good chance. But as I was going back, I kind of thought I would run out of room. Fortunately for us, it stayed in the yard."
After the Reds had drawn first blood on Joey Votto's RBI single in the first, the Bucs quickly drew even on Harrison's RBI double in the second.
The Bucs took a 2-1 lead in the third as Martin coaxed a bases-loaded walk out of Cueto, and the Reds had a more forceful response in the fourth, Brandon Phillips' single and Jay Bruce's double began it, and they took turns scoring on Ryan Ludwick's single and Brayan Pena's grounder into a force for a 3-2 advantage.
Cumpton nearly kept abreast for six innings. He allowed three runs on eight hits and a walk, with four strikeouts. Cueto had to make 20 more pitches than Cumpton's 99 in his six innings, and was charged with seven hits and two runs, with more walks (four) than strikeouts (two).
The Reds pulled away with two in the seventh off lefty Justin Wilson, before the Bucs made up all of the deficit in the home half of the inning.
Tom Singer is a reporter for MLB.com and writes an MLBlog Change for a Nickel. He can also be found on Twitter @Tom_Singer. This story was not subject to the approval of Major League Baseball or its clubs.