Rockies stung by slow start, Dodgers' homers
Chacin's six innings marred by two long balls; bats stay cold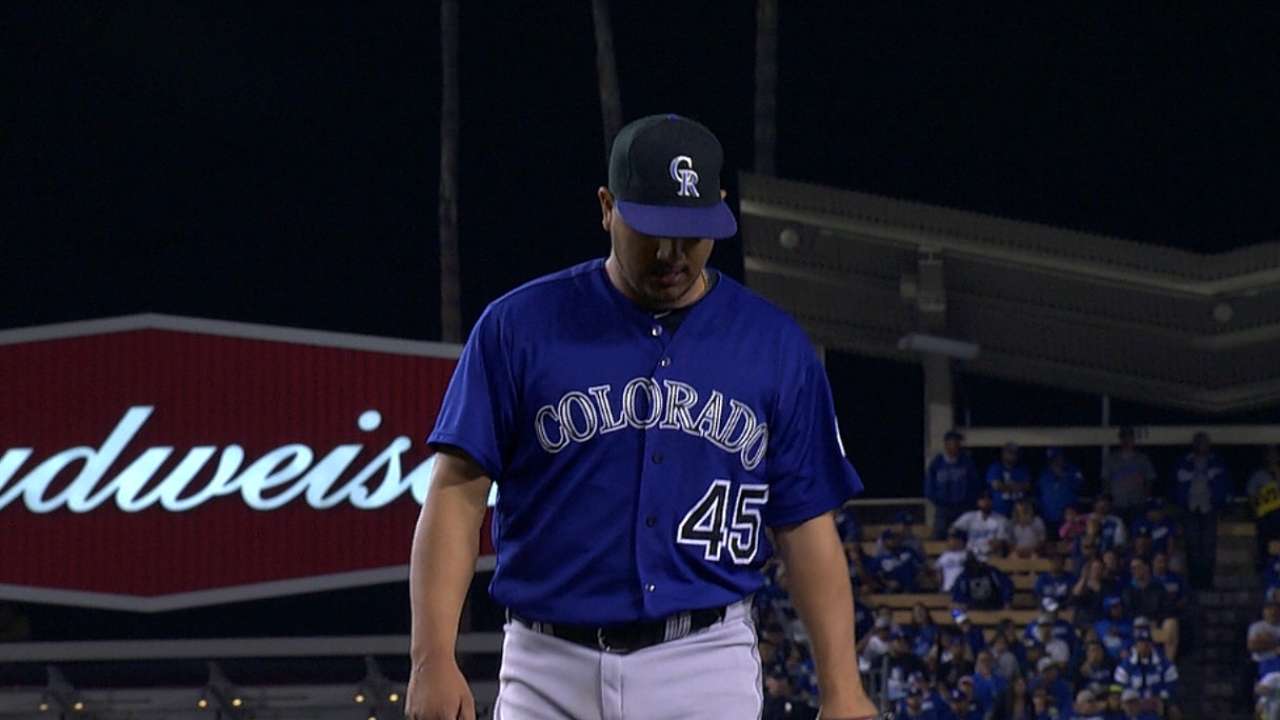 LOS ANGELES -- Sometimes a few big hits are better than a bunch of little ones.
Home runs by Hanley Ramirez, Matt Kemp and rookie Carlos Triunfel provided all the Dodgers' runs as the Rockies were saddled with a 4-2 loss at Dodger Stadium on Tuesday night in front of 44,175.
The Rockies loaded the bases in the sixth inning with no outs and in the seventh with one out, but managed just a run in each frame in falling for the second straight night and dropping to 3-2 on a road trip that ends with Wednesday night's finale. The absence of big hits meant Jhoulys Chacin (1-5), who appears to have found his form after missing the first month with a throwing shoulder strain, had to pay for the two homers he gave up in an otherwise solid outing.
"I thought we had a nice approach offensively," Rockies manager Walt Weiss said. "We just couldn't get the big hit to have a big inning."
The opportunities the Rockies created in the late innings were reminiscent of their sweep of the Giants in San Francisco, where they won all three games in comeback fashion. But Colorado's 2-for-14 ledger with runners in scoring position was a stark reminder that a lineup without injured stalwarts Carlos Gonzalez, Nolan Arenado and Michael Cuddyer has a little harder time.
In the five games this trip, the Rockies have hit just three home runs. One of them, Brandon Barnes' game-winner in the ninth on Saturday, was an inside-the-park job. Only Troy Tulowitzki -- on Sunday against the Giants -- and Wilin Rosario -- Monday night against the Dodgers -- have hit the ball over the fence. Without power, the Rockies have to string together more hits.
"This road trip so far has been real good for what we're doing and the pitchers we're facing," Tulowitzki said. "In San Francisco, we got those big hits. These two games, we didn't get those hits."
Ramirez homered for two runs in the third inning on an inside sinker that stayed over the plate, and Kemp homered to lead off the fourth on a hanging outside changeup against Chacin, who gave up three runs on seven hits and struck out five in six innings.
Chacin held the Braves scoreless in seven innings in his previous start, earning his first win of the season. Despite Tuesday's loss, Chacin has returned to some of his past form.
"My sinker is working. I can throw my sinker down and away. I can throw my sinker down and in, and I can control it," said Chacin, who hadn't given up a homer at Dodger Stadium before Tuesday. "That's what I wasn't doing earlier. Everything was flat."
The other homer, the first of Triunfel's Major League career, came off Tommy Kahnle in the seventh and gave the Dodgers a two-run edge. Kahnle struck out four in two innings.
Clutch pitching by starter Zack Greinke and the Dodgers' bullpen kept the Rockies from the big inning they needed.
Greinke fanned Corey Dickerson to end the fifth inning with two on, then escaped bigger trouble in the sixth.
Tulowitzki singled, Justin Morneau walked and Drew Stubbs singled to open the inning, and Rosario's sacrifice fly cut the difference to 3-1. But Greinke fanned Ryan Wheeler. DJ LeMahieu extended an at-bat to nine pitches with the count 2-2 before Greinke forced a bouncer to the mound. It was the last of Greinke's season-high 117 pitches. The five times he's gone beyond six innings, he's not thrown more than 112 pitches.
"Definitely a tough game for me," said Greinke. "Guys on base it seemed every inning, a lot of foul balls, two-strike counts and guys fighting stuff off. A lot of pitches, tough pitches. It's a tough team to strike out."
Dickerson doubled with one out in the seventh, on a hard-hit ball that bounced off Ramirez's bare hand and into center field. The Dodgers' shortstop left the game with a right ring finger contusion. With two out, reliever Brandon League walked Morneau and watched Stubbs reach on an error on second baseman Dee Gordon. But Rosario grounded to third baseman Miguel Rojas.
Brian Wilson also worked a double-play grounder from LeMahieu in the eighth. Dodgers closer Kenley Jansen earned his 20th save.
Thomas Harding is a reporter for MLB.com. Follow him on Twitter @harding_at_mlb. This story was not subject to the approval of Major League Baseball or its clubs.