Gwynn's gang: Toughest outs in MLB of last 30 years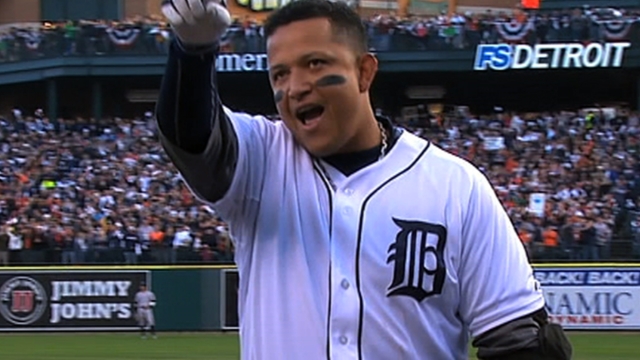 Tony Gwynn made his Major League debut in 1982. From that moment until his untimely death this week, he was one of the toughest outs of the generation. The eight batting titles attest to that.
Orioles manager Buck Showalter told a story about when he was managing the D-backs, and no matter how he arranged his defense, Gwynn always seemed to find a hole. So one night, in frustration, he told his fielders to just play somewhere they normally wouldn't.
It worked for one night, Showalter noted dryly. The next game, Gwynn got a couple hits.
Which raises the issue: If Mr. Padre was one of the best hitters in the last 30 years, who are the others who made pitchers sweat the most? Who they not only hated to see in the on-deck circle, but mentally counted down to know exactly how many more batters until their turn came around again? Who were pesky enough to keep a pitcher awake at night? Who are the guys who, when going over the scouting report before the game, the phrase, "Don't let this guy beat us" was routinely invoked?
In alphabetical order, here's a necessarily subjective list:
Barry Bonds: Love him or hate him (and there are more of the latter), suspect him or believe he's gotten a bad rap (and there are more of the former), he's clearly one of the most skilled hitters baseball has ever seen. Seven MVPs. A career on-base plus slugging of 1.051 and over 500 stolen bases. And he accomplished much of that before there were any whispers about steroids.
George Brett: He made a legitimate run at becoming the only player since Ted Williams to bat .400 when he ended up at .390 in 1980. He made 13 All-Star Games and averaged just 54 strikeouts per 162 games, earning a reputation as one of the toughest outs of his era.
Miguel Cabrera: No list of the most feared hitter's of Gwynn's generation would be complete without the Tigers' slugger. You want average? He's a .321 career hitter. You like a guy who gets on base? His on-base percentage is .398. Power? He averages 35 home runs per 162 games. And he doesn't have a lot of holes in his swing as evidenced by the fact that he's struck out fewer than 100 times each of the last four seasons.
Rod Carew: His last four seasons overlapped with Gwynn's first four and they ended up having remarkably similar careers. He was a career .328 hitter who won seven batting titles and batted .388 in 1977. He also walked enough to finish with a .393 OBP and struck out in just 11 percent of his at-bats.
Ken Griffey Jr.: Before injuries derailed his career, he seemed to be on his way to putting up numbers few in the game had approached. Starting with his rookie year in Seattle and for the next dozen years he was one of the most electrifying hitters the game has seen, belting 438 homers with a .948 OPS.
Rickey Henderson: He's generally conceded to be the best leadoff man in history, and it's not hard to see why. He had not only 3,055 hits, but with his hunched-over stance, also drew 2,190 walks. He stole a record 1,406 bases which led to scoring a record 2,295 runs.
Albert Pujols: He's the only player in history to bat at least .300 with 30 homers and 100 RBIs in his first 10 Major League seasons. The only one of those seasons he didn't make the All-Star team was 2002, a year he finished second in the MVP voting, which he went on to win three times. He owns a career OBP of .406 and he hit his 500th career homer earlier this season.
Manny Ramirez: He could be goofy. He could be disruptive. But he was a hitting savant. A .312 career average with a .996 OPS. Enough said.
Pete Rose: He's more than just the Hit King. He scored more runs (2,615) than any player in history. He walked 1,566, more than any switch-hitter. And he put the ball in play, averaging just 8.1 strikeouts per 100 at-bats in his career.
Ichiro Suzuki: He's similar to Gwynn in that he's known for piling up hits -- over 4,000 and counting -- but also having the ability to hit the ball out of the park when the situation calls for it. Ichiro topped 200 hits in each of his first 10 seasons after coming to MLB from Japan while averaging just 69 strikeouts per 162 games.
Paul Hagen is a reporter for MLB.com. This story was not subject to the approval of Major League Baseball or its clubs.