Bauer doesn't need his best stuff to succeed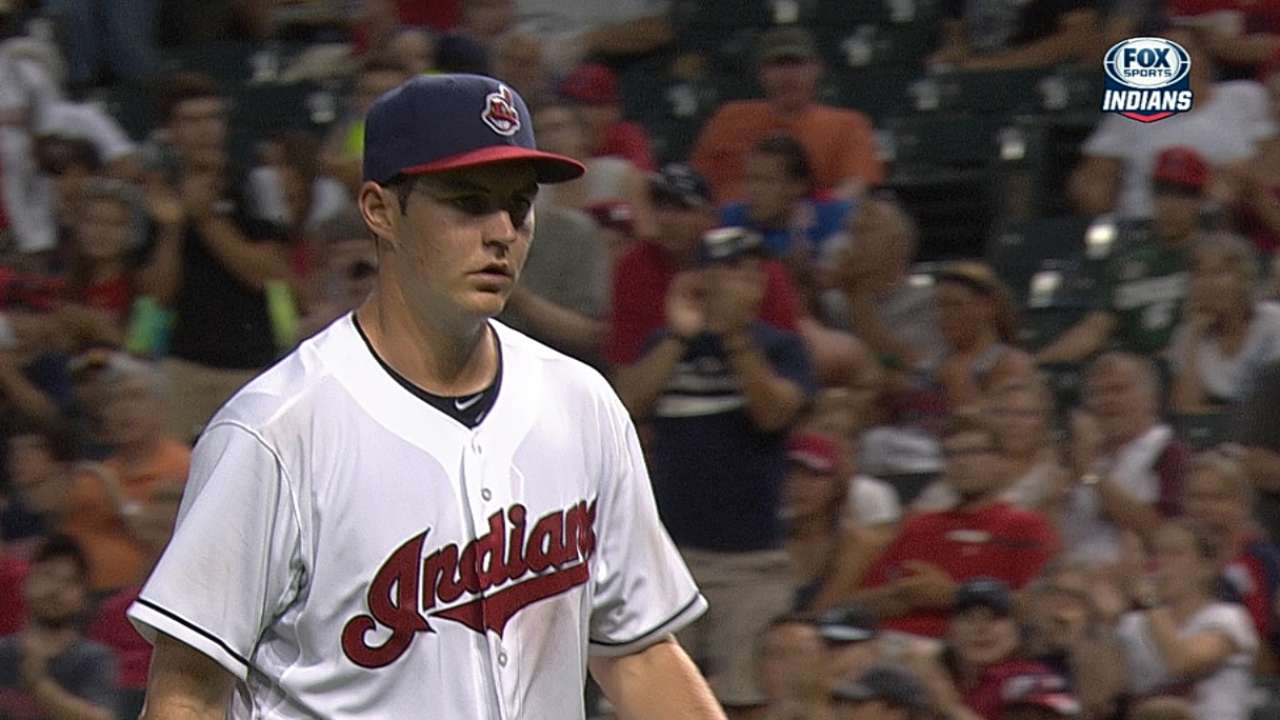 CLEVELAND -- By the time Indians right-hander Trevor Bauer walked back to the dugout in the seventh inning of Monday night's start, he had thrown a career-high 119 pitches.
If it were up to him, he would have stayed in even longer.
"I can go 130, 40, 50, 200 [pitches], whatever. I train myself to be able to do that," Bauer said after holding the Angels to three runs over 6 2/3 innings. "I did that all college. Obviously that was seven days' [rest], but I'm very used to throwing that many pitches and maintain my stuff deep into games."
Bauer, just 23 years old, has quietly been putting together the best season of his fledgling career. He is 2-3 with a 4.20 ERA through seven starts, though he has limited his opposition to three runs or fewer in all but two of those outings.
The numbers may not jump off the page just yet, but Butler's mechanics and his ability to handle traffic on the basepaths have left Cleveland's coaching staff excited about his future.
"It's almost like, 'OK, you're a Major Leaguer now,' because you can go out there when your stuff might not be the best and you can still pile through and give us six, seven good innings," pitching coach Mickey Callaway said on Monday. "He did it his last start, he did it tonight. When you get your guys doing that, it kind of makes them feel like they belong, and it makes us feel like they belong. Now, when he's got his best stuff, he's going to even dominate more.
"That's probably one of the things [Corey] Kluber felt last year."
Not only was Bauer able to hold his own against a talented Angels lineup that features Mike Trout and Albert Pujols, but he did it when he was not on his A-game. The location was lacking at times -- only 60.5 percent of his pitches were strikes and he issued four walks -- but he was still able to consistently hit 94 and 95 mph with his fastball during his final frame of work.
"It felt good to prove I could still handle it," Bauer said.
The Indians will continue to closely monitor the right-hander's workload. His latest performance, however, was another reminder of what the training-intensive Bauer can accomplish on the mound.
"There's some things I worry about that with Trevor because he's not the biggest guy in the world," Indians manager Terry Francona said. "But after you've been around him and seen how much he's thrown, he's thrown more than most guys do getting to this point. His arm is conditioned to do that. That's not the norm anymore."
Alec Shirkey is an associate reporter for MLB.com. This story was not subject to the approval of Major League Baseball or its clubs.