Trout's two-HR effort backs strong Shoemaker
Center fielder drives in four; righty throws eight strong innings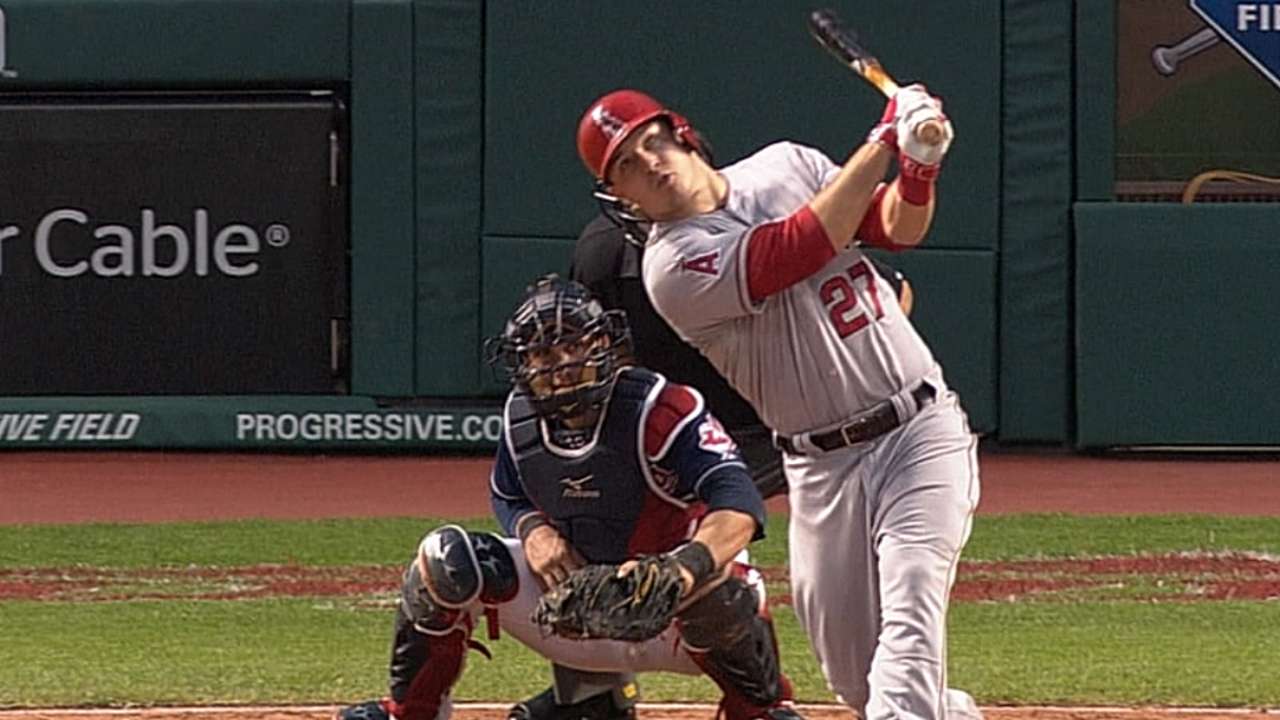 CLEVELAND -- Indians reliever Mark Lowe's 92-mph fastball to Mike Trout in the seventh inning ran low and in, near his ankles and a couple inches inside of home plate, so the Angels center fielder kept his hands in, dropped the bat head fast as lightning and scorched it over the tall fence near center field for his second home run, his third hit and his fourth RBI in the Halos' 9-3 win over the Indians on Tuesday night.
Inside the visitors' dugout at Progressive Field, Hank Conger-- a couple weeks removed from an 0-for-16 slump -- could only shake his head.
Sometimes it's just not fair.
"It's ridiculous," Conger said of his superstar teammate. "Honestly, I was truly [ticked] after that home run. It's unbelievable. It's so effortless. It's the most amazing thing I've ever seen. I was truly [ticked]. How do I do that? Seriously. How do I do that?"
For now, the Angels will settle for simply observing as Trout navigates through a scorching-hot stretch that always seemed inevitable, even while in the midst of an early-season slump.
Trout's slash line sat at .264/.363/.521 on May 17, with 53 strikeouts in 42 games. Since then, the 22-year-old is batting .396 with eight homers, 26 RBIs and just 17 strikeouts in 24 games.
Tuesday marked his second career multihomer game and first since Aug. 30, 2011. He now has 16 homers, tying him with Albert Pujols for the team lead, and his effort provided plenty of run support for an effective Matt Shoemaker, who gave up two runs while throwing a career-high eight innings and striking out a career-high 10 batters.
"I'm just being patient and not trying to do too much," Trout said. "I'm squaring up some balls."
That's one way of putting it.
Trout has a slash line of .311/.397/.610, after hitting .323/.432/.557 in 2013 and .326/.399/.564 in '12. He's riding a season-high 12-game hitting streak, which could've been 24 games had it not been for the June 3 contest in which he struck out in his first plate appearance and exited with lingering back pain. And he's reached base safely via hit, walk or hit by pitch in 35 of his last 36 games.
"He struggled for a 100-at-bat range that a lot of people focused on," Angels manager Mike Scioscia said. "But as you can see, he found it."
The key, Trout said, has been being more patient and making sure he gets his front foot down in time.
"When I try to get too big and try to hit the ball extremely hard, I don't get my foot down," Trout said. "I don't recognize pitches. That's why I think the strikeouts are up, because I'm late getting my foot down. Once you get it down, you recognize the pitches more and it gives you time to react."
Kole Calhoun led a 15-hit attack by the Angels, tying a career high with four hits while leading off the ninth with a homer. Josh Hamilton went 2-for-5 with a double. Howie Kendrick had three hits, including a sixth-inning homer to straightaway center field. And Shoemaker was outstanding, scattering five hits and walking one while moving to 4-0 with a 3.41 ERA in six starts this season.
They all took a backseat to Trout.
"I actually think for his sake they should rest him tomorrow," Indians manager Terry Francona said, tongue firmly in cheek. "He has a chance to be a pretty good player; you don't want to tire him out."
Trout hit a sharp liner for a double in the first off Indians righty Josh Tomlin, then made him work in the fifth. Facing an 0-2 count, he took a pitch off the plate, fouled off three more, took another ball, then saw an outside-corner, 89-mph fastball that caught too much of the plate and hit a towering drive to right field for the three-run homer that gave the Angels the lead.
Two innings later, he hit an even more impressive homer off Lowe, and Conger wasn't the least bit surprised.
Maybe just a little jealous.
"He's Mike Trout," Conger stated. "He's the best player I've ever seen, flat out. He's got the fastest hands west of the Mississippi."
Alden Gonzalez is a reporter for MLB.com. Read his blog, Gonzo and "The Show", and follow him on Twitter @Alden_Gonzalez. This story was not subject to the approval of Major League Baseball or its clubs.