Tribe can't recover as Tomlin struggles in fifth
Right-hander allows four runs in frame, six overall, in loss to Halos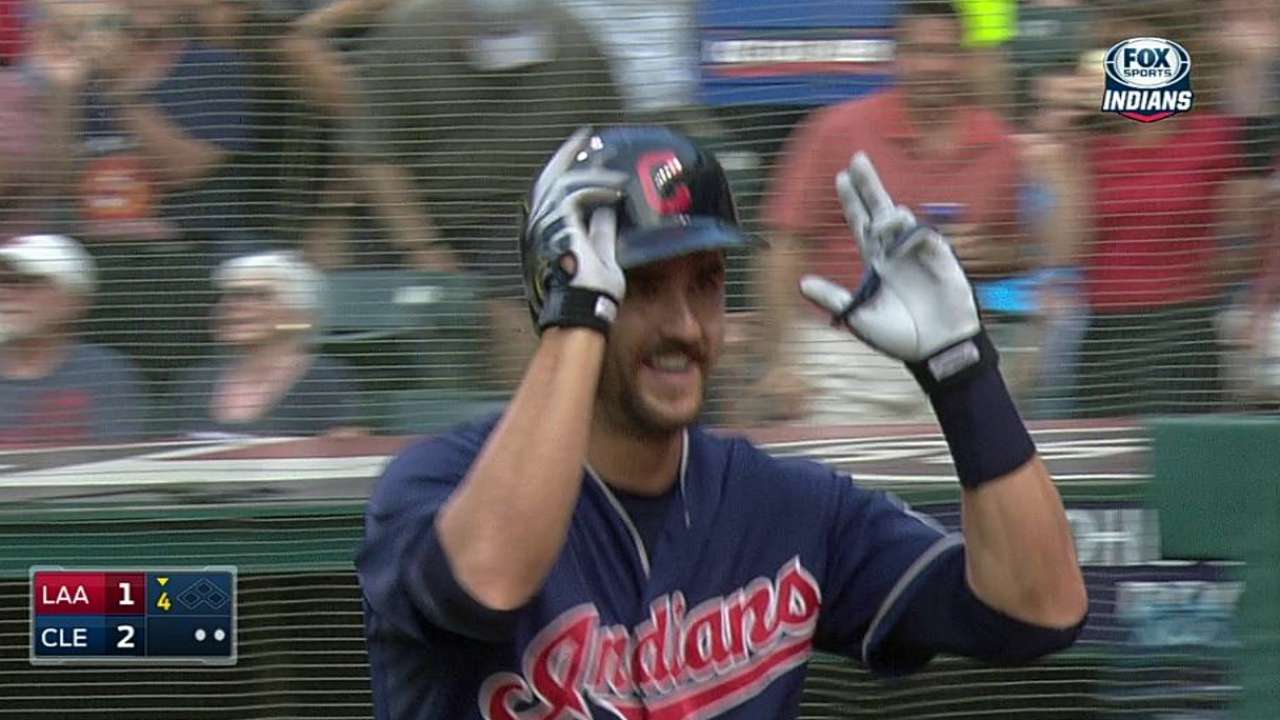 CLEVELAND -- Even before Mike Trout began battling through an eight-pitch at-bat with Josh Tomlin in the fifth inning, the ball had carried well for both teams on a muggy Tuesday night at Progressive Field. The thought that one big hit could claim the tie game was already evident.
As Trout fouled off a cutter, curveball and cutter again in the at-bat, it became clear the tide was turning in the young slugger's favor. After he lifted Tomlin's two-strike fastball over the right-field wall for a three-run homer, the Angels had a three-run lead and the starting pitcher's fate was all but sealed.
"I threw him a handful of cutters in that at-bat, hopefully trying to get him to take that pitch, or foul it back, or hoping it would cut away," Tomlin said. "But it didn't, he put a pretty good swing on it and you saw it happen."
In a game not light on the extra-base knocks and warning-track shots, the first of Trout's two long balls proved the decisive blow as the Tribe fell, 9-3, to the Angels, who evened the four-game series at one game apiece. The loss also snapped Cleveland's 10-game home winning streak.
"I hit it good, but I let the ball get deep," Trout said of his fifth-inning blast. "I think they were trying to go away and it got a little bit more of the plate."
Tomlin took the loss, allowing six runs (five earned) on 11 hits, and he struggled to command his fastball for much of the outing. He pitched past a shaky first inning to tally a trio of scoreless frames, but the four runs scored in the fifth proved too much to overcome for the right-hander.
"I was kind of yanking pitches down and away to righties and was sitting down and in to lefties," Tomlin said. "That was something I was definitely battling."
Now 4-4 with a 3.86 ERA, it marked the eighth time in nine games this season that Tomlin has given up at least one home run.
"He didn't walk anybody, rarely does," Indians manager Terry Francona said. "Just locating his fastball, even coming from the bullpen he said he was yanking fastballs, so he was fighting that coming in. He pulled it together and pitched a couple of great innings, and then we couldn't keep [Kole] Calhoun off base."
Trout finished the night with three hits, four RBIs and two home runs -- the second time in his young career he has notched a multihomer game -- but Calhoun just about matched his production. The leadoff man turned in a 4-for-5 game at the plate with three runs scored and a home run of his own off Josh Outman in the ninth inning.
Meanwhile, Angels starter Matt Shoemaker mastered the Tribe lineup for eight innings of two-run baseball while striking out a career-high 10 batters and walking one. His only mistakes -- a Lonnie Chisenhall solo homer and a David Murphy RBI groundout -- were quickly forgotten, as he went on to limit Cleveland's lineup to just three hits over his final five innings of work.
"He was ahead of guys," Angels manager Mike Scioscia said. "Had a real good combination with his fastball command, breaking pitches, and his split was very good. Everything was down in the zone; that's how he can pitch, and it's great to see."
Cleveland took a one-run lead in the fourth inning when Chisenhall, who snapped his 0-for-13 streak with another two-hit night at the plate, blasted a first-pitch fastball into the seats for his eighth home run of the year.
"[The slump] was short-lived," Francona said. "He swung the bat very well, and I think that is the maturation of Lonnie."
But the one-run advantage would evaporate almost as quickly as it came once the Angels pulled ahead by three runs in the fifth -- an outburst at least partially caused by Asdrubal Cabrera's throwing error, which he made while trying to turn a double play.
"It didn't stay in his glove," Francona said. "Always want to get an out, but I understand what he's trying to do."
Los Angeles would only build on the lead from there as the power display continued at the plate. Over the remaining four innings, three Angels batters would drive it deep for a solo shot: Howie Kendrick off Tomlin in the sixth, Trout again in the seventh and Calhoun in the ninth.
Trout now owns a .311 average to go with 16 home runs this season and has a hit in 23 of his last 24 games.
"I actually think for his sake they should rest him tomorrow," Francona said jokingly. "Has a chance to be a pretty good player; you don't want to tire him out."
Alec Shirkey is an associate reporter for MLB.com. This story was not subject to the approval of Major League Baseball or its clubs.