Throwback First Place: 11 years later, KC on top
Gordon, Moustakas go deep to key Royals' ninth straight win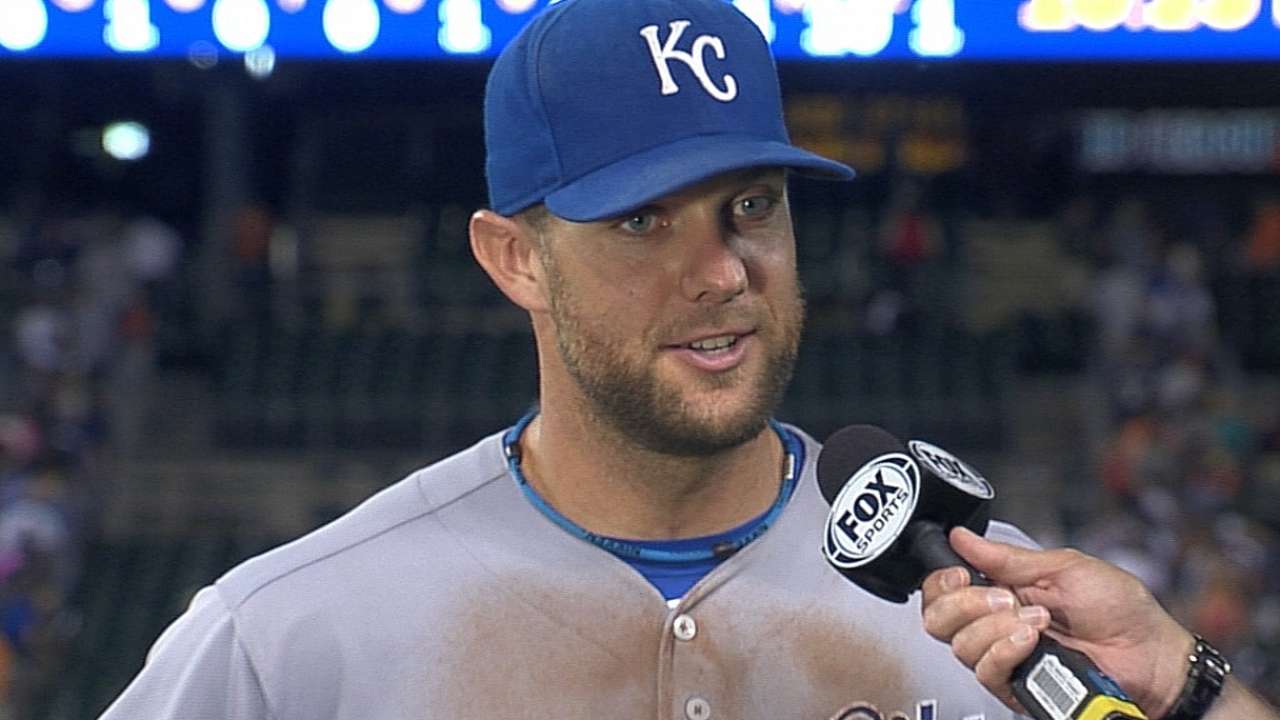 DETROIT -- The first-place Kansas City Royals. Now that's a combination of words rarely seen in recent years.
Yet that became a reality when the Royals knocked off Max Scherzer and the Detroit Tigers, 11-4, on Tuesday night to take over the lead in the American League Central. The Tigers fell out of first place for the first time all season, now trailing by a half-game.
Rookie Yordano Ventura pitched seven innings for the victory and Alex Gordon and Mike Moustakas each belted a two-run homer in a seven-run second inning.
Predictably, the Royals approached their newly-won status with extreme caution.
"What's the date?" said manager Ned Yost. "It's nice, but we've got a lot of games to play. We don't get all geeked up. We're on a nice run right now, we'll just keep it going. It's better than the alternative, trust me."
Gordon, who's been around since 2007, finds first place a comfortable fit.
"It feels good, it's better than last place which we'd been accustomed to in June early in my career," he said. "This is a lot better."
The Royals' ninth straight win matched their longest streak of last year, July 22-Aug. 1. But they were buried in the standings by then.
Such a lofty perch this deep into a season is unusual indeed for the Royals. This was their 70th game, and the last time they had sole possession of first place at 70 games or beyond was on Aug. 29, 2003, after the 124th game. They led the White Sox by one game.
"It's fleeting. It can leave tomorrow," Yost said. "You've got to stay on top of your game."
The Royals faced a tough assignment at Comerica Park where a crowd of 34,328 gathered. Scherzer, last year's Cy Young Award winner, had won his last five decisions against Kansas City. He also had a 5-0 record so far this year at Comerica. And he was coming off a three-hit shutout in Chicago.
None of that mattered in the second inning when the Royals jumped on Scherzer for seven runs on seven hits -- including the homers by Gordon and Moustakas.
Eight batters came to the plate before Scherzer got the first out. Billy Butler started it with a single and took second on right fielder J.D. Martinez's error. Gordon pounded a 1-0 pitch over the right-field wall for his eighth homer.
"Anytime you can do that to a starting pitcher in the second inning, you know they're going to be frustrated a little bit," Gordon said.
Salvador Perez walked and Moustakas lofted a 3-2 pitch down the right-field line for his seventh homer. That was followed by three singles by Alcides Escobar, Jarrod Dyson (an overturned out call) and Nori Aoki. Omar Infante knocked in two more runs with a single to center.
The seventh run scored as Eric Hosmer tapped back to Scherzer. Then Butler and Gordon went out to end the inning -- the Royals' biggest since an eight-run sixth on June 13, 2013, at Tampa Bay.
As the 90-degree evening wore on, Scherzer was finished in the fifth inning after three hits with nobody out. He was charged with 10 runs on 10 hits and one walk. This came one night after the Royals hammered Justin Verlander for seven runs.
Ventura got a helping hand, or glove, from Lorenzo Cain in the fourth. Cain, who had replaced the injured Aoki in right field, leaped to take a home run away from Martinez.
"When you're on a roll, you get breaks," Yost said.
Such as the bizarre out that helped Ventura in the fifth inning. With two outs, a run in and the bases loaded, Ventura unleashed a pitch that sailed over catcher Perez. But the ball crashed into a gate behind home plate, rebounded directly to Perez and the catcher whirled and threw out Eugenio Suarez before he could get back to third base. Inning over.
"Nothing was planned obviously," Moustakas said, "but the ball went past Salvy and I saw it shoot back to him so I shot over to third just in case he throws it. And he threw it, a great play and we were able to get him out."
Just a lucky break?
"No, we've got a sign for that," Perez joked.
With an 11-8 victory in Monday's series opener, this marked the first time the Royals had scored double digits in consecutive games since April 30 and May 1, 2011, when they dispatched Minnesota, 11-2 and 10-3 in that order.
Looking back three weeks, Yost remembered how things were after the Royals had lost three straight to Houston. They were in fourth place, four games under .500 and 6 1/2 games behind Detroit.
"Before we went to Toronto, we had a press conference and we were coming into a real tough stretch," Yost said. "I said we better get our act together quick, or we're in trouble. And, man, we got our act together. From that point on, we've played spectacular baseball."
The Royals are 14-4 since then. The Tigers are in a 5-11 slide and manager Brad Ausmus said his players are fed up.
"They're getting sick of it for sure," Ausmus told reporters. "Anyone that would go through something like this, especially on a team that's supposed to win, would get sick of it. I'm sick of it. They're sick of it. The fans are sick of it. I'm sure you're tired of writing about it."
The Royals, though, were enjoying life at the top. Cautiously.
"It feels great," Moustakas said. "This is where we wanted to be all year, but we're not going to take anything for granted. We've got a lot of baseball left."
Dick Kaegel is a reporter for MLB.com. This story was not subject to the approval of Major League Baseball or its clubs.