Stroman labors as Blue Jays topped by Tanaka
Toronto righty throws 98 pitches over 3 2/3 innings in series opener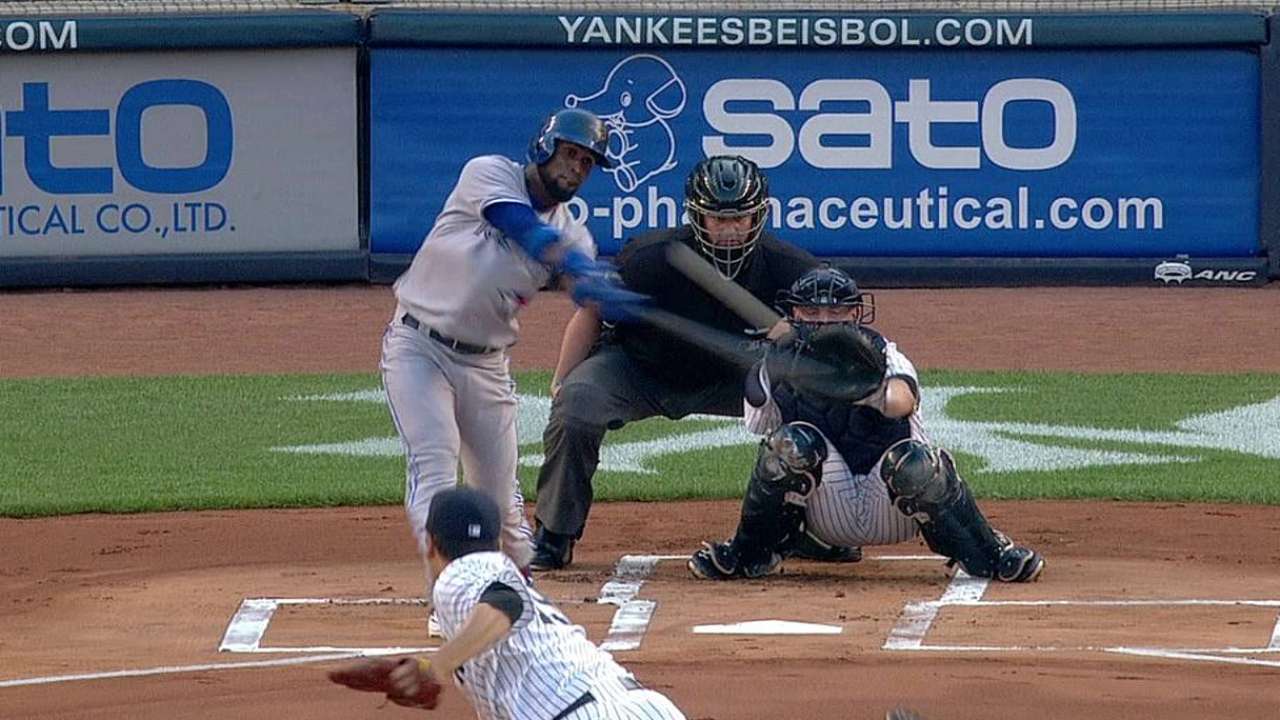 NEW YORK -- Marcus Stroman grew up approximately an hour away from New York City, so he knows all too well how patient the Yankees' lineup always seems to be. The rookie starter got to experience it firsthand on Tuesday night.
Toronto's right-hander tried to be aggressive, but the Yankees waited him out by taking pitch after pitch. When the count finally got to two strikes, New York did its dirty work by fouling off an extremely high number of pitches.
Stroman was almost completely worn out by the fourth inning, and the Blue Jays' bats were unable to solve Japanese phenom Masahiro Tanaka in a 3-1 Toronto loss at Yankee Stadium.
"[Stroman] debuted at Yankee Stadium, and they gave him a typical Yankee effort," Blue Jays manager John Gibbons said. "They grinded him. It's not an easy place to pitch. I thought he battled, it was a close game, we were in that thing, we just couldn't mount any offence whatsoever."
The tone was set in the first inning, when Yankees leadoff man Brett Gardner saw 12 pitches before eventually grounding out to second base. Stroman required 37 pitches to get through two, and he came within one of doubling that mark during a third inning which saw him face seven batters.
The only major mistake Stroman made also came in that third inning on a 2-1 pitch to Gardner. New York's left fielder lifted a fly ball to right field, and in a lot of ballparks, it likely would have gone foul, but with the short porch at Yankee Stadium, it bounced off the foul pole for a two-run shot.
Stroman returned for the fourth inning but was lifted with a pair of runners on and two outs. He had thrown 98 pitches by that point, which set a career high. Another major reason for the high pitch count was that New York fouled off 25 pitches.
"They were just fouling off good pitches," said Stroman, who grew up in nearby Medford, N.Y., and had his family in attendance. "I was trying to be in the zone, for the most part, even with my strikeout pitches, and right from the first batter, Gardner fouled off a bunch of pitches. It's one of those days where my pitch count got driven up by deep counts, and I fell behind. But I tried to battle and did the best job I could."
The Blue Jays became the second team in the Major Leagues to get a second look at Tanaka. The free-agent addition allowed two earned runs over seven innings during his first outing against Toronto on April 4, and his pitching line was almost identical on Tuesday night.
The Blue Jays once again began the game with a leadoff homer. In April, it was Melky Cabrera who hit a shot off Tanaka, and this time, it was Jose Reyes. That marked the second time this season that Reyes hit a leadoff home run, and the 20th time in his career. Reyes continues to roll along, as he has at least one hit in 16 of his past 17 games and 34 of his last 37.
The same can't be said for the rest of the lineup, as the Blue Jays were then held in check for the remainder of the game. Tanaka allowed the one run on five hits and two walks while striking out 10 over six innings. That was Tanaka's 11th victory of the season, moving him past Blue Jays left-hander Mark Buehrle to take the Major League lead.
Buehrle pitches in the middle game of the series Wednesday night.
"He had to work really hard the first two innings," Yankees manager Joe Girardi said about Tanaka. "I think his pitch count was around 44 or 45 after two innings, and then he did a really good job after that. There were some guys that put some tough at-bats on him tonight."
Toronto's hitters continued to struggle, as the club has scored three runs or fewer in eight of its past 11 games. The Blue Jays also dropped to 2-3 on its current nine-game road trip through Baltimore, New York and Cincinnati.
"They mowed us down pretty good tonight," Gibbons said. "We got them in the first at-bat, Reyes, we had some good at-bats, we hit some balls hard early on, and then it just disappeared. [Tanaka] pretty much shut us down, but he's good. ... There's a reason he's doing what he's doing."
Gregor Chisholm is a reporter for MLB.com. Read his blog, North of the Border, and follow him on Twitter @gregorMLB. This story was not subject to the approval of Major League Baseball or its clubs.