Tanaka tops Jays to earn Majors-best 11th victory
Righty fans 10 over six strong innings to beat AL East-leading Toronto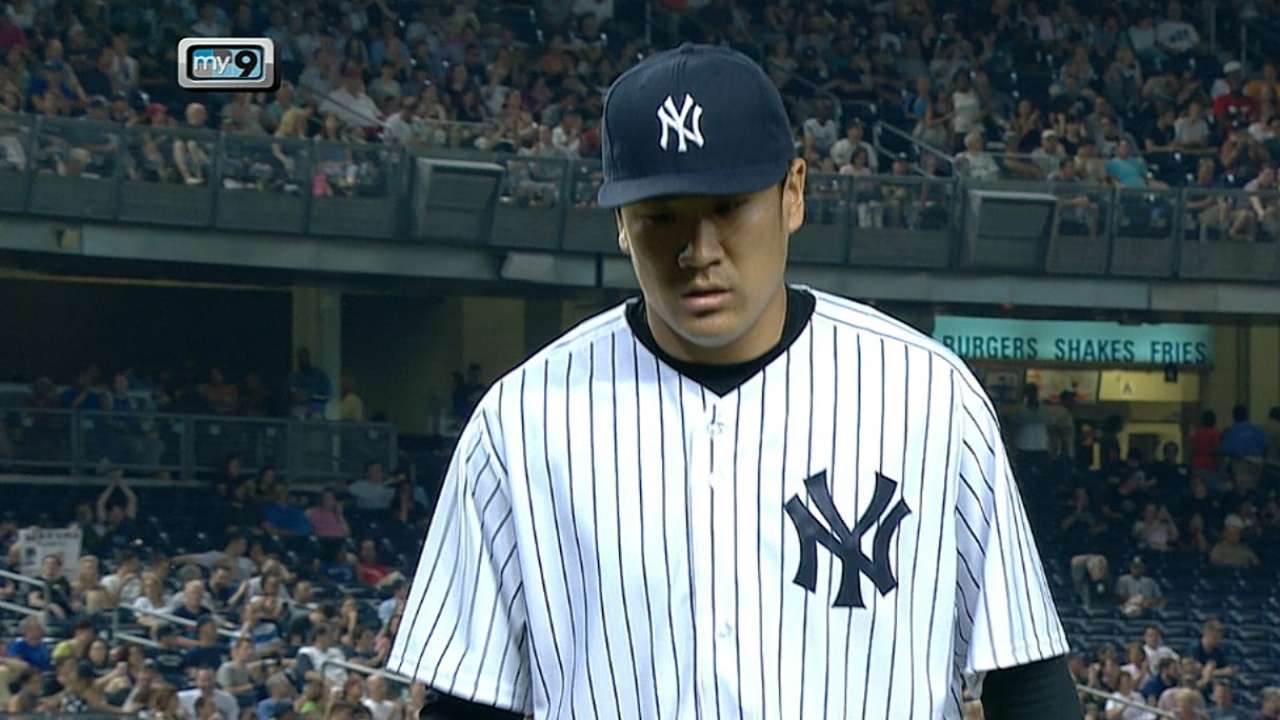 NEW YORK -- In Masahiro Tanaka's first start in the Majors, the first batter, the Blue Jays' Melky Cabrera, greeted him with a leadoff home run.
Tanaka faced the Blue Jays again on Tuesday night, and this time, Jose Reyes sent the first pitch he saw from Tanaka over the right-field wall for a 1-0 lead. It was the first time Tanaka could remember the first pitch he threw being hit for a home run. He said it threw him off his rhythm right away -- although, it hardly showed.
Just as he did during that first start, Tanaka settled in and guided the Yankees to another victory, as has become commonplace when he takes the mound. The Yankees defeated the Blue Jays, 3-1, in front of 41,834 at Yankee Stadium.
Tanaka improved to 11-1 and he now leads the Majors in wins, and his 1.99 ERA is the best in the American League. Since being handed his first and only loss of the season on May 20 at Wrigley Field, he has rattled off five wins in his past five starts, with a 1.26 ERA.
"What he's done has been remarkable," Yankees manager Joe Girardi said. "He's been a big part of our success this year, and continues just to grind out starts and make adjustments and give us distance. And he wins."
This win marked the 600th in his Yankees career for Girardi, making him the sixth manager in team history to reach that mark.
"It means I've been fortunate," he said. "I've been blessed. I've had a great opportunity here, with some really good teams."
The Blue Jays entered the game leading the AL in runs, and they thought they would have more success against Tanaka the second time around. Not only had they seen him before, but now they could study film from his past starts against other clubs.
Before the game, Girardi said he was not worried about Tanaka facing teams a second time, saying he has passed every test thus far and shown he can make adjustments.
In his first start against the Blue Jays, he allowed three runs (two earned) in seven innings while striking out eight. He was better on Tuesday, scattering five hits over six innings and striking out 10. Still Tanaka said he did not have his best stuff and he was just trying to not give in.
"They mowed us down pretty good tonight," Blue Jays manager John Gibbons said. "We got them in the first at-bat, Reyes, we had some good at-bats, we hit some balls hard early on, and then it just disappeared. He pretty much shut us down, but he's good. ... There's a reason he's doing what he's doing."
Brett Gardner gave the Yankees the lead in the bottom of the third inning, with a two-run homer off the right-field foul pole.
The Yankees chased Blue Jays starter Marcus Stroman (3-2) with two outs during the fourth inning after a walk to Carlos Beltran and a single by Kelly Johnson on Stroman's 98th pitch of the night.
"That's kind of what they do," Stroman said. "They foul a bunch of pitches off, get you pretty deep into counts."
Mark Teixeira extended the Yankees' lead to 3-1 in the fifth, knocking an RBI single to drive home Derek Jeter. Then Dellin Betances (two innings) and David Robertson (one inning) combined to shut out Toronto after Tanaka's exit.
Those three have been the team's most reliable pitchers all season.
"I feel like they've been doing that consistently all season long," catcher Brian McCann said. "That's the recipe for success. Pitching wins you a lot of ballgames."
Tuesday was the first day in an important stretch of 15 games against the division for the Yankees (36-33). Five of their next 10 are against the first-place Blue Jays (41-31).
"It's always big," Girardi said. "You want to try to close as much ground as you can. We're at home, and you talk about needing to play better at home and doing the things that we need to do, and it's always nice to get the first one."
Jamal Collier is an associate reporter for MLB.com. This story was not subject to the approval of Major League Baseball or its clubs.