Davis' slam helps Gonzalez return with victory
Righty allows four runs in five innings; Pearce's HR provides insurance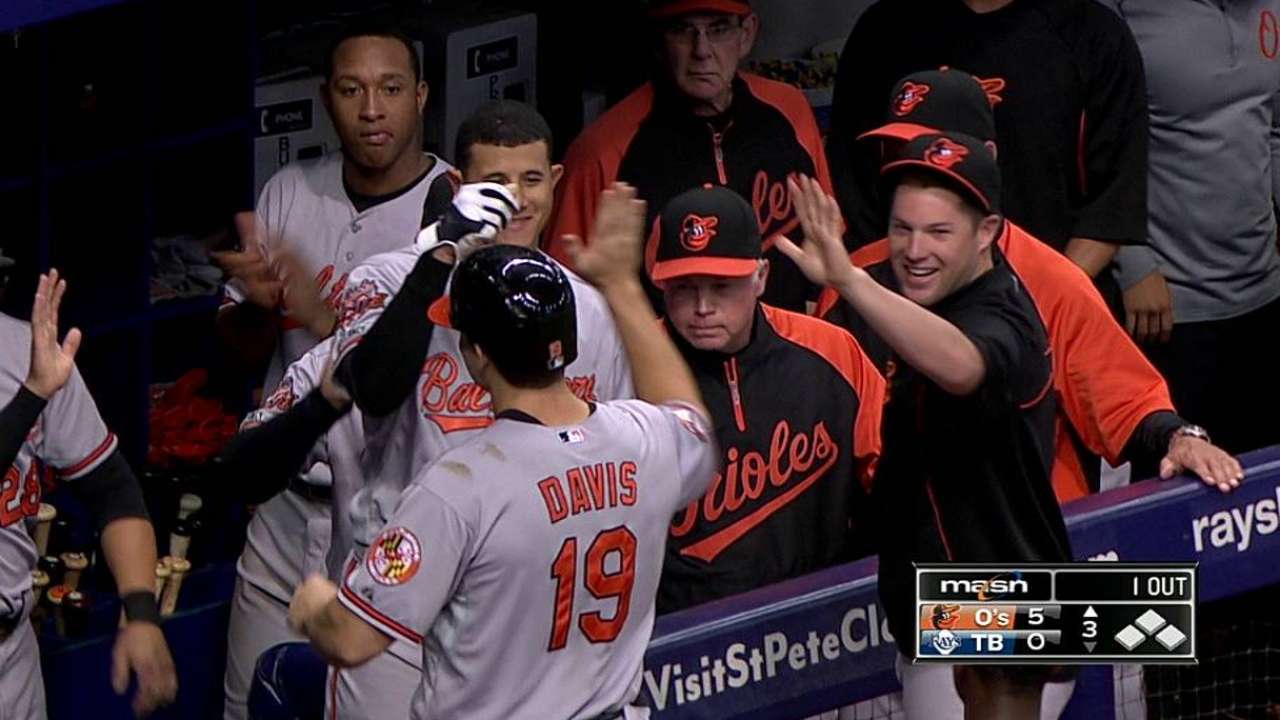 ST. PETERSBURG -- The previously-scuffling Orioles lineup got two big home runs from their first basemen on Tuesday night, an overturned grand slam by Chris Davis and a two-run homer from Lakeland, Fla., native Steve Pearce.
And just like that, all of the O's recent offensive woes went away -- for one night, at least -- as Baltimore bashed its way to a 7-5 series-evening win over Tampa Bay at Tropicana Field, scoring its most runs in a game since June 3.
The O's were able to overcome a short start by Miguel Gonzalez, who went five innings in his return from the disabled list -- snapping the rotation's stretch of eight consecutive quality outings -- with the long ball and some solid relief pitching. The third-place Orioles (36-34) improved to 6-1 this season against the Rays and have scored nine of their 11 runs this series via the home run.
"[Monday] night we are two inches away from Stevie's ball hitting the [foul] line and tonight we grabbed some poles," Orioles manager Buck Showalter said of the pair of corner homers that put his team on top. "The baseball gods were kind to us tonight."
They've shined on Pearce all season. Playing in front of a home crowd that included his family, Pearce continued to make good use of his often sporadic playing time, going 2-for-3 with a two-run homer, two walks and a pair of runs scored.
"I kind of have an idea I'm in the lineup," Pearce said of facing an opposing lefty starter in Tampa's Erik Bedard. "But you still don't know. But I prepare like I'm in the lineup."
That meticulous preparation, which Showalter has often singled out, paid off big-time Tuesday night. After scoring on Davis' grand slam, Pearce gave the Orioles some breathing room with his career-high fifth homer in the seventh.
After catcher Caleb Joseph opened with a double, Pearce went deep one out later, driving Rays reliever Brad Boxberger's 1-0 pitch over the left-field wall for his third homer in 10 career games at Tropicana Field, giving the Orioles a 7-4 lead.
"I don't think about all that," said Pearce, who re-signed with the Orioles after he was designated for assignment earlier this season, of his numbers. "I've been to the plate pretty often. It's a lot easier to hit when you're playing. In the past, I was playing more sporadic. This year, it's more consistent and I know, I have an idea of when I'm going to play."
"You always know what you are going to get from him," Showalter added of Pearce, who has played in 34 games this season. "He's slashing and burning and getting after it, and never has any trouble putting his head on the pillow. He's a guy that you trust. Works hard to be good, whether it's first base, left field, run the bases, hitting. He's a professional, and the type of guy you like to have around. Glad he picked us as much as we picked him."
While Pearce's homer gave the O's some breathing room, Davis gave them early momentum after an overturned call in the third inning saw his two-run double morph into a grand slam.
"I was just hoping it would be fair and deep enough where we would be able to get at least one run in," Davis said of his initial reaction off the bat. "When I saw Buck go out there, I figured he was challenging whether it hit off the pole or not. By that point, I really didn't have a good view. I was trying not to run up [Adam Jones'] back. I'll take the double, but at the same time, if I can get a grand slam, I'll take that too."
Things got started with Jonathan Schoop's leadoff single off Bedard and Nick Markakis' single one out later. Pearce walked to load the bases and Schoop scored on a wild pitch, with Jones then getting plunked by Bedard to re-load the bases for Davis.
After getting behind 0-2, Davis launched a pitch into the left-field corner that hit the pole, eluding a leaping attempt to catch it by David DeJesus. The play was originally ruled a double, but after a crew chief review, the call was overturned for Davis' third career grand slam and his 12th homer of the season, putting the O's up 5-0.
"It was up and away, trying to get him to chase," Bedard said of his fateful third pitch to Davis, "and it hit the foul pole."
Bedard exited after not recording an out in the fifth inning. Gonzalez, who had been sidelined with an oblique injury, outlasted him and gave up four runs -- including back-to-back-homers in the fourth inning -- on eight hits over a full five.
"I thought that [rehab] game in Bowie, I got out there and did what I had to do to come back and see how it felt, and I felt great," Gonzalez said of his first start since May 30, "but next time just come out there and try to make pitches when you need to, especially in the fifth inning."
Gonzalez allowed a pair of runs in that fifth, emptying the tank and forcing Showalter to dip into his bullpen early. Righty Ryan Webb recorded five outs after Gonzalez, with Brian Matusz charged a run in the eighth inning. Closer Zach Britton recorded his eighth save in nine opportunities to put the finishing touches on the win.
Brittany Ghiroli is a reporter for MLB.com. Read her blog, Britt's Bird Watch, and follow her on Twitter @britt_ghiroli. This story was not subject to the approval of Major League Baseball or its clubs.