Santana, Braves continue tough stretch with loss
Atlanta loses for ninth time in 15 games as righty allows four runs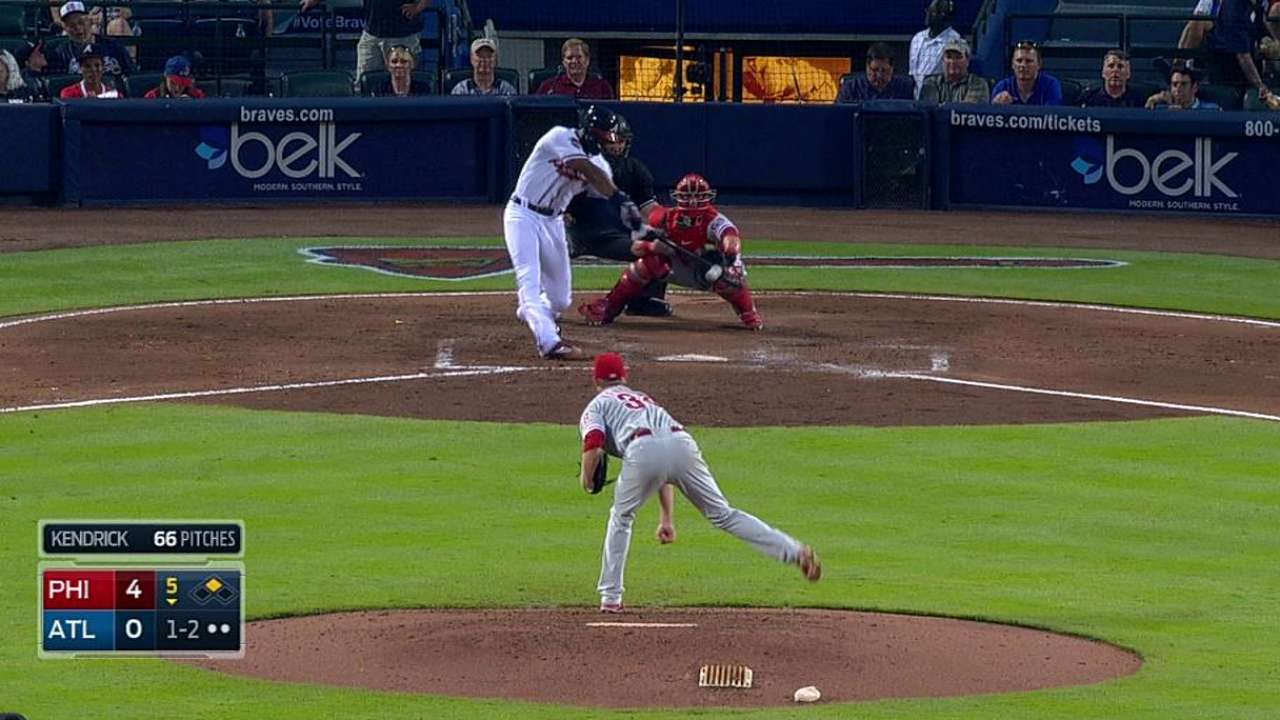 ATLANTA -- Ervin Santana extended the struggles that have followed him for more than a month and Kyle Kendrick resumed his tradition of having his way with Atlanta's offense. Consequently, the Braves limped away from Tuesday night's 5-2 loss to the Phillies forced to wonder if they will ever regain their early season promise.
"We want to get it going," Braves third baseman Chris Johnson said. "We obviously want to throw up some crooked numbers. We just have to keep grinding. We can't get too frustrated. We can't get too down. We just have to keep battling, keep working at it and hope that our hard work pays off in the end."
The Braves have gone 19-27 since winning 17 of this season's first 24 games. It appeared they might have righted themselves when they regained sole possession of first place with a three-game sweep of the Marlins a couple weeks ago. But they've since lost nine of 14 and fallen a half-game behind the first-place Nationals club they will visit this weekend.
"Mentally we're in this every day," Braves right fielder Jason Heyward said. " Every day is a new day and that is that. We can't control the day before or tomorrow."
Possibly fatigued by the fact they had suffered 13-inning losses two of the previous three nights, the Braves once again looked flat against the last-place Phillies, who will be attempting to claim a series sweep on Wednesday afternoon.
Heyward, who doubled, did not score on B.J. Upton's two-out single to left field in the third inning. During the half-inning that followed, the Phillies tallied a pair of runs that could have been prevented with some defensive assistance. Reid Brignac dropped a one-out double in front of Upton, putting Dominic Brown in position to score on a Santana pitch that went through catcher Gerald Laird's legs.
To cap off an ugly evening, Andrelton Simmons booted Brown's ninth-inning grounder and consequently found himself charged with two errors for just the second time in 271 games.
"This is a team," Santana said. "We play as a team. We win as a team and we lose as a team. I know we're having our ups and downs right now. But at the same time, we just have to keep our minds positive and take it one game at a time."
Santana, who allowed the Phillies four runs -- three earned -- in six innings, has been trending downward since producing a 1.99 ERA through the first six starts he made after the Braves gave him a $14.1 million salary. He has produced a 6.17 ERA in the seven starts that have followed.
"We've got ups and downs and nobody is perfect," Santana said. "We have to keep the same mentality positive all the time. We're going to get out of this … I know I'm close to getting out of this. I just need to make good pitches."
Santana felt like he made a good pitch to Ryan Howard in the first inning. But like he has done so often against Braves pitching, Howard sent the 95-mph fastball the other way for a two-run homer.
Howard has hit more home runs (46) than any other active player against the Braves. Among all players who have ever hit at least 25 homers against the Braves, he possesses the second-best at-bat/home run ratio (11.41), trailing only Dave Kingman (11.17).
"I think he's still a scary hitter," Braves manager Fredi Gonzalez said of Howard, who has hit three of his 13 homers this season within a span of 15 at-bats against the Braves.
The Braves finally dented the scoreboard in the fifth inning when Gerald Laird drew a one-out walk and advanced to second base on Santana's sacrifice bunt. Heyward followed with an RBI single. The only other run Kendrick surrendered in seven innings came courtesy of Laird's double-play groundout which scored Chris Johnson, who had doubled with one-out in the seventh.
Kendrick has compiled a 3.34 ERA in 16 career starts against the Braves. He has produced a 4.51 ERA in the 151 starts made against other Major League opponents.
"We're still struggling to find it," Johnson said. "We're still struggling to find ourselves and our offense a little bit. But there's still a lot of baseball left. So we'll just keep working at it and hopefully we'll run into it."
Mark Bowman is a reporter for MLB.com. This story was not subject to the approval of Major League Baseball or its clubs.