Carpenter goes to DL; Beato takes his spot in 'pen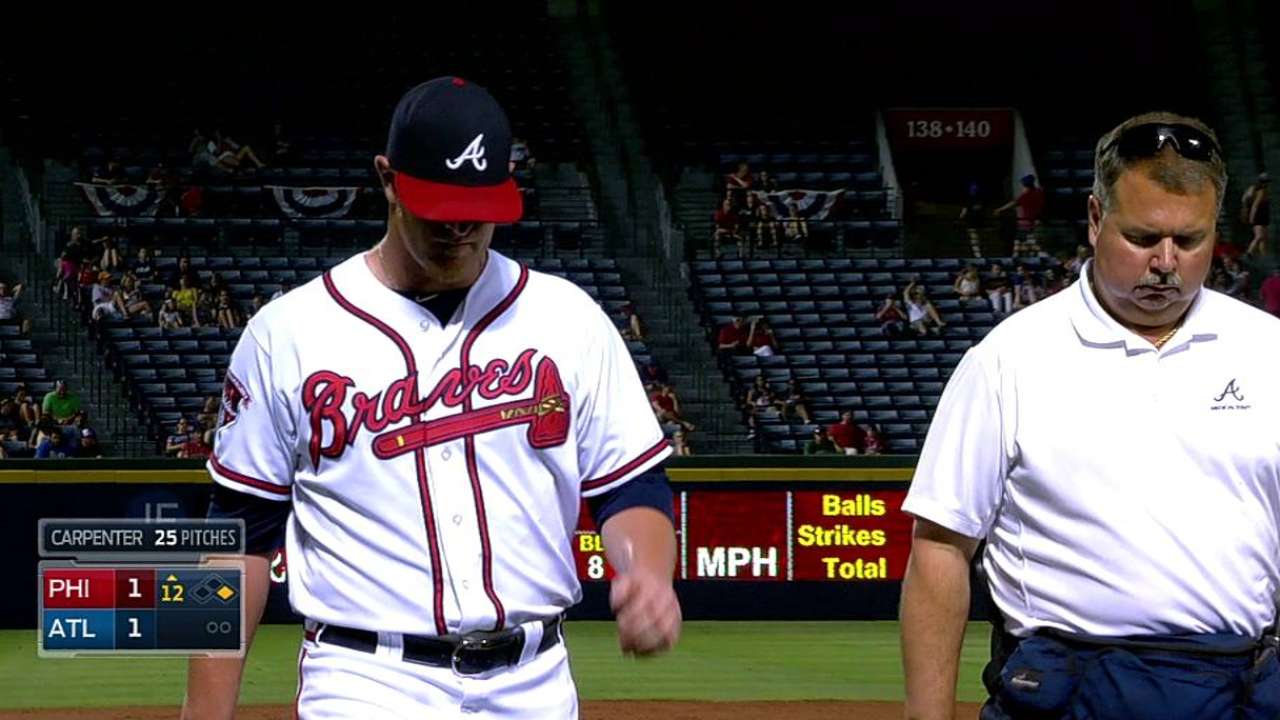 ATLANTA -- The Braves placed David Carpenter on the 15-day disabled list on Tuesday with a right biceps strain he suffered Monday night. Carpenter said there is no structural damage in his arm and that the injury is "100 percent muscular."
"I think it was just kind of from dead legs, just trying to overcompensate with throwing with the arm and upper body," Carpenter said. "It's not really something to get over-excited about, but at the same time, they want to be precautionary about it."
Atlanta recalled right-hander Pedro Beato from Triple-A Gwinnett in a corresponding move. Beato has made one Major League appearance this year.
Carpenter began experiencing discomfort in his right biceps as he pitched in his fifth game in six days during the Braves' 6-1 loss to the Phillies. He informed assistant trainer Jim Lovell of his condition before going out to pitch the next inning.
What followed was a dip in Carpenter's fastball velocity as he faced Domonic Brown to lead off the top of the 12th inning, leading to his early exit.
"The first couple of pitches are 90-91, and he's not a 90-91 guy," Braves manager Fredi Gonzalez said. "[Pitching coach Roger McDowell] said, 'Hey, that's not good.' So we went and got him."
Said Carpenter: "I looked up and I see 91 on the board, it's not going to look very good."
The right-hander has struggled in recent weeks, compiling an 11.81 ERA in his past 10 appearances dating back to May 29. However, Carpenter was adamant that his biceps issue first surfaced on Monday and had nothing to do with his recent woes.
"It literally was just a few bad results, a couple of balls falling in," Carpenter said. "It was nothing related to this. That's kind of a cop-out to say it was. That's not what it was. It just popped up last night and that's just one of the things I've got to deal with."
Meanwhile, Beato hopes to make the most of his second shot in the Atlanta bullpen. He has compiled a 3.49 ERA and five holds in 28 1/3 innings since he was optioned to Gwinnett to make room for Ervin Santana on April 9.
"I've worked on my splitter, making sure I'm able to throw it to both sides of the plate to righties and lefties," Beato said. "It's probably my biggest achievement thus far."
Beato likely has 15 days to make his mark in the Majors as Carpenter expects to return to action as soon as he is eligible to come off the disabled list.
Mark Bowman is a reporter for MLB.com. Joe Morgan is an associate reporter for MLB.com. This story was not subject to the approval of Major League Baseball or its clubs.