Lester outduels Hughes as Red Sox edge Twins
Ace allows one run in 6 1/3; Holt makes acrobatic catch in CF debut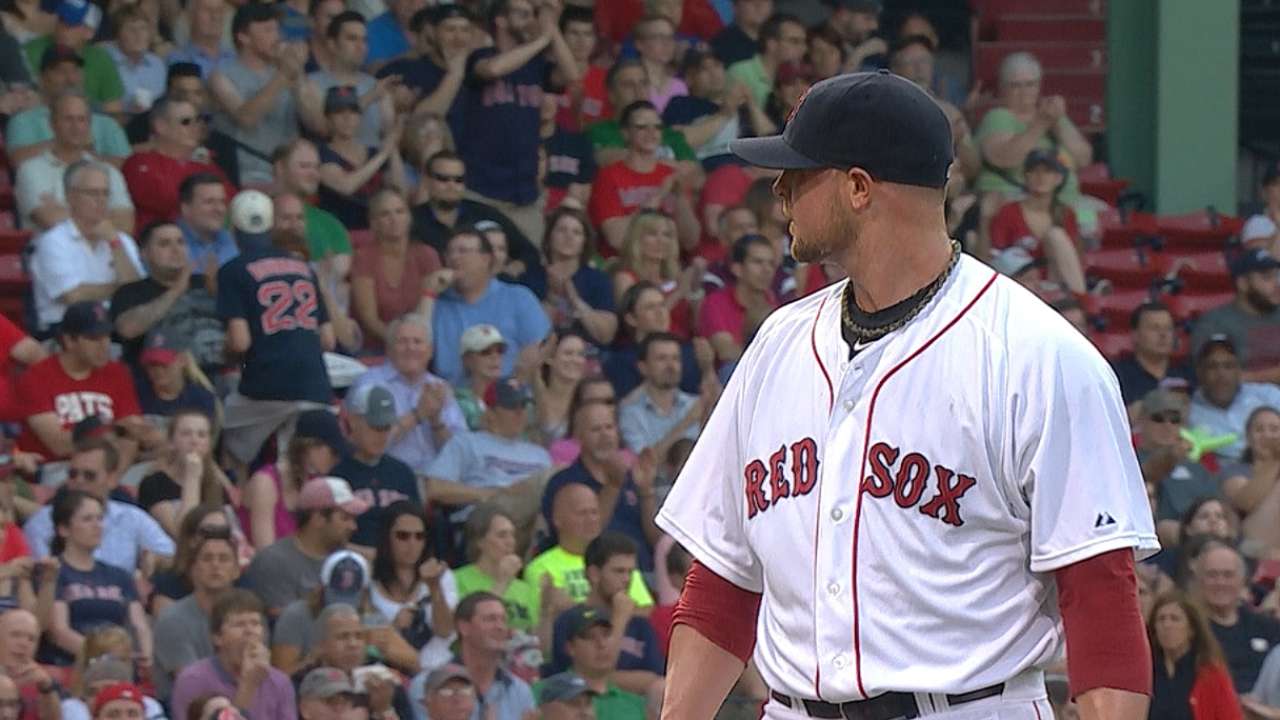 BOSTON -- As Jon Lester battled through a 33-pitch first inning, manager John Farrell's stomach churned. Already, the Red Sox would be without closer Koji Uehara, who had worked three straight days and four out of five.
An abbreviated outing from Lester probably would not be the recipe for victory for a Boston team that has had to scratch and claw for everything in recent days.
But Lester put his manager and everyone else at ease by doing what aces do. He settled down and led his team to a 2-1 victory over the Twins on Tuesday night at Fenway Park.
The lefty was still pitching when the seventh inning started. He gave his team 6 1/3 innings, allowing four hits and just one run while walking one and punching out six.
"The approach doesn't change," said Lester. "I think the biggest thing for me was a lot of foul balls tonight. You can't really change a whole lot on that. You just hope that they put a bad part of the bat on the ball and hit it at somebody or get a hit or just move on. No, I don't think your approach changes. You've just got to keep attacking and hopefully they hit it at somebody."
In the third, in perhaps the highlight of the game, the Red Sox thought the ball was hit at Jonny Gomes, who was in left field.
Amid the twilight, Gomes never saw the ball. Brock Holt, playing his first career game in center, somehow recovered in time to make a circus catch, tumbling to catch it.
The most striking part about the play was how far Holt was from Gomes when he hauled it in.
"It's one of those things where you look over and you see Gomes' arms out and try to do all you can, looking at him, looking at the ball, looking at him -- he never picked it up," Holt said. "Fortunately I was able to get over there and make a play on it. I ran to the wrong spot, that's why I had to do that. I thought the ball was going to be somewhere and it ended up somewhere else, that's why I had to kind of dive backwards for it."
The way things have been going for the Red Sox lately, they will take it.
Meanwhile, without Uehara for the ninth, Edward Mujica took charge of the ninth and notched a 14-pitch save which included two strikeouts. Though things haven't always been smooth for Mujica this season, as evidenced by his 6.04 ERA, he demonstrated that he can still serve a purpose.
"Well, he's pitched in a variety of roles, whether it's coming out of a rain delay in Baltimore to pitching in the middle innings," said Farrell. "He's used his secondary pitches a little bit more, particularly in those early innings. Tonight with the added adrenaline, it's probably the best velocity we've seen on the year. But once again, he's a valued member of that group."
Fresh off making his circus catch, Holt got the Red Sox rolling in the third with a double off the Green Monster. Holt then stole third and scored on a sacrifice fly by Xander Bogaerts to give Lester a 2-0 lead.
"In a way, he took over the inning because he leads off with a double, steals third, scores on a sac fly that ends up being the difference in tonight," said Farrell. "To his credit, he doesn't get hung up in moving to a position for the first time. He goes out and he plays as you've seen."
Offense has been mystifyingly elusive for the Red Sox for much of the season, but even more of late. Yet they generated some in the first against Phil Hughes, who allowed two runs over eight innings. Holt led off with a single to left and moved to second on a fielder's choice. Dustin Pedroia laced an RBI double to center, and Boston had a 1-0 lead.
Meanwhile, Lester settled down nicely after the laborious first and had a shutout going after five.
Danny Santana started a scoring rally for the Twins with a leadoff double in the sixth. Brian Dozier moved him to third on a bunt and Joe Mauer stung a liner to left that sunk in front of Gomes for an RBI double.
"Lester, every time out, he's capable of doing what he did. To get a run in there was nice," said Mauer. "But with the way Phil pitched, I was hoping we'd get more."
Lester simply didn't allow it.
"He somehow found a way to become a little more efficient," Farrell said. "Thirty-three pitches in the first and then I believe 50-plus after two, thinking it might be even shorter than the ability to get into the seventh inning. He found a way. He was able to induce more early outs. Not as many foul balls. And really, his performance allowed us to piece some things together in the bullpen when we had a couple of guys we were trying to stay away from tonight in [Andrew] Miller and Koji."
Ian Browne is a reporter for MLB.com. Read his blog, Brownie Points, and follow him on Twitter @IanMBrowne. This story was not subject to the approval of Major League Baseball or its clubs.