Hughes goes distance, takes tough loss at Fenway
Mauer frustrated by offense's inability to back righty's strong outing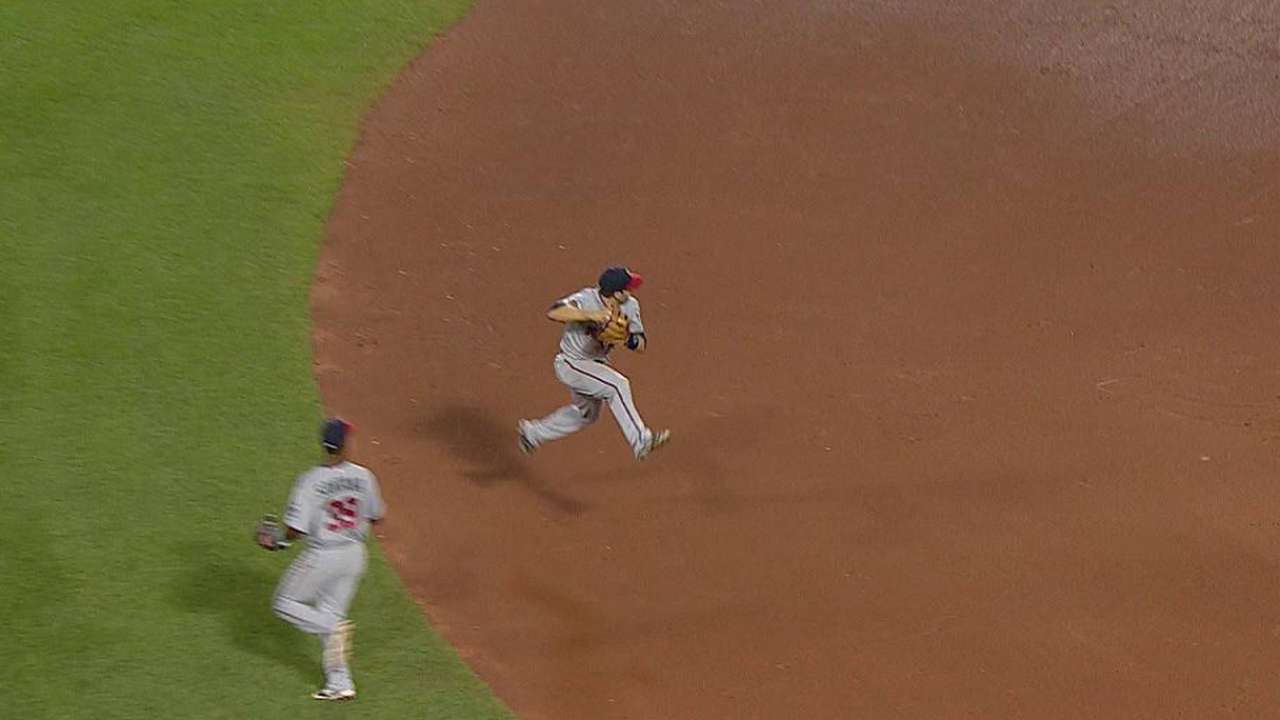 BOSTON -- Given its history as a hitter's park, it's no easy task to give up just three combined runs over two games against the Red Sox at Fenway Park.
But the Twins have been able to do just that, and to make things even more frustrating for them, they have nothing to show for it.
Phil Hughes continued his run of recent success with another solid outing and his first complete game of the year, but the Twins' offense was held in check by the Red Sox for a second straight night in a 2-1 loss on Tuesday.
After a 1-0 defeat in the series opener, the bats were again quiet for Minnesota against Boston left-hander Jon Lester, who outdueled Hughes with 6 1/3 strong innings to pick up his eighth win.
"If you give up two runs in this ballpark, you can't ask for much more than that," Twins manager Ron Gardenhire said. "But Lester was filthy, just like we've seen before. Unfortunately, we're not swinging well and that's probably because of the pitching on the other side. Our guy gave us every opportunity to win, but we couldn't get any big hits."
Hughes was a hard-luck loser, as he gave up just two runs on eight hits over eight innings. He also struck out six and didn't walk a batter for the ninth time over his last 11 starts. The right-hander has 10 quality starts over that span, with a 2.27 ERA, 61 strikeouts and three walks over 75 1/3 innings.
He entered with a 6.56 ERA in 10 appearances in Boston while with the Yankees, but was stuck with his third loss of the year despite his impressive effort in his first Fenway start with the Twins.
"In years past, it was usually a feat to come in here and pitch a good ballgame," Hughes said. "But unfortunately tonight, it just wasn't in the cards. We couldn't do enough to beat them. They're a dangerous team, especially at home, so to give a quality effort is big, but at the end of the day it's about wins."
The Red Sox scored in a hurry against Hughes, as Brock Holt opened the bottom of the first with a single before coming around to score on a one-out double from Dustin Pedroia.
Boston added a run in the third with Holt sparking another rally with a leadoff double. Holt stole third base before scoring on a sacrifice fly to center field from Xander Bogaerts.
"He's a good player," Hughes said of Holt. "He had two hits in his first two at-bats and was aggressive on the basepaths, especially with nobody out. He can run and obviously I didn't do a good enough job of making him stop."
It was enough for Lester, who settled down after throwing 33 pitches in the first inning to give up just one run over 6 1/3 frames with six strikeouts.
"I don't think there was a big adjustment," Lester said. "It was a long inning, a lot of foul balls, a lot of good pitches that got fouled off. ... It wasn't like I was throwing the ball all over the place and had to adjust to get back into the zone."
Minnesota didn't get on the board until the sixth. Danny Santana led off the inning with a double down the left-field line before scoring on a one-out double to left from Joe Mauer. It was the first RBI for Mauer since May 27, and snapped a streak of 79 at-bats without an RBI.
"I didn't know I had one going," Mauer said of his dubious streak. "The way it's been going for me lately, whether they're on base or off base, it hasn't been going too well. So it was good to get a run in, especially with the way those two guys were pitching tonight."
After the double, Mauer was stranded at second base as Minnesota again couldn't deliver with runners in scoring position. The Twins went 1-for-4 with RISP and stranded five.
Lester departed after getting one out in the seventh, and the Red Sox used four relievers to finish off the game, including Edward Mujica, who closed it out in the ninth. For the Twins, it was their fourth straight loss as they dropped a season-high five games under .500.
"It's tough," Mauer said. "They've pitched well, too, and have a good ballclub. But that's what's frustrating. When you get a pitching performance like we got from Phil, you want to support him and we weren't able to do that."
Rhett Bollinger is a reporter for MLB.com. Read his blog, Bollinger Beat, and follow him on Twitter @RhettBollinger. This story was not subject to the approval of Major League Baseball or its clubs.