Two-run blasts help Elias dispatch Padres
Montero goes deep in debut at first base; Cano adds fourth jack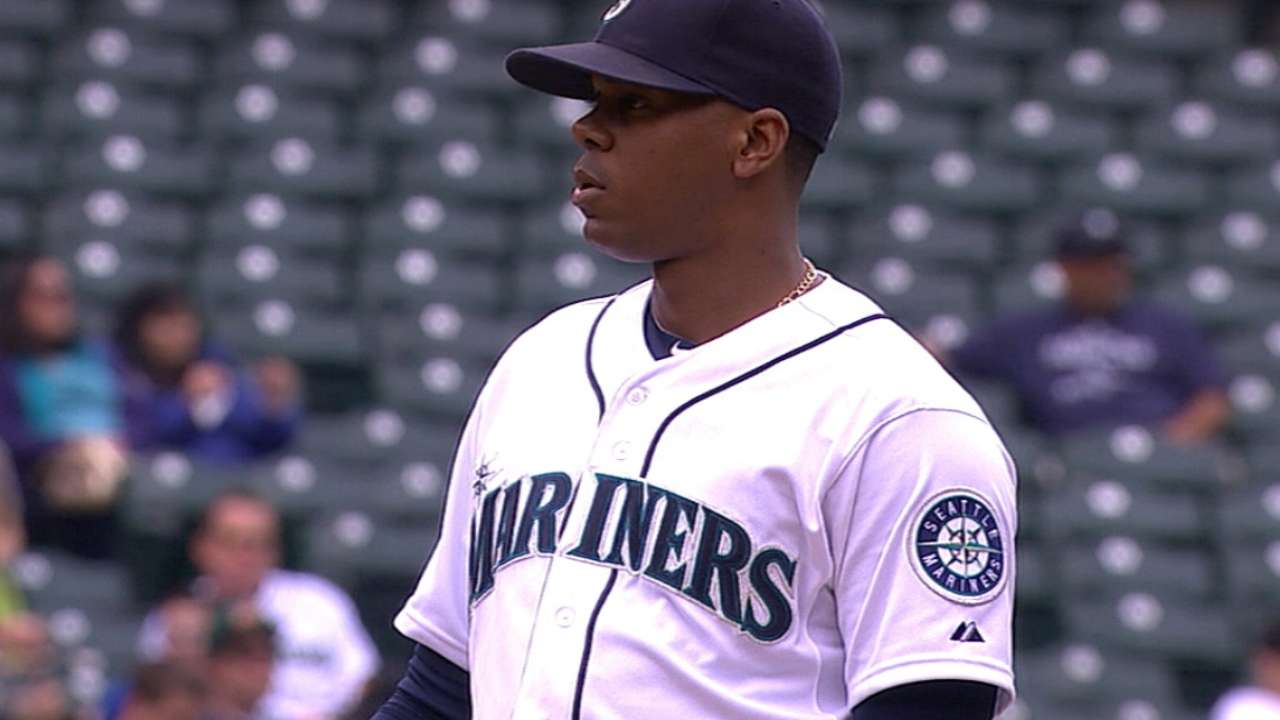 SEATTLE -- It'd been 13 months since Jesus Montero hit a home run in the Majors and, well, forever since he'd played a game at first base. But the once-promising Mariners prospect delivered on both those Tuesday to help Seattle top the Padres, 6-1, to sweep a two-game Interleague series at Safeco Field.
Montero and Robinson Cano each cracked a two-run home run and rookie Roenis Elias threw a seven-inning gem as the Mariners won their third straight to lift their record to 37-34.
Montero reached out and drove an outside changeup over the left-field fence in the second inning for his first home run since being called up from Triple-A Tacoma last Thursday. The 24-year-old also made his first career start at first base, as manager Lloyd McClendon looked for a way to get an extra right-handed bat in the lineup against Padres southpaw Eric Stults, and the move paid off.
"I really appreciate the opportunity the Mariners are giving me again," Montero said. "It was really hard for me, what I was going through last year. It was a very tough year. But little by little, I was in Triple-A working hard to be here, and they've given me the opportunity again.
"I feel really happy they were paying attention to me, and now I'm here. I want to just help them win. Whatever they need. If they want me to catch or pitch, I want to do it."
What does McClendon want?
"I really wanted a three-run homer, but he gave us two," McClendon said with a laugh. "He's strong, no question about it. It was actually a hit-and-run with the ball up in the zone and he's so strong, he was able to muscle it out."
McClendon is making no promises about how much he'll play Montero, who only returned last week as Seattle was searching for offensive help with Corey Hart, Justin Smoak and Michael Saunders all on the disabled list.
"Obviously we've got some injuries and he's got an opportunity to get some at-bats," said McClendon. "There's nothing like two-run homers though to have the manager write your name in the lineup the next day. So we'll see. He just needs to keep grinding it out and keep paving a path for himself."
Many wrote Montero off completely after he was sent down last year after struggling as the team's starting catcher, was suspended for 50 games for his involvement with Biogenesis and then reported to Spring Training overweight this year. But the youngster can hit, and the Mariners need right-handed power, particularly with Hart sidelined.
Montero went 1-for-3 on Tuesday, and he's hit .300 (3-for-10) in three games since being recalled. Logan Morrison replaced Montero in the seventh with a 4-1 lead as McClendon wanted a better defender at first base, but Montero's bat could earn him some playing time if he produces.
"If you look at his numbers his rookie year, they were pretty impressive," McClendon said. "He hit [.260] with 15 home runs and 60-plus RBIs as a young catcher. So that's certainly impressive. Now he's had some obstacles along the way and we all know about those, but he's making amends and trying to come back and do the right things."
Cano added his fourth home run of the year in the fifth inning when he drove an easy line drive into the right-field seats. The $240 million free agent went 1-for-3 with a walk, and he is batting .327 with 39 RBIs in his first season for Seattle.
Elias, a 25-year-old Cuban who was pitching in Double-A ball last year, improved to 6-5 with a 3.91 ERA as he gave up one run and three hits over seven frames. Elias struck out six and didn't walk a batter, while throwing 87 pitches.
The youngster learned from his last outing, a career-low 3 1/3-innings start in a 6-3 loss to the Yankees when he was elevating too many pitches.
"This week I didn't throw off the mound, I worked off flat ground," Elias said through interpreter Fernando Alcala. "The pitching coach told me if you keep the ball down, you're going to be unhittable. And it showed today."
Elias surrendered a homer to Padres catcher Rene Rivera in the second, but he didn't allow a runner past second base the rest of the afternoon before turning the game over to fellow rookie Dominic Leone in the eighth.
"He's got a good arm, a good live arm," Padres manager Bud Black said. "He threw some secondary pitches when he was behind in the count that got to us a little bit."
Kyle Seager delivered a two-run bases-loaded double in the seventh to give Elias a 6-1 lead and raise his team-leading RBI total to 47, including 25 in the last 29 games.
Rookie center fielder James Jones went 3-for-5 and stole his fourth base in the past two games, having the speed to take second in the fifth inning even after getting picked off first by Stults. Jones has the most stolen bases of any American League rookie with 11, and he is batting .291 in 43 games since being called up.
"He gets better every day, and every day is a new adventure, a new journey for him," McClendon said. "He's a very intelligent, bright young man. Very talented and a tremendous athlete. The combination of all those things, he's starting to make it look easy."
Seattle now heads to San Diego for two more Interleague games at Petco Park against a Padres club that fell to 29-42 and has lost eight of its last nine.
Greg Johns is a reporter for MLB.com. Follow him on Twitter @GregJohnsMLB as well as his Mariners Musings blog. This story was not subject to the approval of Major League Baseball or its clubs.