Rivera's homer provides only offense behind Stults
Catcher goes deep, but batterymate allows two homers of his own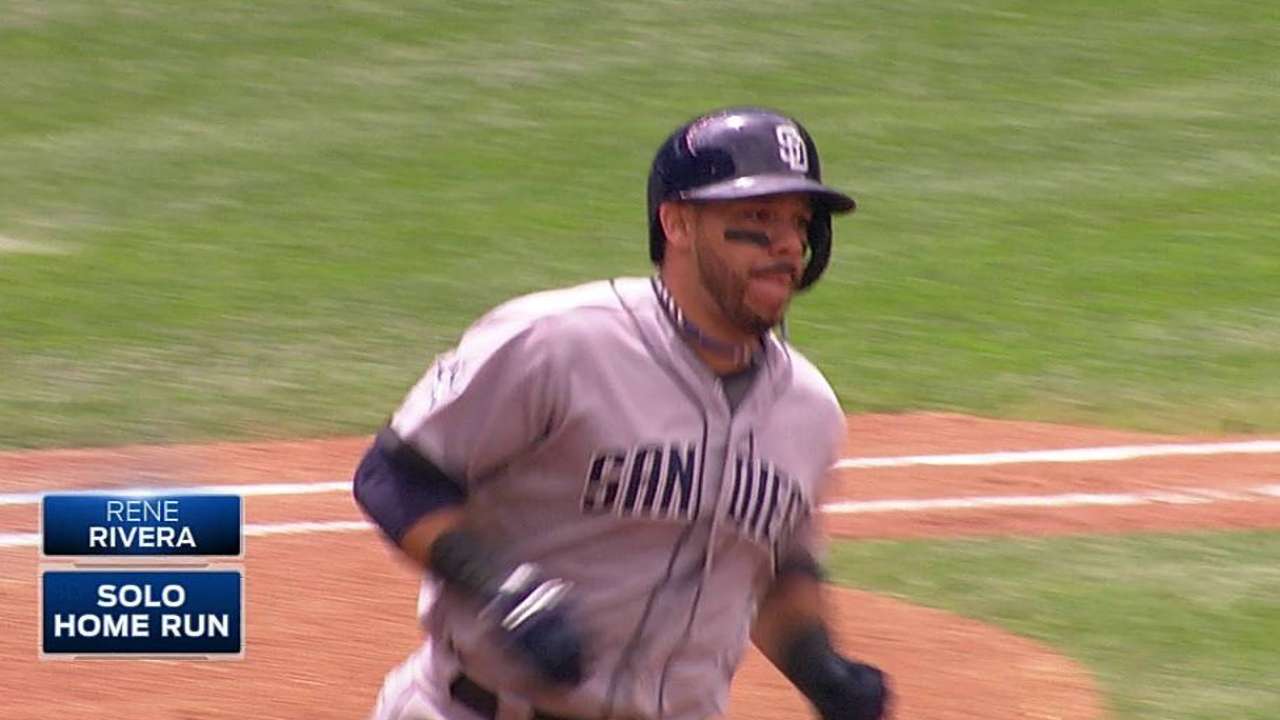 SEATTLE -- The Padres return home late Tuesday on the heels of a 1-7 road trip that culminated with a 6-1 loss to the Mariners before a crowd of 19,896 at Safeco Field.
Awaiting them Wednesday will be Mariners ace Felix Hernandez, a grim reminder that there appears to be no relief in sight to a difficult and trying season.
How tough has it been? For starters, the Padres have a .274 on-base percentage and they have scored one or fewer runs in 32.3 percent of their games this season.
"It's right up there," said Chase Headley, when asked if this is the most prolonged frustrating stretch of games that he's experienced since his big league debut with the team in 2007.
"There's been a few extended dry spells. If this isn't it, it's certainly close."
There is one thing, though, of which Headley is quite certain.
"[Going] 1-7 is not going to get it done," Headley said.
On Tuesday, Mariners pitcher Roenis Elias and two relievers limited the Padres (29-42) to four hits. One was a home run by Rene Rivera which gave San Diego a lead for a fleeting moment in the second inning. After that, there was essentially nothing, as the Padres managed just two hits over the final five innings in their second loss in as many days to the Mariners (37-34).
The Padres, who have dropped 12 of their last 15 games, have scored one or fewer runs in 23 of their 71 games this season.
"It's tough," Rivera said. "We've battled. I haven't seen a guy in here hang his head down. We're trying to perform at a high level, but it seems like we come up short each time."
A day after former Padres pitcher Chris Young blanked San Diego for six innings, Elias (6-5) did his part, limiting the Padres to three hits over seven scoreless innings. He struck out six and didn't walk a batter.
"He's got a good arm, a good live arm," said San Diego manager Bud Black. "... He threw some secondary pitches when he was behind in the count that got to us a little bit."
Padres starter Eric Stults (2-9), who has worked recently with pitching coach Darren Balsley to speed up the tempo of his delivery, showed a higher tick in velocity on his fastball, but allowed three earned runs over five innings with five strikeouts.
"He was better, his fastball had a little later life to it," Rivera said.
Stults allowed a two-run home run to Jesus Montero in the second inning, and then a two-run home run to Robinson Cano in the fifth inning. He's allowed 15 home runs this season after allowing 18 all of 2013, covering 203 2/3 innings.
"I think my arm speed is better. The hitters tell you. They read your arm speed," Stults said. "... Actually, it's more of a quicker leg kick. The results were better than they were early in the season."
Montero's home run was his first of the season.
"Today was a fun day," Montero said. "I saw that pitch he was going to throw me and I hit it real good. I was using a big bat for the lefties and put a good swing on the ball, and I was able to help the team."
The Padres had a few chances Tuesday, like in the fourth inning when Everth Cabrera singled and moved to second base after Carlos Quentin was hit by a pitch for the 127th time in his career.
But Elias got the next three hitters out in order, getting Headley to line out to center field, striking out Tommy Medica and then getting Rivera on a groundout to end the inning.
Trailing, 4-1, in the seventh inning, Headley singled to start the frame but was erased on a double-play ball off Medica's bat.
The Mariners broke the game open in the seventh inning on Kyle Seager's two-run double down the left-field line off Padres reliever Tim Stauffer.
"Hopefully tomorrow, we turn it around and win some ballgames," Rivera said.
Corey Brock is a reporter for MLB.com. Keep track of @FollowThePadres on Twitter. This story was not subject to the approval of Major League Baseball or its clubs.