Fantasy Q&A: How will Springer, Heaney fare?
Rookie outfielder, young left-hander offer loads of upside for fantasy owners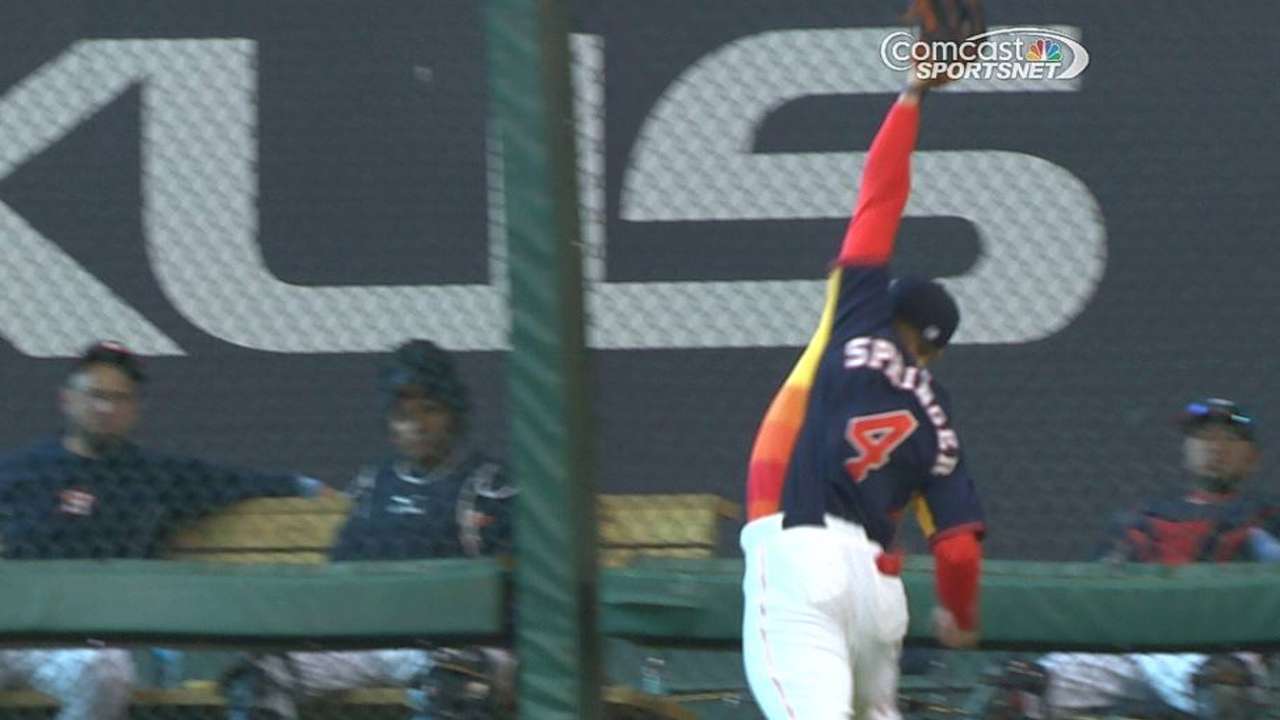 Tweet your questions each and every Monday to @Fantasy411 and you could find your answer in our weekly mailbag. Here are some of topics that are puzzling fantasy owners right now:
Q: Where will Springer sit in next year's outfielder ranks? Khris Davis? -- @TheNick33
A: In one-year leagues, Springer will already be a valuable asset next season. He will likely be regarded as a 20-20 player, with enough upside to reach the 25-25 level right away. Fantasy owners should not be fooled by his slow start with steals. Springer has wheels, and he will quickly learn how to use them in the Majors. His ability to hit for average will be a question mark early in his career because of his high strikeout rate. A good projection for Springer's 2014 draft value would be at the back end of the top 20 outfielders. He could fall around players such as Jason Heyward, as both can provide ample homers and steals, but are susceptible to dips in batting average. Heyward was roughly the 20th outfielder taken in 2014 drafts.
The answer on Davis is less clear, because it depends on which version of Davis we see in the summer. The April version of Davis would be a late-round pick, but if he can maintain the strides he made in May, he could be a solid mid-round choice. Davis is showing promising progress in his plate discipline, and he must maintain that trend. For now, a good estimate for Davis would be the 40th outfielder taken. He could be regarded as a 25-homer player who offers little speed or batting average.
Q: For my utility spot the rest of the season: Seager, Hosmer, K. Davis, Crisp? Generally, I need more power than average, but I can use a few stolen bases too. Thx! -- @cameronslyons
A: Of all the players mentioned in this tweet, Crisp is the one who offers the most upside when he is healthy. He was a 20-20 player last season, and he stole a total of 78 bases over the previous two campaigns. The obvious problem with Crisp is that he is among the most injury-prone players in mixed leagues. Smart fantasy owners will keep options on the bench so that Crisp can be removed from the lineup when he deals with nagging injuries.
Cameron's question raises the more valuable point that a utility spot should be a revolving door throughout the season. Even if Crisp played every game the rest of the way, it would not make sense to put him in the utility spot and leave him there. Seager would be a better option than Crisp during a week when he plays seven games on the road in hitter-friendly parks. Or Davis would be a great option in the current week, when he plays in Chase Field and then Coors Field. Maximizing the flexibility of a utility spot is an important part of winning a championship.
Q: What impact do you think Heaney will have now that he's up? -- @MZinkie
A: Heaney received a much-anticipated promotion on Monday, as the Marlins took another step in proving that they are serious about letting their young core join the 2014 postseason chase. Everything that the 23-year-old did in the Minors suggests that he is going to be an effective Major Leaguer. Heaney showed a strong strikeout rate and excellent control at multiple levels. One of the biggest reasons that fantasy owners should invest heavily in the rookie is the pitcher-friendly situation he is heading into. The Marlins play in a pitcher-friendly home park, and they have played great baseball at home this season. For that reason, Heaney should be a viable mixed-league option in nearly all home starts. Within his division, road games are also favorable. His four National League East foes are all in the bottom half of baseball in runs scored, and he will work in pitcher-friendly parks in most of his divisional road starts. There will likely be few games where Heaney is in over his head, as long as his skills prove to the Major League ready.
Q: Wong is on waivers, should I add him for Rutledge? Have Walker on the DL. Down in SB but way ahead in RBIs and home runs. -- @damonhart
Yes, dropping Rutledge for Wong is a good decision, especially if steals are the goal. Rutledge has always intrigued fantasy owners, but he does not have a full-time job in Colorado. The Rockies have Troy Tulowitzki at shortstop and D.J. LeMahieu at second base, and so far they have not tried Rutledge at the hot corner. Rutledge would need a starting middle infielder to go on the DL before he would be worth a roster spot in mixed leagues. Wong, on the other hand, has a starting job with the Cardinals, even if he does sit vs. some lefties in favor of Mark Ellis. A nagging shoulder injury could have affected Wong's recent performance, but he offers the speed necessary to move up in the steals category.
Q: Injury replacement for Neil Walker: La Stella, J. Harrison, or Wong? -- @TheCrappyTools
Despite the positive qualities mentioned about Wong in the preceding question, La Stella is the best choice here. Harrison is not a factor because he lacks a secure role with the Bucs, and Wong has not swung the bat well in recent days. Walker should return around the end of the month, so the best short-term option is a player who is having success right now. La Stella is hitting .387 in 62 at-bats with the Braves, and even though his counting stats are not remarkable, he could improve his RBI and run-scored rate if he continues to rack up so many hits. La Stella will not hurt a fantasy club while he fills in for Walker, and if he maintains such a high batting average, he could be valuable trade bait when Walker returns.
Fred Zinkie is a fantasy baseball writer for MLB.com. This story was not subject to the approval of Major League Baseball or its clubs.