Gordon ready to follow family's footsteps into Majors
Talented young shortstop unfazed by big league lifestyle; makes father proud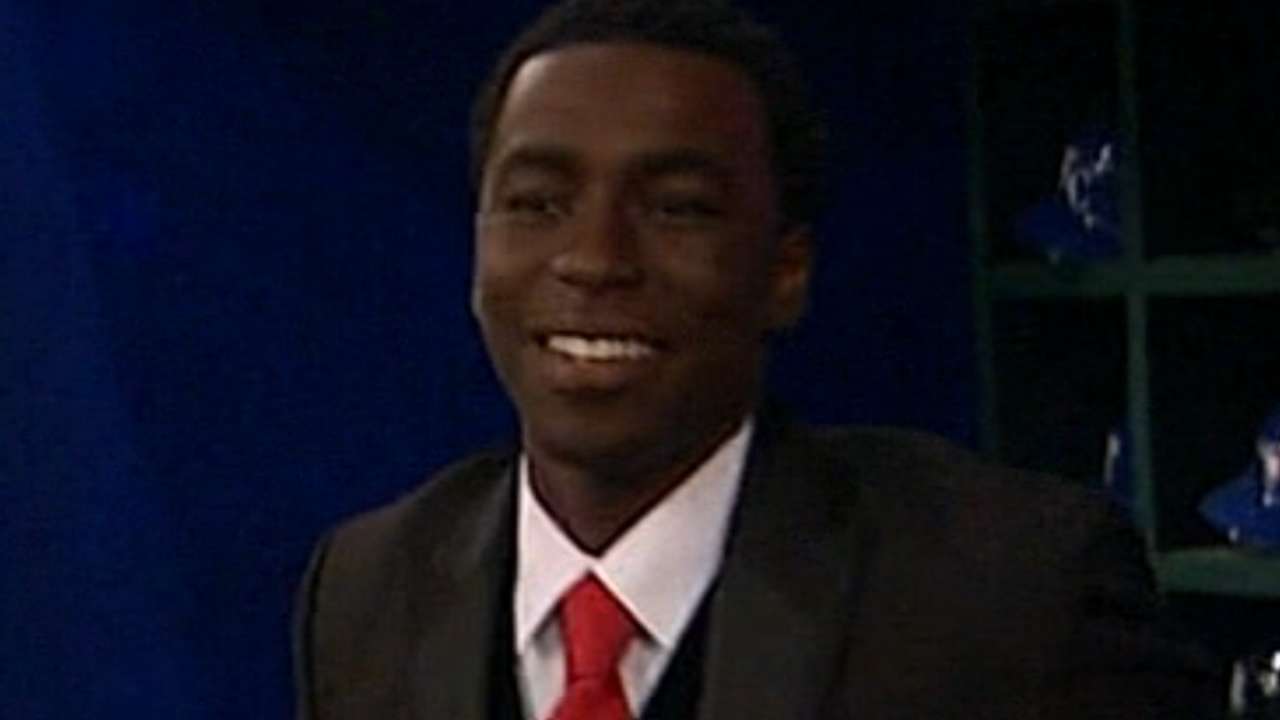 MINNEAPOLIS -- Back when he was in the big leagues, Tom "Flash" Gordon only needed one thing to tell him when he messed up: bubble gum.
The former All-Star closer played more than two decades in the Major Leagues, but rare was the day when he would sneak out of his house to the ballpark without his son Nick demanding to come along.
Now 18 years old and the Twins' first-round choice in the 2014 First-Year Player Draft, Nick Gordon had an interesting way of getting revenge on his father if the elder Gordon managed to escape to work without his son in tow.
"I would come home, and his way of letting me know he was mad was he would have his whole mouth full of bubble gum," Tom said. "So basically, he would go to sleep with gum in his mouth, and I'd have to go in and take it all out.
"That's what I was up against with Nicholas. He wanted to be at the ballfield every day. Every single moment."
Now, those moments have paid off.
Nick chewed up Florida high school pitching last year with a .494 average that included five home runs, 10 doubles, two triples and 27 RBIs. When the Twins made him the No. 5 overall pick in the Draft two weeks ago, he only took four days -- warp speed for a first-round pick -- to sign with Minnesota.
"This is a rarity," Twins general manger Terry Ryan said on June 9, the day of the signing.
Minutes later, Tom stood with a small group of reporters in the bowels of Target Field and agreed with Ryan's statement: Nick is a rarity.
"There's things that he does," Tom said. "You know, 17-, 18-year-olds say, 'Oh, that slipped my mind.' It doesn't. He never forgets his sister at cheerleading practice. He's on time with her every day. He'll call me if he's away and say, 'Don't forget to take the garbage out.'"
Across the room, Nick flashed a boyish smile as he talked about his brother -- Dee of the Los Angeles Dodgers -- his 3.6 high school GPA, and the black-and-red Camaro his parents gave him for his birthday in October.
He talked about what he gave up by rejecting an offer to attend Florida State -- business and law degrees that would help him realize a dream of being a defense attorney.
But the courtroom was child's play compared to the diamond. Nick's smile faded and his eyes grew more intense when his favorite subject -- baseball -- was broached.
"I'm a gap-to-gap line-drive hitter," Nick said. "I'm going to hit for average or above average. Not too much power, but I'm a guy that could possibly in the future hit 20 to 25 bombs. I think my approach at the plate is very advanced for my age. I'm ready for it, and I think I bring a lot to the plate."
Wearing a brand-new Twins home jersey, Nick answered questions deftly, and maintained a business-like approach to his first day on the job. Minnesota not only got the best high school position player in the country, but also one who does not seem fazed by the big league lifestyle.
"I think that's one of reasons that we are very interested in kids with bloodlines," Ryan said. "Because they've seen it. They know what it's all about. They see how their brother or father handles it. But he's going to struggle. There's no doubt about it. There's going to be days when he wonders if he made the right choice."
Ryan said that the Twins have sent 25 scouts to watch Gordon play over the past two years.
"If we had missed on this one, shame on us," he said.
Tom knew he had something special in his son from an early age. Years of outworking opponents off the field led to outstanding batting numbers in his high school career and an elite defensive IQ. But Nick had another trick: His 95 mph fastball made him an excellent pitching prospect.
Oddly enough, it was Tom -- the pitcher -- who shut down that part of Nick's game.
"The workload was becoming too much," Tom said. "He was starting to really develop and starting to get the size and the strength. That ball was starting to come off his bat real well.
"I noticed his instincts at shortstop: He was always in the right place. Any time the game-winning play was on the line, he was there. Game-winning hit, he was the guy. It was things that was happening, that says, 'He's a shortstop. You've got to keep him at that position.'"
Ryan noted that Nick's defensive prowess is reason enough to send him to the Twins' high Rookie-level affiliate in Elizabethton, Tenn., on Thursday, a potentially tough assignment for a kid right out of the gate.
"He's a little bit more of an advanced high school player," Ryan said. "He's not one of those guys that's coming from a program that plays 13 games in the spring. He's been on the circuit."
As far as hitting goes, Nick has already seen his fair share of professional pitching. Tom, barely out of retirement at the time, threw full speed against his son four years ago.
"I let it go pretty good," Tom said. "Throwin' it inside, outside, up and down. Every now and then I would hit him with the ball. I would stick it on him. Even though he'd get upset, he never got out of his game.
"He faced me -- I was just retiring -- and he stayed within his game. He was whacking me up the middle. He didn't get away from who he was."
Nick doesn't remember the encounter as much of a challenge.
"I didn't get to swing the bat too much because I didn't get too many strikes," he said, setting off a roar of laughter from those in attendance.
After the news conference, Nick posed for pictures on the dirt at Target Field. Assuming the shortstop spot that Twins fans hope he will occupy someday soon, he pretended to field grounders as his family smiled with pride.
When asked if he would accept his father's old nickname, Nick kept things in perspective. He is a kid with years of bus rides and Minor League stadiums between him and the Majors, and he knows it.
"I'd be honored to be called Flash," he said. "But you've got to do something to get that name."
Alex M. Smith is an associate reporter for MLB.com. Follow him on Twitter @asmiff. This story was not subject to the approval of Major League Baseball or its clubs.