MLB.com Columnist
Mike Bauman
Players have new take on Old-Timers' Games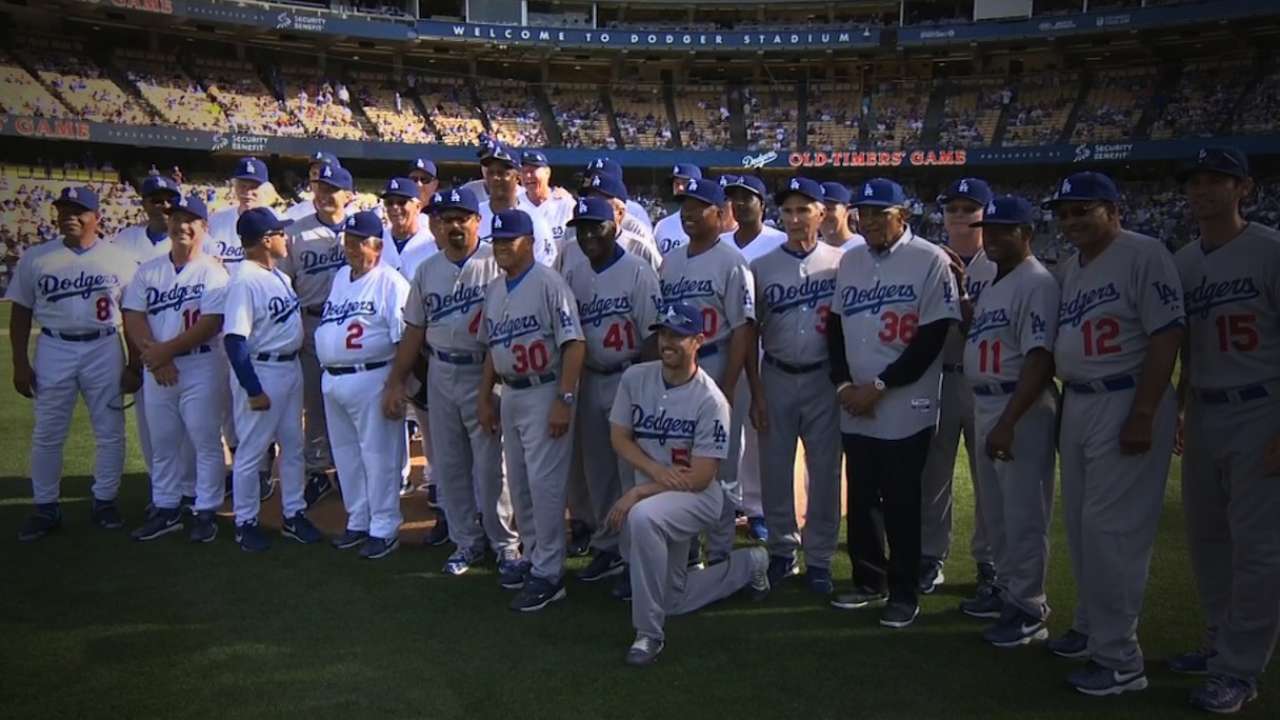 Have you noticed that in many locales the Old-Timers' Game, once a sure-thing staple of baseball promotions, is now about as prevalent as the brontosaurus?
A couple Hall of Famers let us know why the Old-Timers' Game is probably not going to make an immense comeback any time soon. Henry Aaron and Robin Yount were at Miller Park over the weekend for the Brewers' unveiling of their Wall of Honor, a celebration of the history of the franchise.
A question was raised about further celebrating that history with an Old-Timers' Game. Yount looks like a candidate for on-field activity. Two decades into his retirement, he appears to be virtually unchanged from his playing days.
"We keep hoping that guys like Robin will come out of retirement and play for us," Brewers chairman and principal owner Mark Attanasio said.
But Yount, a relatively soft-spoken man in public settings while he was a player, was completely outspoken on this issue.
"I'm not a fan of Old-Timers' Games in all honesty, and I'll tell you why," Yount said. "Some of these kids will recognize names and not have ever seen them play. Old-Timers' Games, when we played, were fairly common. And I'll tell you what, when somebody is very recognizable in a certain organization, the kids have maybe heard their parents talk about his individual and that individual, and what a great player this guy was and yadda, yadda. And then you have an Old-Timers' game and this guy hasn't touched a ball or a bat for 10 or 15 years, he's out of shape, and you ask him to go try and play baseball.
"And the youngsters say: 'Dad, that's the guy you told me was so great.' And I know that's funny. But I'm being very serious. You think you want to have that memory put into that kid's mind? They're disappointed, they've heard nothing but how great these people were.
"That's just me. I'm a huge fan of bringing guys back like we did [in Milwaukee for the Wall of Honor ceremonies]. Put them in a uniform. Some guys will look better in a uniform than others. You walk around, you say hello, you wave to the fans, you sign some autographs, and let the best high school teams go out there and play each other. We'll watch."
Huge laughs ensued from Yount's audience of reporters. He had delivered his remarks with excellent comic timing. But he was still being serious.
"I mean that sincerely," Yount said. "I don't like Old-Timers' Games for that reason right there. And so if we have one here, I ain't playin'. So don't ask me to come."
Aaron's greatness requires no introduction, but the old-timers games presented him with a problem as he grew older. He still had the competitive fire about playing baseball, but time has a way of stealing the skills that go with that fire.
"I think you have to be very, very careful about it, playing in Old-Timers' Games," Aaron said. "I loved Old-Timers' Games, but I realized that I couldn't go out there and hit a fastball off somebody who just retired.
"But I'm going to take it as a challenge. And the next thing I know, I pull a muscle that lasts me for the next six months. It's kind of tough."
That last segment from Aaron drew the intended laughs, but again, it had an underlying, serious message. For the rest of us, an Old-Timers' Game is a nice, warm dose of nostalgia, rekindling positive memories and associations. For the participants, it can be a reminder that they can no longer play the game that defined their public lives at the same level they once did.
They don't need that. And maybe the rest of us don't, either. In the meantime, when/if the next old-timers game occurs, don't bother asking Robin Yount. He ain't playin'.
Mike Bauman is a columnist for MLB.com. This story was not subject to the approval of Major League Baseball or its clubs.