With heavy hearts, Padres go quietly in Seattle
M's pay tribute to Gwynn; Ross stung by early command issues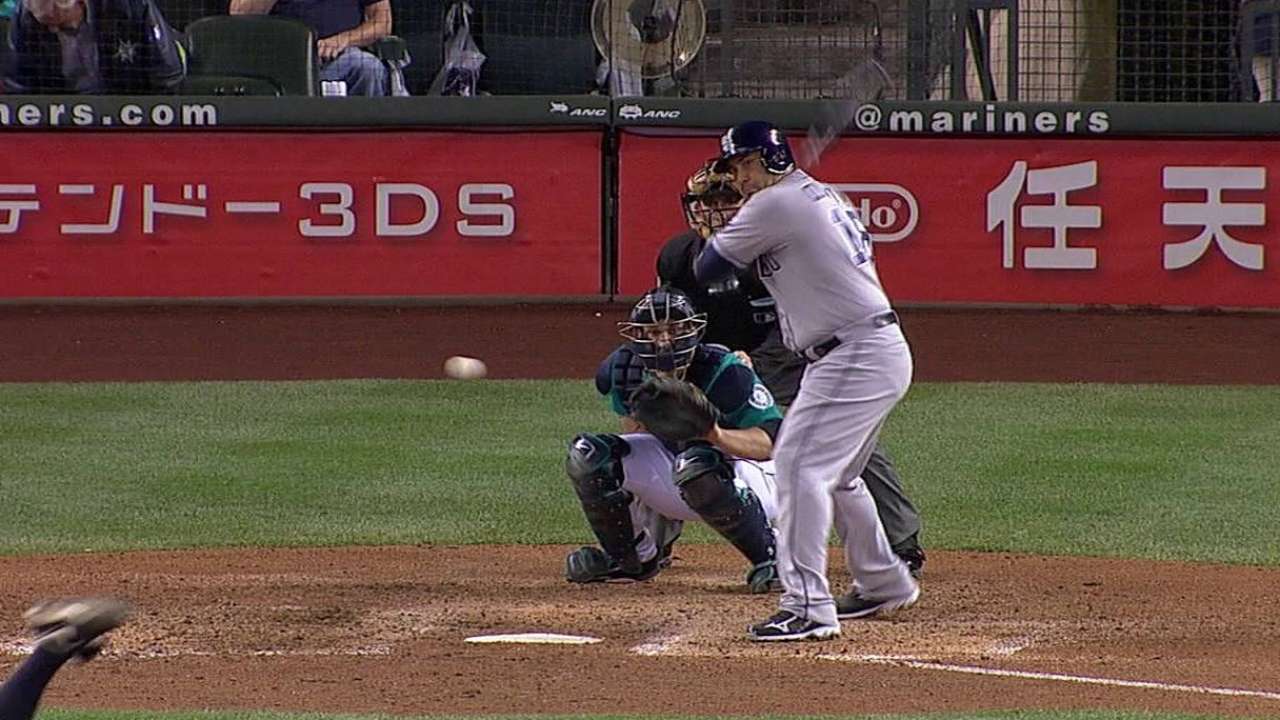 SEATTLE -- During the first half of the 2007 season, Bud Black's first season as manager of the Padres, he watched intently and with a hint of curiosity at how pitcher Chris Young got outs in bunches, so many that it earned him a spot on the National League All-Star roster.
Black must have thought he was sitting through a rerun Monday night, as Young, now with the Mariners, handcuffed the Padres for six scoreless innings as Seattle topped San Diego, 5-1, in front of a crowd of 17,512 at Safeco Field.
"He is a very unique pitcher based on his size [6-foot-10], angle and his ability to work up in the strike zone," Black said.
Young (6-4) did his part to continue the Padres' misery on this road trip, as the team fell to 1-6 with one game remaining on Tuesday against the Mariners.
Young allowed four hits with one walk and six strikeouts and was long gone by the time Carlos Quentin hit a ninth-inning home run to keep the Padres (29-41) from what would have been their 12th shutout loss of the season.
Young started the 2007 season fast for the Padres, winning eight games and positing a 2.00 ERA in his first 17 starts, earning a trip to San Francisco for the All-Star Game that summer.
"He's definitely deceptive. We knew what we were getting, a deceptive fastball. I just felt we were on the baseball but were just missing it. We couldn't really barrel him or get him to work down [in the strike zone]," said Padres first baseman Yonder Alonso.
Young's counterpart, Tyson Ross, had command issues from the start. He allowed a leadoff single to Endy Chavez in the first inning and found himself working out of the stretch a lot and more than he had intended.
"The leadoff single put me in a compromising position where I had to make some pitches," Ross said. "Once you get out of the stretch early, it's hard to find that groove."
Ross allowed four baserunners in the inning, the hit to Chavez, a walk to Robinson Cano and then a three-run home run to Kyle Seager on a 3-0 pitch down and away.
In the second inning, Ross (6-6) allowed a solo home run to Brad Miller and two more walks. All told, he allowed a career-high seven walks in 5 2/3 innings.
"My command wasn't very sharp … I sort of grinded-out some innings," Ross said. "They got some good pitches to hit."
Ross, coming off a start in Philadelphia last week where he threw seven scoreless innings, was mostly without his best pitch Monday -- his slider. At times he could command it in the strike zone, at other times he missed well outside of it.
"The numbers say that Ross is pretty tough on lefties and I was really concerned about that tonight, particularly with that wipeout slider that he has," said Mariners manager Lloyd McClendon. "It seemed like he settled down later in the game and started to swing back pretty good and had the slider down and in. [He] settled down and did a nice job.
"We were just able to take advantage early and capitalize on some things and it turned out good for us."
The Padres had just four hits going into the ninth inning when Quentin hammered an 0-2 pitch into the visiting bullpen in left-center field. It was his third home run of the season.
Before the game, the Mariners played a video tribute for Padres Hall of Fame outfielder Tony Gwynn, who died early Monday after battling cancer. The Mariners also etched Gwynn's No. 19 in dirt between third base and shortstop.
"I thought the Mariners were thinking what we were thinking. They really did a nice job," Black said.
Young, who played for the Padres for five seasons (2006-10), was asked after the game about Gwynn.
"You could talk all day about hitting with him. He'd give you tips as a pitcher and just be there to cheer you up, too," Young said. "He was there in the broadcast booth and when he'd come down to the field and stand behind the cage when pitchers were taking batting practice and probably laugh at us, but just always had a smile on his face.
"He is the city of San Diego. You talk Padre baseball, Tony Gwynn is everything there. The fact he spent his whole career there, the records he put up there, what he means for that city and franchise, as a resident of San Diego now I certainly understand and appreciate his greatness. It's a sad, sad day for everyone there."
Corey Brock is a reporter for MLB.com. Keep track of @FollowThePadres on Twitter. This story was not subject to the approval of Major League Baseball or its clubs.