A's reflect on Gwynn's legacy, approach to game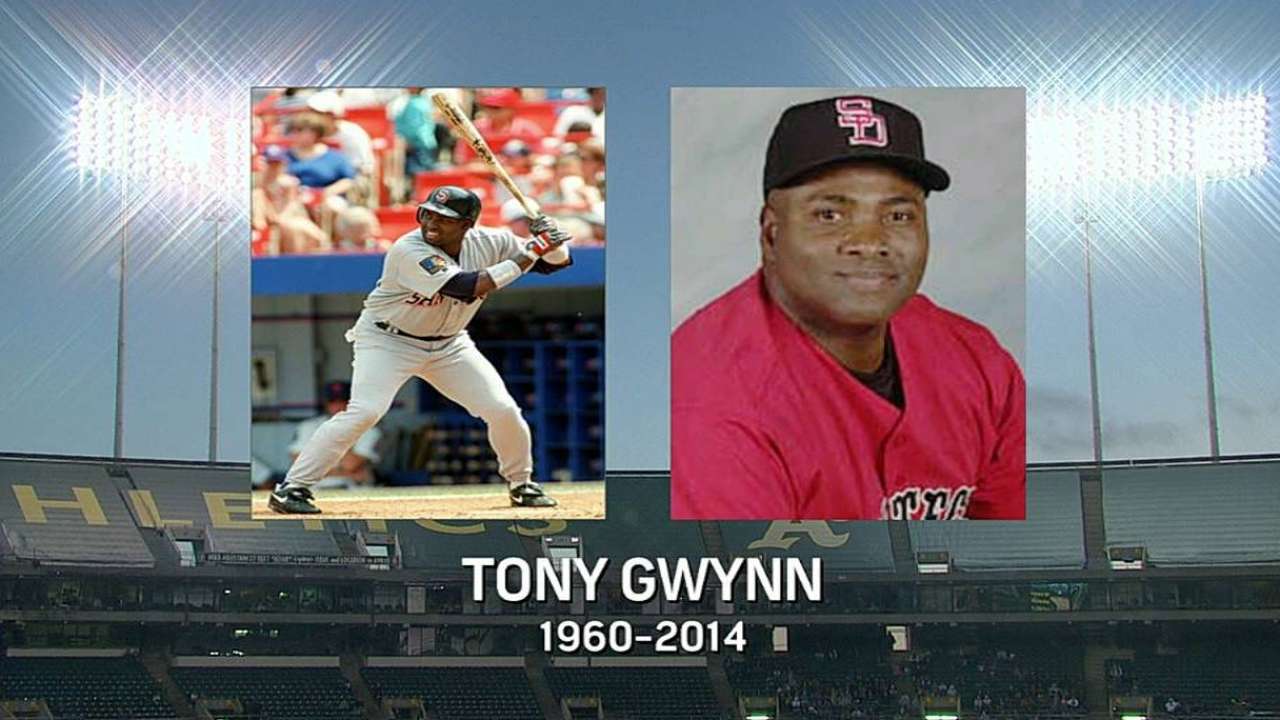 OAKLAND -- The A's took time on Monday to reflect on the life and career of Padres Hall of Famer Tony Gwynn, who passed away at the age of 54.
"Devastated," said right fielder Josh Reddick of hearing the news. "Possibly the greatest hitter of all time."
Right-hander A.J. Griffin, who is currently recovering from Tommy John surgery, grew up watching Gwynn in San Diego.
"You would go to a Padres game, you'd always want to see Tony," Griffin said. "He had the '5.5 hole' thing going for him all the time. He was just a classy guy, treated everyone really well."
When Gwynn was coaching at San Diego State, Griffin was able to sit down with him several times as a player at the University of San Diego.
"He was just a loving guy, just a really good guy, easy guy to talk to, liked to have fun," Griffin said. "He just had an infectious personality."
A's manager Bob Melvin played against Gwynn as a catcher.
"Another one of those baseball ambassadors that just made the game better," Melvin said. "Unique in playing his whole career in one spot, then coaching there locally, too. It's really too bad.
"He was one of the great hitters of all time, and the numbers speak for themselves."
Reddick marveled at Gwynn's ability to hit for a .338 average over such a long career.
"A guy who can hit that lifetime over a 20-year career is impressive, especially now," Reddick said. "He knew what to do at the plate. He had his plan and he stuck to it, and when he got two strikes he wasn't going to give up an at-bat.
"That's what makes a Hall of Famer."
The A's observed a moment of silence for Gwynn before Monday night's game.
Aaron Leibowitz is an associate reporter for MLB.com. This story was not subject to the approval of Major League Baseball or its clubs.