Pinch-hit magic: Wood stuns Marlins in 13th
After earning the win Sunday, lefty plates Lake with two-out double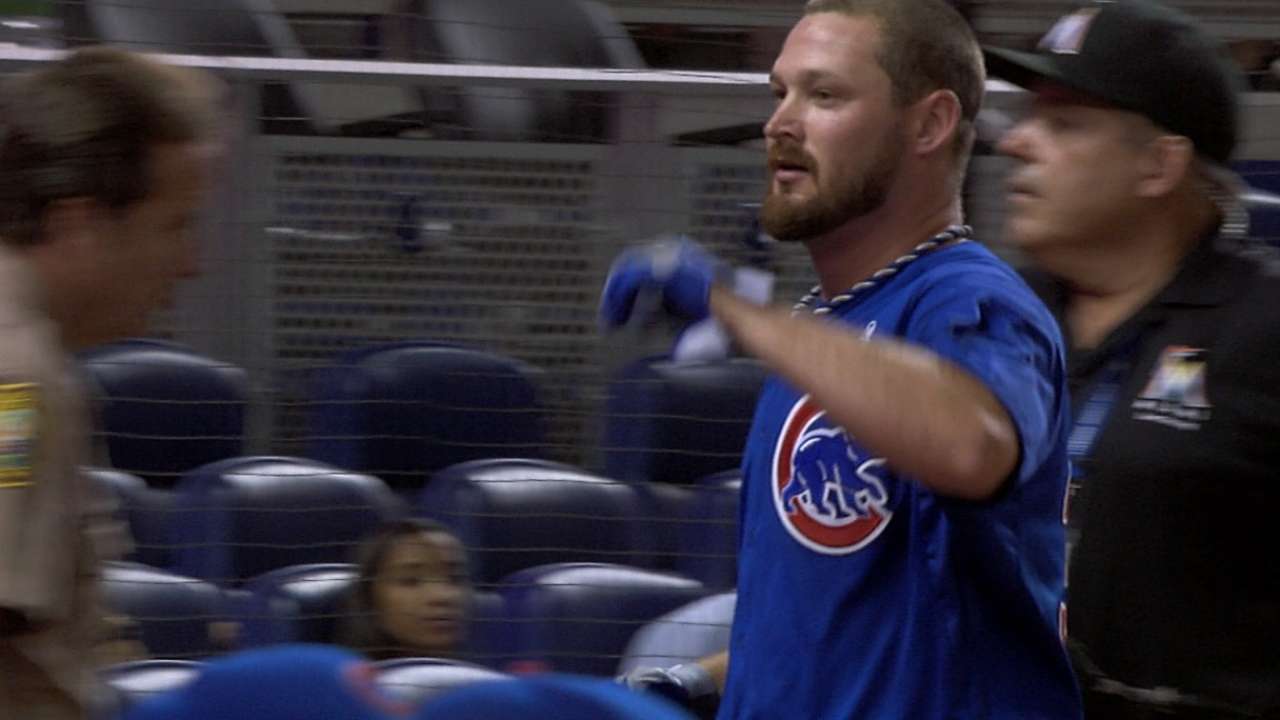 MIAMI -- Travis Wood picked up a win two days in a row, first as the starting pitcher, and on Monday as a pinch-hitter.
Wood delivered a pinch-hit RBI double with two outs in the 13th inning to lift the Cubs to a 5-4 victory over the Marlins.
With the game tied at 4 in the 13th, Jacob Turner, making his first relief appearance of the season, retired the first two Cubs batters. But Junior Lake singled and Wood delivered a double to left for his ninth RBI of the season, a career high. Wood was 0-for-3 this season as a pinch-hitter entering the game, but did have two home runs.
"Any time you're grinding it out and everybody's running out of pitchers and everybody is running out of players, to pull it out is outstanding," Wood said. "I've always hit growing up and out of high school. I didn't have three or four years of college, but I stuck with it. Like I've said before, it's part of our job as a starting pitcher in the National League, so I practice that and try to be as best as I can."
Wood, who now has two career game-winning RBIs, went to the plate hacking.
"You've got to -- there were two outs and we're in the 13th," Wood said.
The only position player remaining on the Cubs bench was backup catcher Eli Whiteside.
"Woody handles the bat and he gave us a chance to win with that at-bat," Cubs manager Rick Renteria said.
"We got beat by their starting pitcher," Miami manager Mike Redmond said. "I don't really know what else to say."
As Lake rounded the bases, a few of the Cubs players, including Starlin Castro, were out of the dugout, jumping up and down and cheering.
"That was awesome," Castro said of Wood's clutch hit. "We were ready to bring him home -- we needed that run. Thirteen innings, that was enough."
It was the third extra-inning game for the Marlins in their last four contests. The Cubs were coming off their first road series win, taking two of three against the Phillies. Wood was the winning pitcher on Sunday. Chicago now is 3-6 in extra-inning games.
Cubs starter Jason Hammel had not served up a home run in 51 2/3 innings before the Pirates' Andrew McCutchen connected off the right-hander in his last start Wednesday at PNC Park. Unfortunately for Hammel, it didn't take long before he gave up his next one.
Hammel, who is drawing interest from teams in need of a starter for the stretch run, served up a leadoff single to Jake Marisnick, promoted from Triple-A on Monday, and Giancarlo Stanton then connected on a laser to right field for his 19th home run. Hammel needed 29 pitches to get through the first.
"There were definitely too many pitches in the first inning," Hammel said. "I could not get the slider down. That was the ball that Stanton hit. I've never seen a home run like that. That thing took two seconds to get out of the ballpark. I thought it would be a foul ball and hit the base of the wall or something.
"It was a line drive -- I just didn't think it had 400 feet of carry on it," Hammel said. "He's a strong boy."
Stanton singled with two outs in the third, stole second, and scored on Casey McGehee's single to go ahead, 3-0.
Chicago tallied against Marlins starter Tom Koehler in the sixth. The Cubs loaded the bases with one out and scored when Anthony Rizzo grounded out. Castro followed with his 10th home run to go ahead, 4-3. Castro hit 10 home runs in 161 games last season, and needed just 68 games to reach that mark this season.
"He hung a curveball -- he's got to pay," Castro said. "I'm concentrating, trying to hit the ball hard, trying to have a good year."
But the Marlins answered in their half, as Marcell Ozuna tripled and scored on Adeiny Hechavarria's sacrifice fly, which Ryan Sweeney caught with a great basket catch in center field.
The Cubs' pitchers celebrated Wood's ability to deliver in the clutch and on the mound this season.
"He can take all my at-bats for me if he wants," Hammel said. "I'll pass on the hitting. If I'm going up there to bunt, I'm happy, but if I'm going up there to swing, I'll apologize beforehand. It just goes to show you his abilities go beyond pitching. He's an asset off the bench."
Carrie Muskat is a reporter for MLB.com. She writes a blog, Muskat Ramblings, and you can follow her on Twitter @CarrieMuskat. This story was not subject to the approval of Major League Baseball or its clubs.