Marlins lose early lead, then fall in 13th
Turner gives up go-ahead run in first relief appearance of season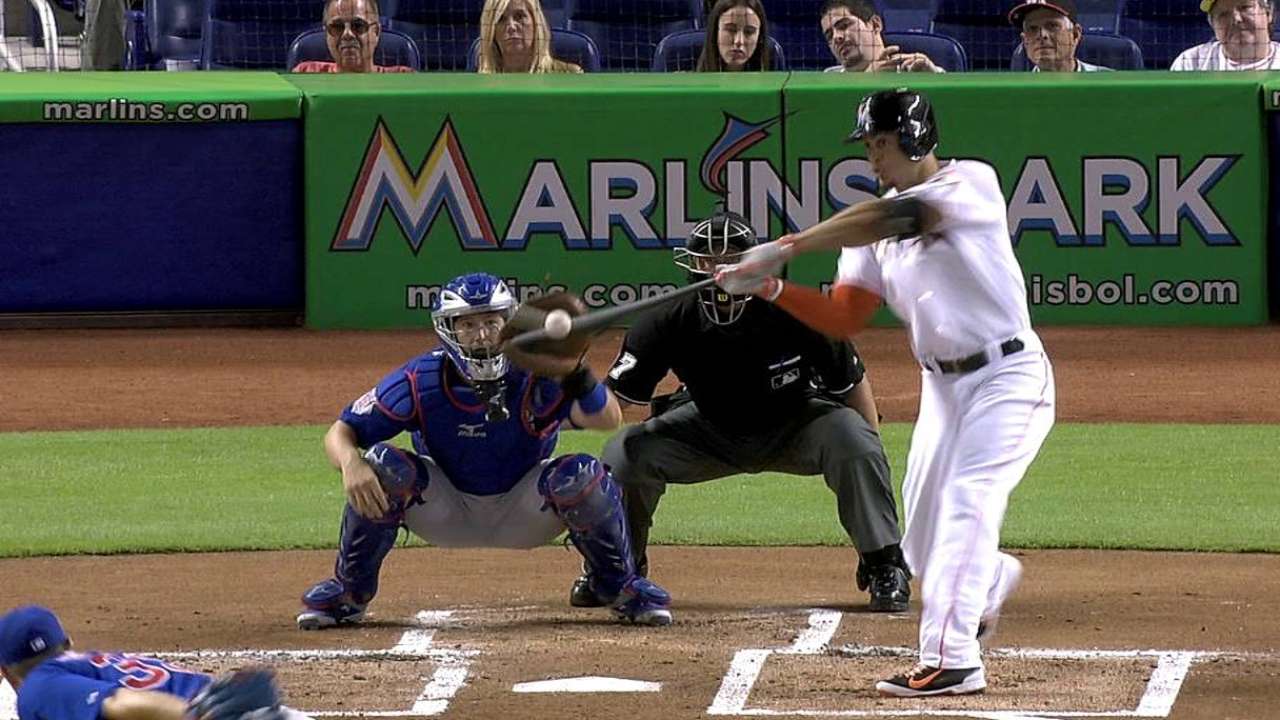 MIAMI -- Jacob Turner's first outing from the bullpen wasn't the shutdown inning the Marlins needed in their 5-4, 13-inning loss to the Cubs on Monday at Marlins Park.
Turner, who was moved to the bullpen this week, allowed a two-out single to Junior Lake. Pinch-hitter Travis Wood, a starting pitcher with a . 276 batting average, followed it up with an RBI double to left field. The game-winning RBI was the second of Wood's career.
"We got beat by their starting pitcher," Marlins manager Mike Redmond said. "I don't really know what else to say."
In the bottom of the inning, the Marlins made three quick flyouts to end their longest game of the season: 4 hours, 39 minutes. The 13 innings they played Monday matched their previous season high, which was set in the 4 hour, 26 minute-loss to the Pirates.
Before the second straight night of extra-inning drama, Giancarlo Stanton had given the Marlins the lead with a two-run homer in the first that just barely cleared the right-field fence. It was his 19th of the season.
"There were definitely too many pitches in the first inning," Cubs starter Jason Hammel said. "I could not get the slider down. That was the ball that Stanton hit. I've never seen a home run like that. That thing took two seconds to get out of the ballpark. I thought it would be a foul ball and hit the base of the wall or something.
"It was a line drive -- I just didn't think it had 400 feet of carry on it. He's a strong boy."
Stanton also singled and stole second base in the third inning, before scoring the Marlins' third run on a Casey McGehee single to left.
Stanton's work came undone just two innings later. For the second start in a row, the sixth inning proved to be too much for Tom Koehler. After cruising through five innings of one-hit ball, he gave up four runs on four hits, including a three-run homer to Starlin Castro, and the Cubs went ahead, 4-3.
"In this game, the results don't always mirror the quality of an outing, and that's unfortunate because I do feel like I let the guys down today," Koehler said. "We had that three-run lead going into that inning and similar to last start, watched it kind of vanish."
Koehler's offense picked him up in the bottom of the inning, though. Marcell Ozuna led off with a sharply hit triple to right field. Adeiny Hechavarria then drove the next pitch into deep center field, where it was caught by Ryan Sweeney. Ozuna tagged up and scored on the sacrifice fly to tie the game at 4 to get Koehler off the hook.
"I felt like we came out and swung the bats well," Redmond said. "We gave it all back on one swing. For whatever reason, Tommy is having a tough time getting through that sixth inning. He was breezing. He's got to fight through that to win ballgames at this level. He's got to find a way to execute pitches and get that win."
Jake Marisnick, called up from Triple-A on Monday along with three others, led off the first inning with a single to center field on the third pitch he saw. He then stole second on a 1-2 pitch to Jeff Baker, who struck out, and eventually scored on Stanton's homer.
By the end of the night, he'd recorded two leadoff hits and two stolen bases in his return to the Majors.
"That's Jake," Redmond said. "He brings a weapon [with his speed]. … It's kind of fun. It feels like a new toy that can really change a game with his legs."
Maria Torres is an associate reporter for MLB.com. This story was not subject to the approval of Major League Baseball or its clubs.