Rangers coaches have fond memories of Gwynn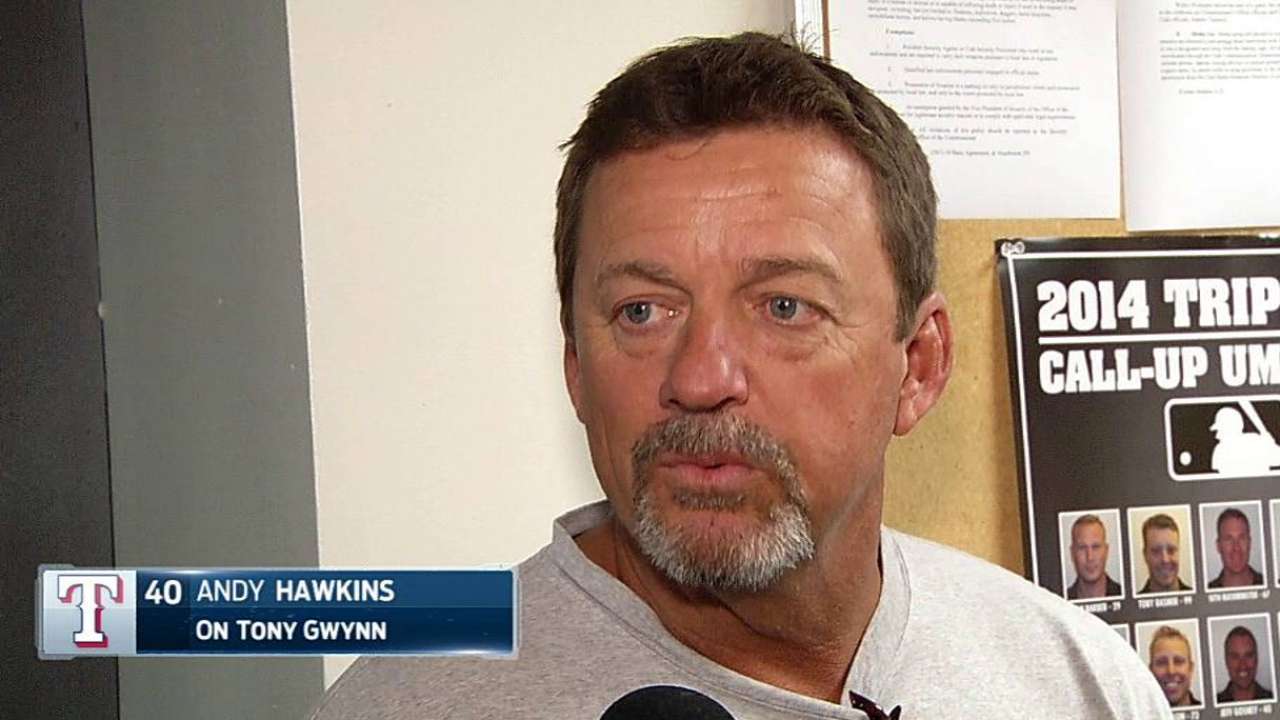 OAKLAND -- Rangers hitting coach Dave Magadan spent the final three seasons of his 16-year Major League career with the Padres from 1999-2001. Those three years gave him a chance to learn much about hitting from Hall of Famer Tony Gwynn.
It was also toward the end of Gwynn's career when injuries started cutting into his playing time. So he and Magadan had plenty of time to sit on the bench and talk about the art of hitting.
"A lot of the routines I do with our guys in the [batting] cages are related to the discussions I had with him," Magadan said. "Like he was a big proponent of hitting off a tee ... a lot of that stuff I still teach today. He was very in-tune to himself as a hitter. He knew himself and could make adjustments pitch to pitch rather than at-bat to at-bat or game to game. He was one of the first to use video. He gave our video guy a lot of work, but he put it to good use. He was all business and all about doing what he could to help the team out."
Magadan is one of three Rangers coaches who played with Gwynn, who passed away on Monday at the age of 54. Bullpen coach Andy Hawkins was Gwynn's roommate as a rookie in 1982 with the Padres.
"He had great work ethic, always taking extra hitting," Hawkins said. "He was the reason we got a batting cage in San Diego, because he was always taking more batting practice than anybody else. He loved the game. Every time I saw him on the field he had a smile on his face. He was an easy-going guy to be around and a great competitor. Just a Hall of Fame player and a Hall of Fame person."
"He was one of the best teammates I've ever had," pitching coach Mike Maddux said. "I learned a lot about pitching from him. If I got stuck on a hitter, he would break down the guy's swing and tell you how to pitch to him. He was one of the best sources of baseball information I ever played with, a true baseball rat."
T.R. Sullivan is a reporter for MLB.com. Read his blog, Postcards from Elysian Fields, and follow him on Twitter @Sullivan_Ranger. This story was not subject to the approval of Major League Baseball or its clubs.