Beimel recalls surrendering Gwynn's final HR
Veteran lefty 'took pride' in allowing homer; McClendon mourns friend, mentor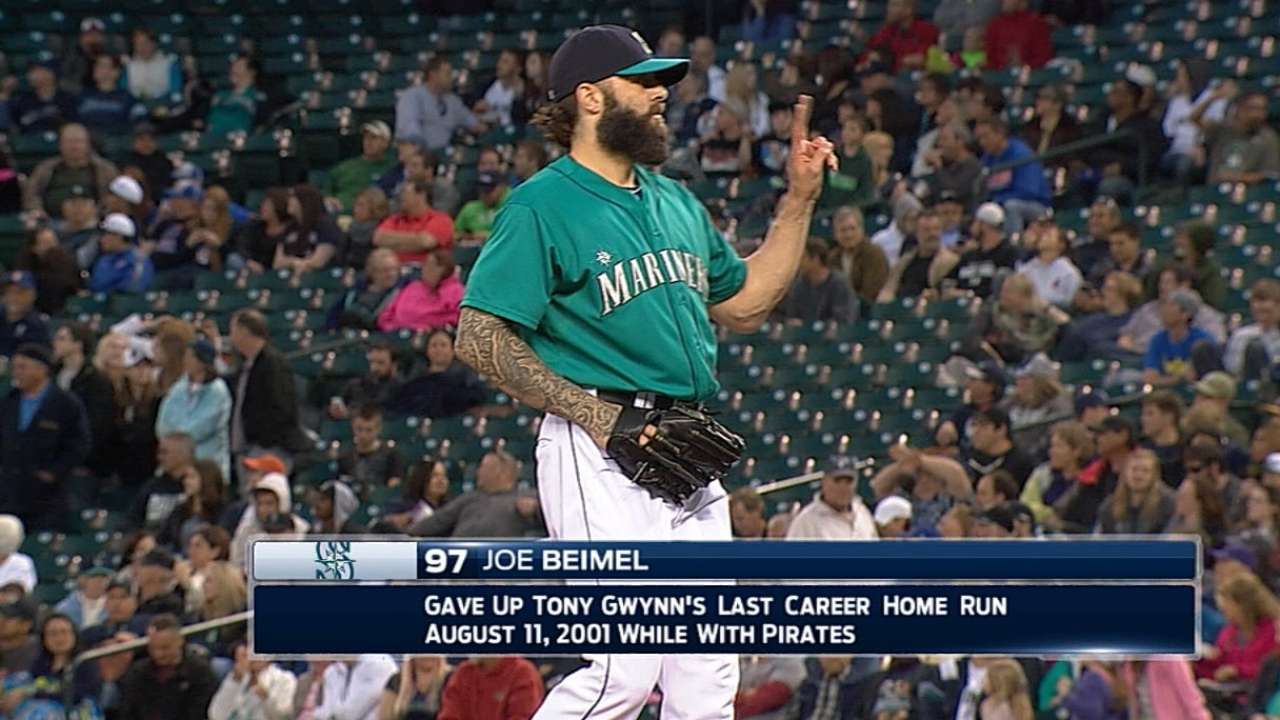 SEATTLE -- Mariners manager Lloyd McClendon remembers talking baseball for hours with Tony Gwynn. Mariners reliever Joe Beimel remembers the few seconds in which he gave up Gwynn's final home run of his storied career. And as with every Major League clubhouse on Monday, players and coaches expressed sadness and recalled one of baseball's greatest hitters after Gwynn died of cancer earlier in the day at age 54.
Gwynn's death hit particularly close to home with the Mariners as Gwynn's younger brother, Chris, is Seattle's director of player development, overseeing the club's entire Minor League system.
"Obviously waking up to that kind of news was pretty devastating," said McClendon, who played against Gwynn for years in the National League. "Tony was not only a person I considered a friend, but as far as hitting was concerned, he was a mentor as well.
"I look back now and sometimes you take things for granted. But to think this guy took time out of his day every time we came to town or they came to town to sit down and talk to somebody like me about hitting and the game of baseball, it just blows your mind. To think we lost him at the age of 54 is really, really tragic."
As a student of the art of hitting and a longtime hitting instructor with the Tigers, McClendon appreciates the greatness that was Gwynn.
"You can look at all his numbers and stats and talk about everything, but the one that really stands out the most to me is to think that in a 20-year career he struck out 434 times in almost 10,000 at-bats, that's just phenomenal," McClendon said. "That's 20 strikeouts a year. Heck, I did that in a week. I didn't listen enough. But what a tremendous loss for baseball. My heart goes out to his family."
Beimel, 37, is the one Mariners player who competed against Gwynn at the end of his Hall of Fame career with the Padres. Beimel was a rookie starter with the Pirates in 2001 when he gave up Gwynn's final career home run on Aug. 11 in a 6-2 victory for the Padres at PNC Park. It was Gwynn's only homer his final season in San Diego and the 135th of a career that was more about his .338 batting average and eight NL batting titles.
"A couple of my friends told me it was to center. I thought it was right-center," Beimel recalled. "I know it was a hanging slider. Before the game we were going over the scouting report and it's my rookie year. We get to Tony Gwynn and they're like, 'There really isn't a way to pitch him. He can hit everything. So maybe you should just try throwing it right down the middle.' So first at-bat, I throw it right down the middle and he cracks a friggin' double. I'm just like, 'Oh man.'
"I did get him out on a lefty changeup that I've thrown maybe five of my whole career, then he hit the home run on a hanging slider the third at-bat. He was pretty good."
Gwynn thus finished his career hitting .667 against Beimel as that was the only time they ever met. Beimel says 10 years later, a friend of his put on a baseball clinic with Gwynn and asked if he remembered his last home run. And Gwynn recalled every detail of the at-bat.
Beimel hasn't forgotten it either.
"I actually took pride that I gave up his final home run," said the southpaw. "I kept watching the box scores the rest of the season to see if he'd have another one and when he didn't, I said, 'Yes!' … It wasn't that cool at the time. But now it's pretty cool."
Greg Johns is a reporter for MLB.com. Follow him on Twitter @GregJohnsMLB as well as his Mariners Musings blog. This story was not subject to the approval of Major League Baseball or its clubs.