Late homers can't overcome Pomeranz's struggles
Moss, Cespedes go deep in loss to fourth-place Rangers in series opener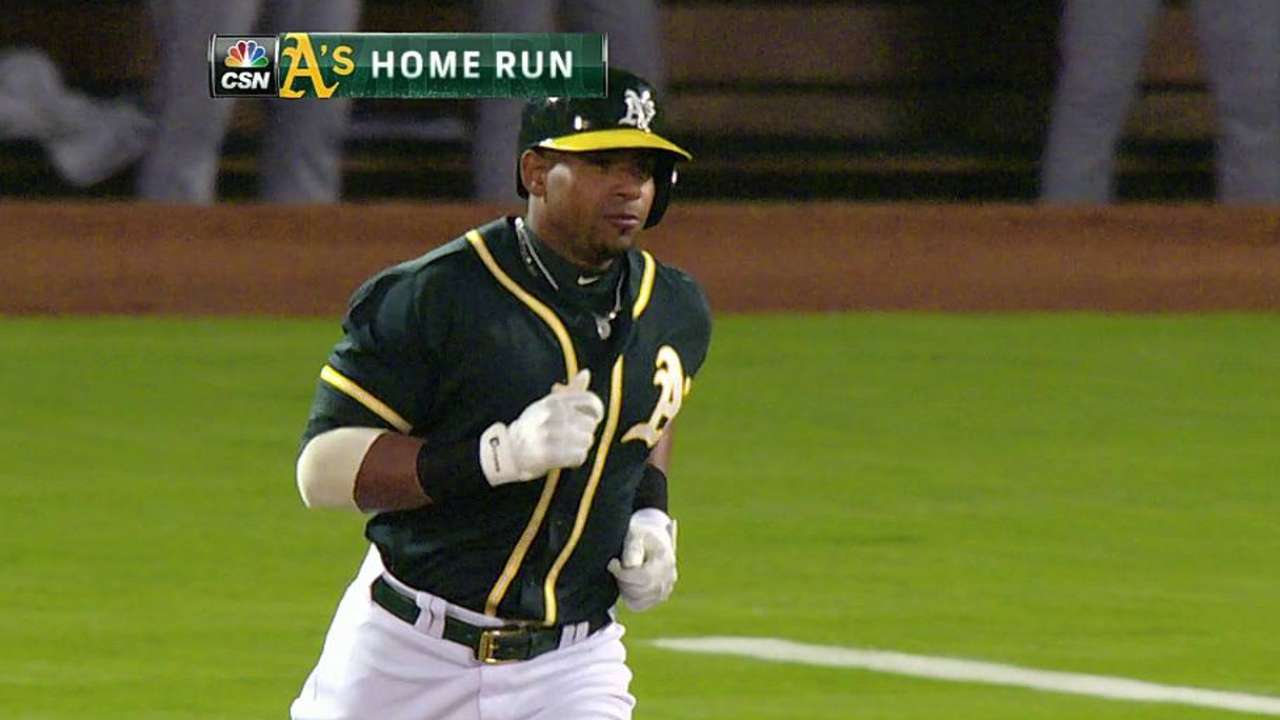 OAKLAND -- Playing in their 70th game of 2014 on Monday, the A's did something they had not done all season: They allowed double-digit runs.
In all likelihood, the team will not stop to appreciate this feat, considering they lost the opener of a critical three-game series against the division rival Rangers, 14-8.
Still, the A's did not go down without a fight. Trailing, 11-3, in the sixth, they plated four runs, the final three of which came around on a Yoenis Cespedes home run off reliever Robbie Ross Jr.
After adding another run in the seventh to make it 11-8, the A's brought the tying run to the plate with two on and two outs. But Kyle Blanks struck out looking.
"We got ahead 2-0 and then had some opportunities in the [second] inning and didn't come through, and then we didn't play a very good game after that," A's manager Bob Melvin said. "In the later innings we came back and made a game of it, just not far enough."
A's pitchers had their poorest performance of the year, allowing a season-high 16 hits, and the Rangers put the game out of reach in the late innings.
Texas tagged Drew Pomeranz for eight runs, including six in a fourth-inning rally that featured two walks and four hits, one of which was a two-run homer by Donnie Murphy.
"I don't think I was as sharp from the beginning, and they were patient up there," Pomeranz said. "I had a lot of bad counts. Once you start getting predictable, then it gets a little bit harder to pitch that way."
Pomeranz threw 53 of his 79 pitches for strikes, but Texas was aggressive and jumped on his mistakes. Coming on the heels of two stellar outings, it was the worst start of his career.
"This year, I've had a pretty good streak of things going my way, and clearly things didn't go my way tonight," he said. "It's baseball, it happens sometimes and you try to move past it and focus on the next one."
Ryan Cook, Jeff Francis and Fernando Abad each allowed two runs in relief. Abad surrendered his first two extra-base hits of the season on back-to-back homers by Murphy and Robinson Chirinos.
Cook, who have up a two-run homer to former A's prospect Michael Choice, has allowed five runs in 4 1/3 innings since recovering from a right forearm strain.
"Just missing in his spots, getting behind, not throwing enough strikes to be able to use his breaking stuff effectively," said Melvin.
Brandon Moss cracked a solo shot off Rangers starter Colby Lewis in the fifth, and Oakland's four-run sixth narrowed the deficit to four. An RBI single in the seventh by Alberto Callaspo -- who had four hits -- put the A's within striking distance.
But they could not muster any late-inning magic against the Rangers bullpen, falling to 42-28 overall.
"We needed everything we put up there," said Rangers manager Ron Washington. "That team don't quit. They can put runs on the board in a hurry, and they proved it tonight."
The A's finished with 15 hits, including three from Coco Crisp, two from Moss and one from slumping third baseman Josh Donaldson, who went 1-for-5.
Oakland committed three errors, increasing its season total to 52.
Meanwhile, the Rangers pulled to within seven games of the first-place A's in the American League West. They will send Yu Darvish to the mound going for the series win on Tuesday.
"Every time we come here we are just trying to win the series," said Rangers third baseman Adrian Beltre. "Tonight was a good start."
The A's can only presume Texas' 14-run outburst was an anomaly.
"For a club that leads the league in pitching and is used to holding teams certainly under four, there have been a couple games we haven't been able to do that," Melvin said. "Our strength is being able to get into the bullpen earlier in games, and that's happened to us a couple times where they've scored multiple runs on us."
Aaron Leibowitz is an associate reporter for MLB.com. This story was not subject to the approval of Major League Baseball or its clubs.