Murphy's two homers power Rangers vs. A's
Choice, Chirinos go yard as offense feasts in series opener in Oakland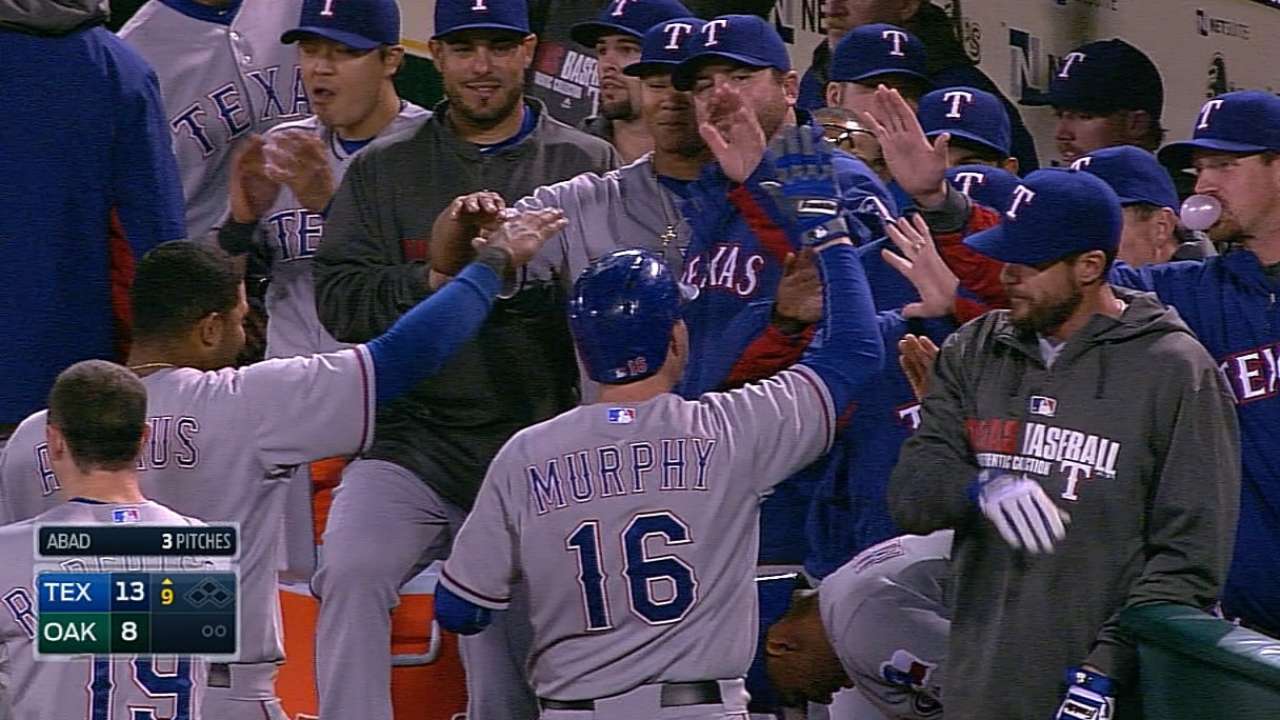 OAKLAND -- The Rangers had a big meeting in the clubhouse before their game with the Athletics on Monday night.
They wheeled out a cake and sang happy birthday to pitcher Joe Saunders. That's it. There was no big pep talk from manager Ron Washington or much discussion by the players about the importance of this series against the Athletics.
"We're trying to beat everybody," third baseman Adrian Beltre said. "They are the ones leading the West, so we have to beat them, but there's no use sitting around and talking about it."
Instead, the Rangers made enough noise with their bats with the loudest boom coming from their novice first baseman. Donnie Murphy hit two of the Rangers' four home runs as they powered their way to a 14-8 victory at the Coliseum. Michael Choice and Robinson Chirinos also hit home runs as this marked the first time the club has hit more than two in a game this season.
"It was just a good night of swinging the bat," Washington said. "These guys know what's going on. They don't need to be reminded. They know what they are up against, so they just went out and swung the bats well tonight."
Murphy, Chirinos, Choice and Rougned Odor were at the bottom of the Rangers' order on Monday, but they combined to go 9-for-17 with seven runs scored, four home runs and eight RBIs. Daniel Robertson and Elvis Andrus also had two-hit nights at the top of the order.
"I got some good pitches to hit tonight and I didn't miss them," Murphy said. "It's good that we all came out and contributed. It was a good team win."
Choice's home run was his first at the Coliseum, coming against the team that originally drafted him before trading him to the Rangers this winter.
"I always wondered what that first home run in the Coliseum was going to feel like," Choice said. "But I didn't think it was going to be for the Rangers and against the Athletics. But it's a good feeling."
Murphy, making his fourth career start at first base, also had a sacrifice bunt in the second inning that helped the Rangers score their first two runs. He also dug out an errant throw from Beltre to put an end to the Athletics' four-run sixth inning.
It is only the fourth time in club history that a Rangers player has hit two home runs and dropped a sacrifice bunt in the same game.
"Murphy has been doing a good job the whole time I've been putting him in there," Washington said. "He can be very productive. He's a good athlete who can play a lot of positions. We put him at first base on short notice and he looks like a first baseman. He's got some pop and tonight he also dropped a bunt. The guy is versatile. He's a baseball player, and tonight he swung the bat well for us."
Murphy's first home run was a two-run shot that got the Rangers going with a six-run fourth inning. They led, 10-2, through 4 1/2 innings and then had to use a big chunk of their bullpen to hold off a late charge by the Athletics. The Rangers needed six pitchers throwing 182 pitches to subdue the Athletics and still had Joakim Soria warming up in the bullpen at the end.
Washington admitted it was disappointing to have to use that many pitchers after having an eight-run lead.
"Yeah it is, but you can't predict how a baseball game is going to go," Washington said. "They put some runs on the board and we had to keep playing, and we did. We needed everything we put up there. They are a tough team. That team don't quit. They can put runs on the board in a hurry and they proved it tonight. We played well."
Rangers starter Colby Lewis picked up the win despite allowing five runs in 5 1/3 innings. It was his first win since May 25 and he is now 5-4 with a 5.97 ERA on the season. He is 6-2 with a 2.88 ERA in 13 career games at the Coliseum.
"I tried to stay in there for as long as I could," Lewis said. "I didn't have a whole lot out there and I was struggling to find the strike zone. It was one of those days where you had to grind through to get what you got."
Lewis fared better than Athletics starter Drew Pomeranz. The Rangers pounded him for eight runs in just 3 2/3 frames in winning their fourth straight game over the Athletics in Oakland. The Rangers swept a three-game series here in April.
"They were patient up there," Pomeranz said. "I had a lot of bad counts. I actually felt pretty good out there. Like I said, they were really patient at the plate, made me make some pitches and just waited for a mistake, and they found mistakes."
It was a good way to celebrate Saunders' birthday.
T.R. Sullivan is a reporter for MLB.com. Read his blog, Postcards from Elysian Fields, and follow him on Twitter @Sullivan_Ranger. This story was not subject to the approval of Major League Baseball or its clubs.