deGrom hit hard as Mets drop opener in St. Louis
Rookie righty allows six runs on 12 hits over 4 1/3 innings to Cards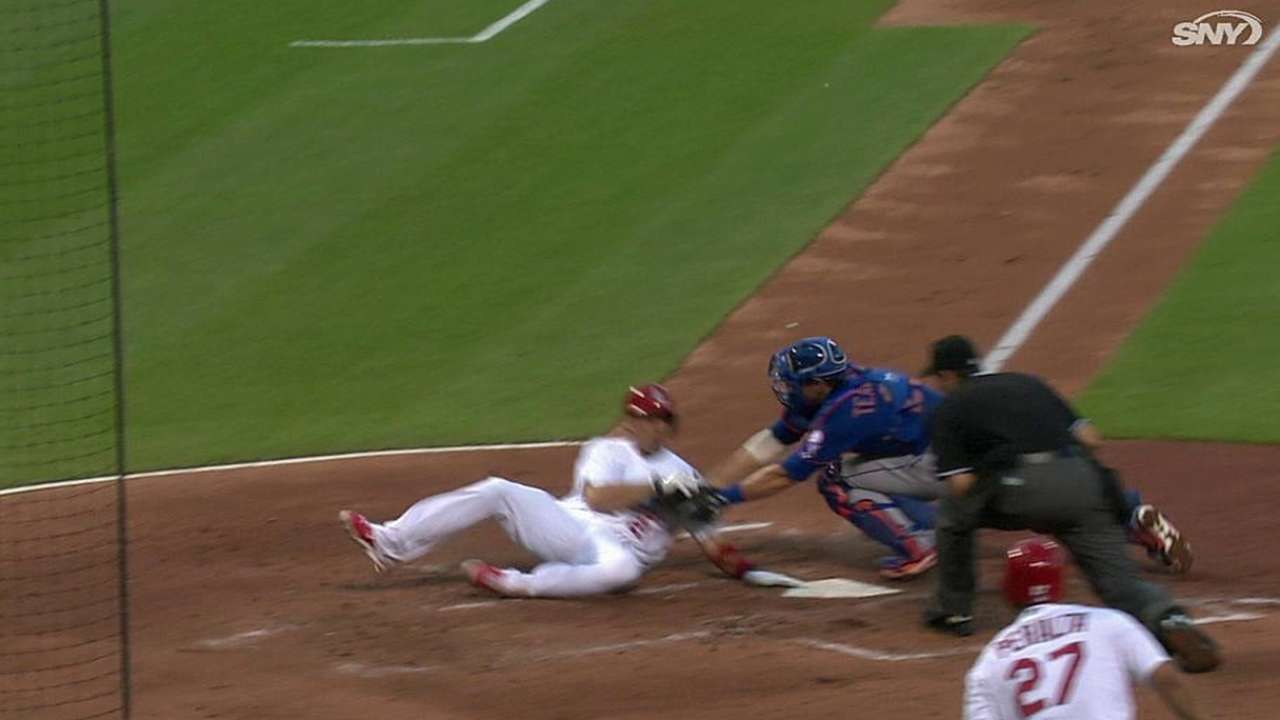 ST. LOUIS -- Hours before Monday's series opener against the Cardinals, Mets manager Terry Collins sat in his office, answering myriad questions about his starting lineup. The pitcher was batting eighth -- that was weird. Curtis Granderson hit leadoff for the second straight game. Eric Young Jr. was back in the lineup after missing serious time with a hamstring strain.
Collins strategized, then defended his moves in public. Yet as it turned out, none of them mattered. Hours later, starting pitching was the Mets' undoing in a 6-2 loss to the Cards at Busch Stadium.
"I just look at how many balls were hit hard tonight," said Mets rookie starter Jacob deGrom. "I didn't really make pitches when I needed to."
deGrom, whose 0-3 record coming into the game belied his string of strong performances, was the primary culprit in this one. Shelling out a career-high 12 hits over 4 1/3 innings, deGrom could not find a way to retire the Cardinals with any consistency, particularly during a four-run rally in the fifth. Though he stuck to his pregame strategy of throwing more changeups, he left too many of them up in the strike zone by his own estimation.
After deGrom struck out Matt Carpenter to open the fifth inning, six consecutive Cardinals batters reached base safely against him. Hits by Matt Holliday, Allen Craig, Matt Adams and Jhonny Peralta all plated runs, with Peralta's one-out single finally chasing deGrom. The rookie also gave up stray runs in the first and third innings, inflating his ERA by more than a full run.
"You've got to make pitches against a team as good as they are," Collins said.
The Mets' newfangled lineup was no match for that sort of offensive attack. Though Cardinals starter Carlos Martinez was on a strict pitch count of 50-60, he gave up just one run -- a Granderson sacrifice fly -- in four innings. Rookie Nick Greenwood took it from there in his big league debut, silencing the Mets into the eighth.
"You can't really prepare yourself for something like that, especially in St. Louis with a packed crowd and you're coming in and they're all standing for you," Greenwood said. "The first guy, Granderson, I grew up a Yankees fan and it was just kind of a surreal moment realizing I was facing Curtis Granderson. After that, the emotions, you've got to put them away and go after them."
Pinch-hitter Chris Young finally snapped Greenwood's spell in the eighth inning, singling to score Daniel Murphy. But a tag team of Cardinals relievers ended that threat, ensuring Greenwood's first big league victory.
For the Mets, batting the pitcher eighth was something that Collins tinkered with in Spring Training, only to abandon. Yet with his team desperate for runs -- they came into the game ranked 23rd in the Majors in runs scored, 22nd in on-base percentage and 29th in slugging -- Collins was willing to try it again.
It was just the latest in a series of minor experiments that have yet to reach the roots of New York's offensive problems. Throughout the first two and a half months of this season, Collins has tried more than a half-dozen different players out at leadoff. He has tinkered with platoons, given his sluggers green lights on 3-0 pitches and double-switched with abandon.
None of it has worked. The Mets have struggled to score runs with even a modicum of consistency. Monday, facing the reigning National League-champion Cardinals, they struggled to do much of anything at all.
"You look at their lineup, and top to bottom, they have a good lineup," third baseman David Wright said of the Cardinals. "You can't have Murph or Grandy or whoever be the only guy or two guys hitting in the lineup to be successful. You've got to have a strong lineup in case you do have one, two, three guys who get cold and go through the inevitable ups and downs of the season. You need top to bottom to be able to lengthen a lineup out, and lately we just have too many guys cold at the same time."
Anthony DiComo is a reporter for MLB.com. Follow him on Twitter @AnthonyDicomo. This story was not subject to the approval of Major League Baseball or its clubs.