Cardinals pull away from Mets with four-run fifth
Jay sparks bats with three runs scored; Greenwood wins in MLB debut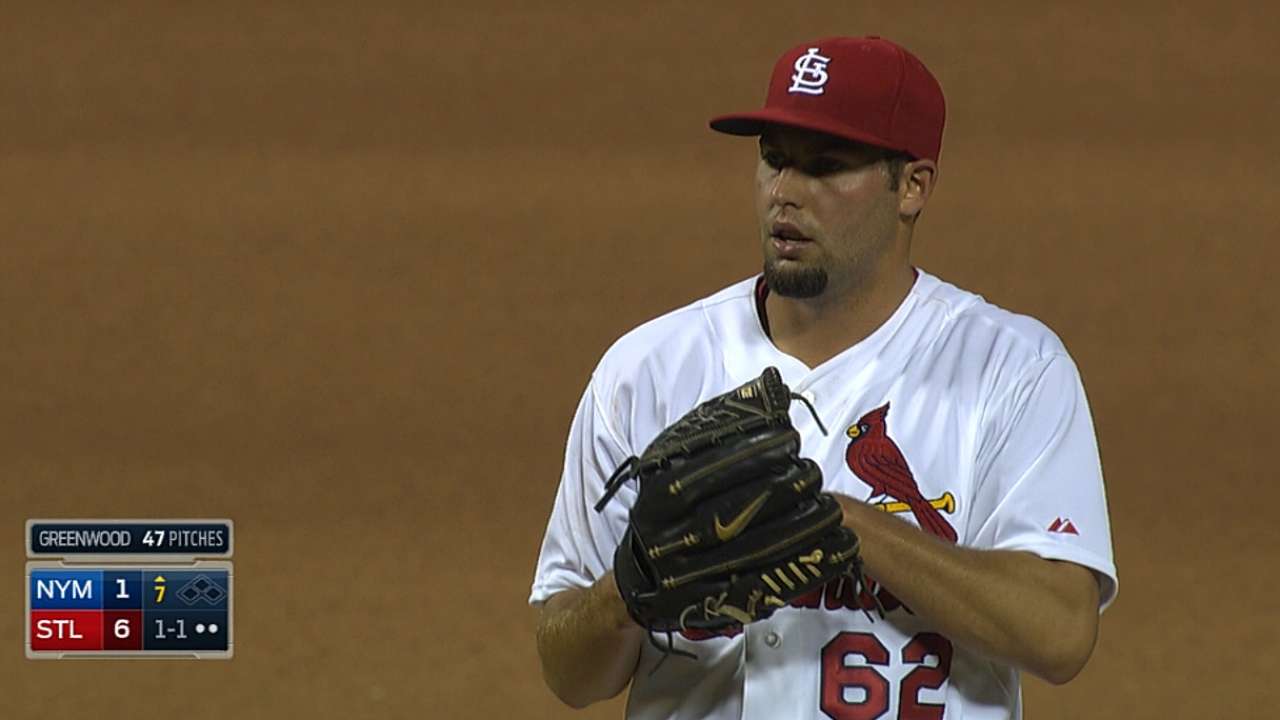 ST. LOUIS -- It had been 47 days since manager Mike Matheny last inserted Jon Jay into the starting lineup as the team's two-hole hitter. Jay first had to prove himself worthy of inclusion anywhere before Matheny would consider him again for top-of-the-order placement.
But with his grip strengthening on the starting center-field job, Jay was bumped back toward the top of the lineup on Monday. It was Matheny's attempt to front-load his lineup by on-base percentage, and Jay rewarded the move by serving as the catalyst in each of the Cardinals' three run-scoring innings.
The repeatable success of that offensive formula eased the pressure on a pitching staff that knew it would have to piece together nine innings without a true starter to fill in for Adam Wainwright. The Cardinals, who received 7 1/3 strong innings from second-time starter Carlos Martinez and debuting Nick Greenwood, won despite their ace's absence, taking the first game of this three-game series, 6-2, over the Mets at Busch Stadium.
The victory was the Cardinals' fourth consecutive one, matching the club's longest winning streak of the season.
"I feel like we're starting to hit our stride and everybody's starting to swing the bats good and our pitching has been solid -- it's kept us in almost every game," said Matt Holliday, who highlighted his night by driving in the 1,000th run of his career. "I feel like our team's playing well, and it's fun."
Martinez, quick to discuss his desire to be a Major League starter, got the chance Monday after the Cardinals chose to proceed cautiously with Wainwright and his irritated right elbow. Martinez was allotted a maximum of 60 pitches and spread out 59 over four innings.
A six-pitch first and eight-pitch second helped that efficiency, which took a hit when Martinez walked four batters over the next two innings. But he limited the Mets to one run while stranding five in those two frames, allowing the offense time to build its lead against winless Mets starter Jacob deGrom.
"I felt good overall," Martinez said, with Jaime Garcia translating. "I was able to battle and keep the team in the game. I made a couple mistakes with the walks there, but overall it was pretty good."
As for the offense, it found success while showing flashes of its former self. A team that thrived last season with timely hitting found all sorts of it behind Jay on Monday. Jay scored the first three of the Cardinals' six runs, being driven in once by Allen Craig, Matt Adams and Holliday. The club finished 6-for-9 with runners in scoring position.
"Nice to have those big two-out hits, too, once we get the guys on base like Jon," Matheny said. "That's a big offensive day for us."
That opportunistic hitting was such because Jay was getting on base. With an OBP of .367 this season, Jay's ability to consistently find a way on warranted the move up in the lineup. Only leadoff hitter Matt Carpenter (.373) and three-hole hitter Holliday (.378) have higher such marks.
"I'm just trying to help the team win every day," said Jay, who has hit safely in 10 of his last 11 games. "I don't look at numbers. I don't look at any of that. I've hit everywhere in the lineup in my career, so I don't care. I'm just trying to go out there, have fun, win some games."
The three hitters behind Jay each tallied multihit games and combined to drive in five. Craig finished with a three-hit night, the first of which drove home Jay in the opening frame. Craig's single in the third extended that frame long enough for Adams to drive Jay home on a two-out single to right.
It was the third straight multihit game for Craig, whose batting average continues to recover from a slow start. Craig, the team leader in RBIs, is now batting .264 on the season.
The Cardinals then broke out for a four-run fifth, knocking deGrom from the game. Holliday followed Jay's one-out double with a milestone-setting RBI single, an achievement the sellout crowd recognized with a standing ovation.
"To get a chance to play this long," Holliday said, "and get a 1,000 RBIs in the Majors Leagues in something special to me."
Craig and Adams added run-scoring extra-base hits, and Jhonny Peralta capped the scoring with a single.
"You look at their lineup, and top to bottom, they have a good lineup," Mets third baseman David Wright said, then noted that the New York lineup doesn't similarly match up.
It definitely didn't on Monday as Greenwood took the baton from Martinez and became the first Cardinals relief pitcher since 1988 (John Costello) to earn a win in his Major League debut.
The lefty opened the fifth with a walk of Curtis Granderson, but erased the outfielder on a double play and then retired eight more in a row. Two eighth-inning singles knocked him from the game with a five-run lead. Matheny, as he took the ball, intentionally delayed Greenwood's walk to the dugout.
"I just told him to sit here for a second, take a breath and enjoy it," Matheny said. "To just make it onto a big league field is such an accomplishment. But then to [have] such an impact in the game today and do such a great job in a real tough situation, he deserved that, and the fans let him know."
Greenwood, who will likely be sent back to Triple-A on Tuesday so the Cardinals can reinforce their bullpen or bench, later described the night as unbelievable.
"It's been a long road to get here," he said. "Realizing I'm going to come in the game and make an actual debut -- thinking about the grind, the struggles, the ups and downs -- I couldn't ask for a better outing."
Jenifer Langosch is a reporter for MLB.com. Read her blog, By Gosh, It's Langosch, and follow her on Twitter @LangoschMLB. This story was not subject to the approval of Major League Baseball or its clubs.