Dee tour! Dodgers interrupt Rockies' roll
Gordon goes 4-for-4, scores on his 'inside-the-park triple'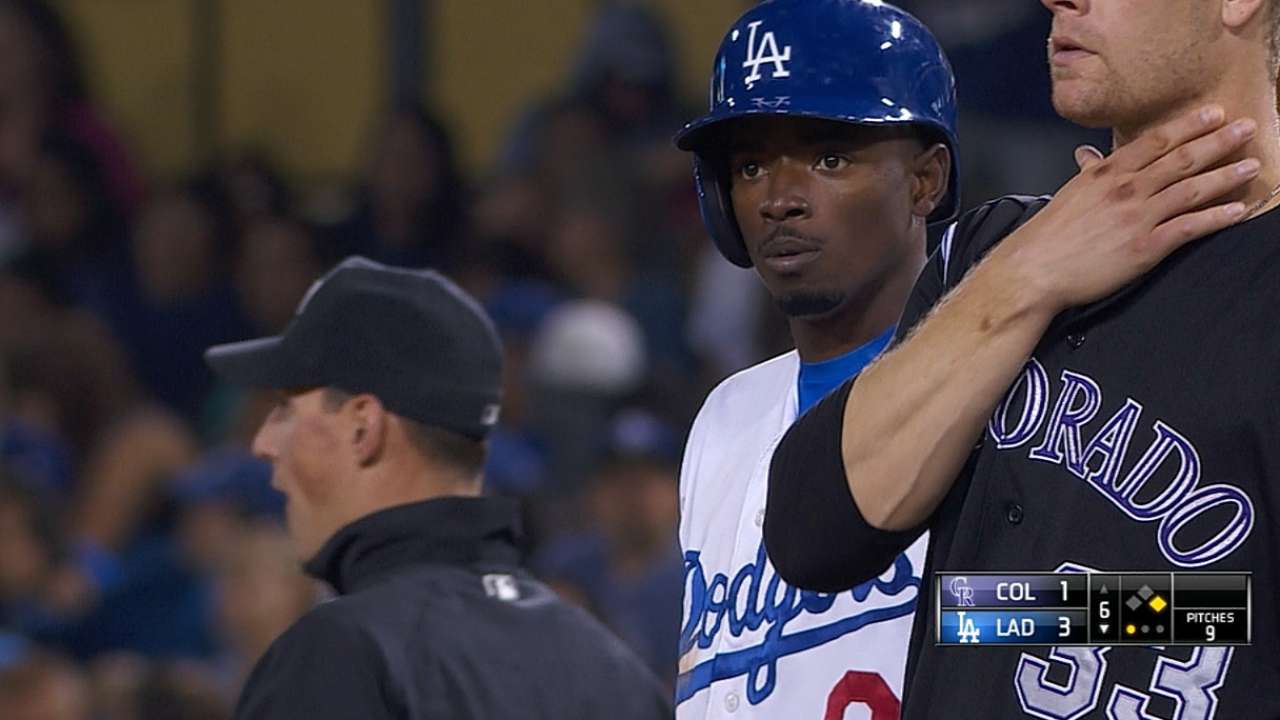 LOS ANGELES -- Since the manager called out his club for selfish play at the end of the last homestand, the Dodgers have gone 7-4, including a convincing 6-1 win that cooled off the hot Rockies Monday night.
"The whole last road trip we've had good energy in the dugout," manager Don Mattingly said. "We're just playing better. You can just feel a difference."
The Dodgers rebounded from a Sunday debacle against the D-backs by overwhelming the Rockies and rookie starter Tyler Matzek. They totaled 15 hits, four by All-Star candidate Dee Gordon, three by leading outfield vote-getter Yasiel Puig and a pair each from Matt Kemp and A.J. Ellis. They cut the lead of the idle Giants to six games.
Starting pitcher Hyun-Jin Ryu also rebounded from a loss in his last start with six solid innings to stop Colorado's five-game win streak.
"That's the hottest team in the National League coming in here right now, and he had command of all of his pitches and used both sides of the plate extremely well, especially to left-handed hitters, kept those guys off-balance," Ellis said of Ryu. "It's a dangerous, dangerous team, and he did a great job."
Ryu allowed one run on three hits to raise his record to 8-3, including wins in five of six starts since coming off the disabled list.
"Ryu pitched well with his fastball and changeup," said Rockies manager Walt Weiss. "We've seen him be tough on us before, and he was good tonight."
Mattingly said Ryu was a two-pitch pitcher last year, but has added a cutter along with a slider he already had but hardly threw.
"He's a handful," he said. "That guy can really pitch."
Gordon gave fans an early thrill, slicing a line drive in the third inning past diving third baseman Charlie Culberson and racing around the bases on a triple and blowing past the third-base bag to score when left fielder Charlie Blackmon misplayed the ball and then fumbled it trying to pick it up. The dugout danced it up when Gordon returned, celebrating their interpretation of an inside-the-park homer, but it officially went as a triple (Gordon's NL-leading seventh) and an error.
"I thought it was an inside-the-park, to be honest," said Gordon, who also walked. "I don't think he touched it [off the wall]. It is what it is."
The whole episode seemed to rattle Matzek, who walked Hanley Ramirez, then allowed sharp singles to Puig and Kemp for a second run. The Dodgers are 9-3 in games started by opposing rookies this year.
Ryu got a break in the first after a one-out walk to Brandon Barnes when Justin Morneau's two-out fly to right-center bounced off the warning track and over the fence for a ground-rule double, with Barnes sent back to third base. Drew Stubbs was caught looking at a third strike to end the inning.
Wilin Rosario, who doubled leading off the second inning but was stranded, drove himself in in the fourth with a two-out homer on an 0-2 fastball.
The Dodgers padded their lead in the fifth on an infield single by Puig and two-out singles from Andre Ethier and Ellis, the latter reaching base safely for the fifth consecutive plate appearance.
"It's a case for no rehab, right?" Mattingly said of Ellis, who was activated off the DL from a sprained ankle without serving a Minor League rehab stint.
Ellis said he spent the later part of his time on the shelf working with hitting coach Mark McGwire on his swing, mentally and physically.
"A lot of this time has been a blessing for me to figure out who I am and what my skill set should be as an offensive player," Ellis said. "I always want to get better instead of just being content with who you are. And that's a lesson I need to learn is that who I am is good enough. And I don't need to be doing extra at the plate."
Mattingly said Puig felt another twinge in his left hip flexor as he slid head first into third base on Kemp's RBI single in the third inning, but he stayed in the game.
In the sixth, Gordon singled with one out, was balked to second by Chris Martin and was attempting to steal third when he was singled home by Ramirez, who was doubled home by Kemp.
Puig picked up his first RBI since May 29 with an eighth-inning single, scoring Carlos Triunfel, who singled in his first at-bat with the Dodgers.
Ken Gurnick is a reporter for MLB.com. This story was not subject to the approval of Major League Baseball or its clubs.