From Gwynn, 'a legend,' Pujols mastered hitting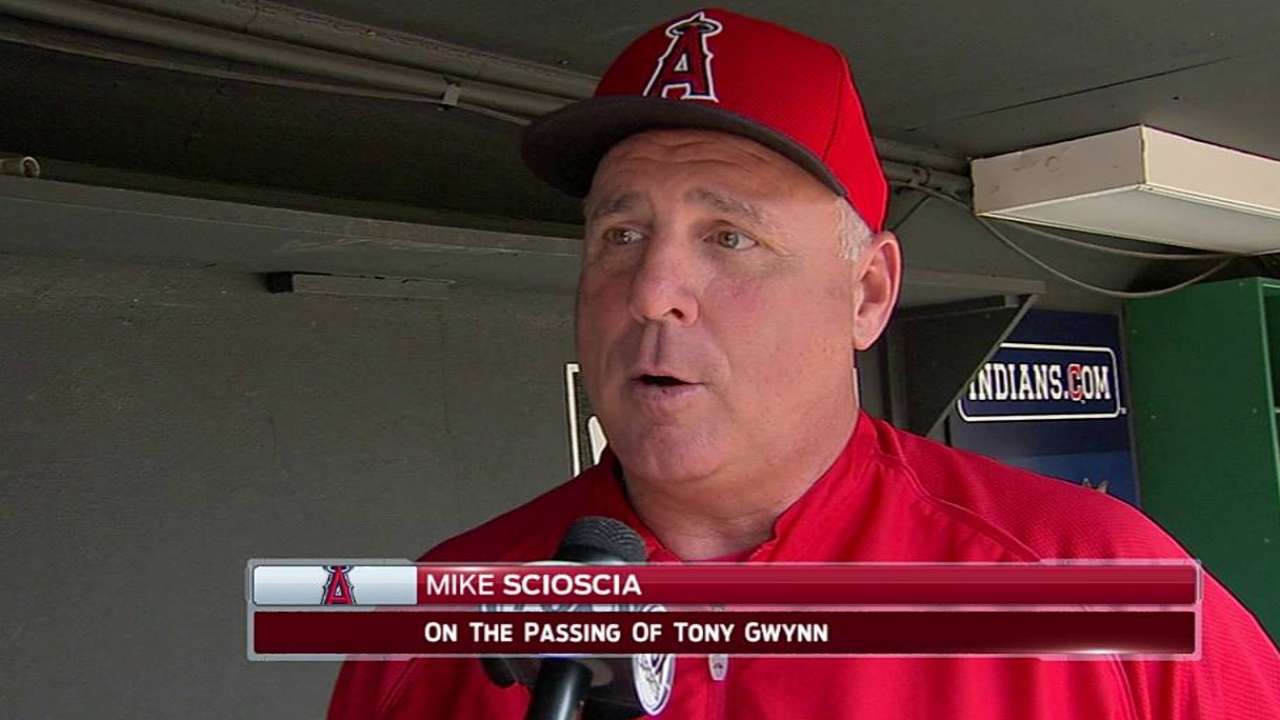 CLEVELAND -- Albert Pujols used to have this videotape of Tony Gwynn conducting a hitting clinic in the late 1990s. The Angels' first baseman was at Maple Woods Community College in Kansas City then, still striving to be the hitter who would establish himself as one of the greatest ever, and Gwynn was well on his way to a Hall of Fame career. So Pujols popped that tape in frequently, hoping to learn as much as he could from a master at his craft.
"I took a lot of notes off that," Pujols said Monday, the day Gwynn lost his multiyear battle to salivary gland cancer at the age of 54.
"It's a sad day," Pujols added. "Not just for myself, because I got to know him over the years, but for baseball. We lost a great man at a young age."
Pujols' first year with the Cardinals -- 2001 -- was Gwynn's last with the Padres, and Pujols got to be his National League teammate when Gywnn was an honorary addition to the All-Star Game at Safeco Field in Seattle that summer. Nearly two months later, when the Padres and Cardinals met for their first regular-season meeting, Pujols finally struck up the nerve to tell Gwynn about those videotapes.
But he never really talked to him about hitting.
"I wasn't that comfortable my first year in the league," Pujols said. "But he was always open to help all the young players."
Gwynn went down as one of the greatest hitters of all time, a guy who compiled 3,141 hits, sported a lifetime batting average of .338, won eight National League batting titles and never struck out more than 40 times in one season.
"A legend," Pujols said. "Just an unbelievable hitter. But I think for me, he was a better person, with everything that he accomplished in the game vs. off the field. What he's done, and what he did through his career in San Diego, it speaks for itself."
Alden Gonzalez is a reporter for MLB.com. Read his blog, Gonzo and "The Show", and follow him on Twitter @Alden_Gonzalez. This story was not subject to the approval of Major League Baseball or its clubs.