Rollins, Bowa reflect on all-time great Gwynn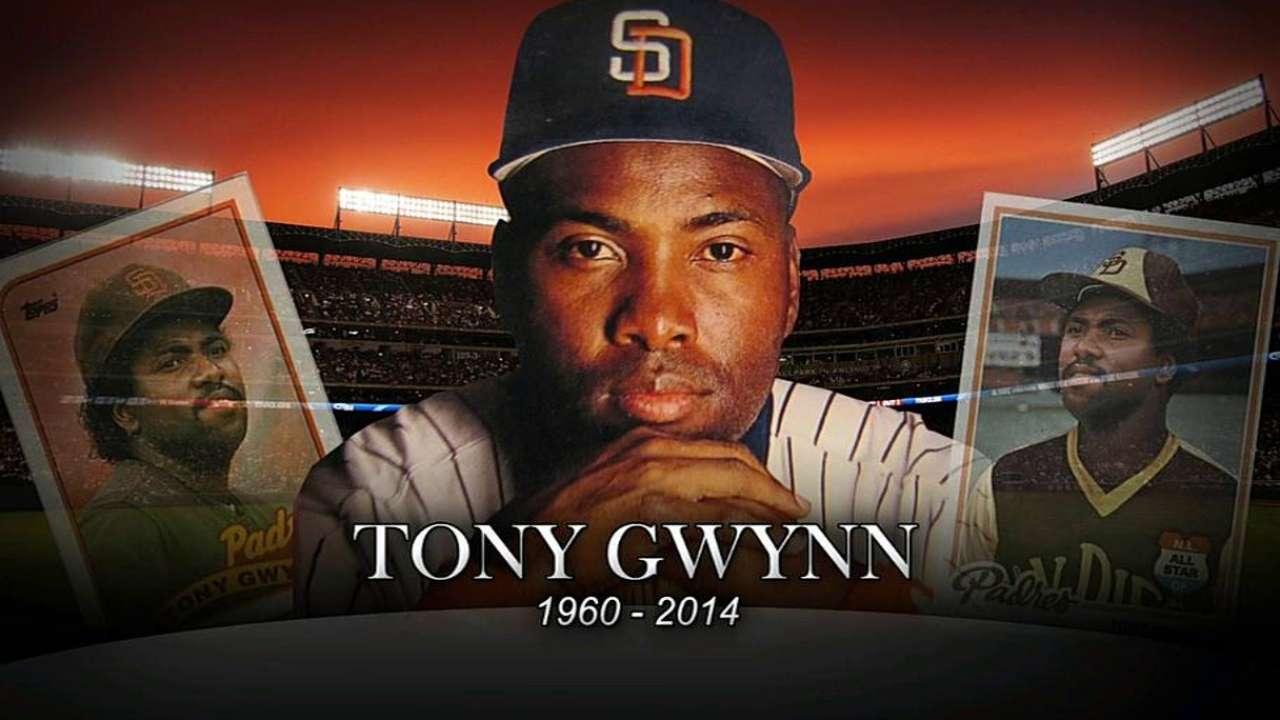 ATLANTA -- Jimmy Rollins smiled and laughed Monday as he recalled his winters past with Tony Gwynn.
Gwynn, one of the greatest hitters in baseball history, died Monday at 54 from oral cancer. Rollins spent time in San Diego working on his hitting with Gwynn before the 2003 and 2004 seasons.
"He's a kind person," Rollins said in front of his locker at Turner Field. "Always giving of his time. He was just a good man, you know? Just really a good dude.
"[Larry] Bowa was the one that set that up. 'Why don't you go hit with Tony?' It was one of those things like, 'Right, Tony Gwynn?' It's intimidating. That's crazy. Bowa is like, 'Yeah, why don't you try it?' Well, if he'll work with me. We were in San Diego, he went to talk to Tony, Tony's like, 'Fine.' I was like, 'OK.' The season ends and I'm like, 'Am I really going to go down and work with Tony Gwynn? What do I have to lose?' "
Rollins went to San Diego State every day for several days to work with Gwynn.
"Right away, he was able to figure out the pitches I could handle," Rollins said. "The first 20 swings, the pitches I could handle and the pitches that would be difficult for me to handle. Just by what he was seeing, he was able to evaluate. Then he let you figure out how to accomplish his drill. He'd give you tips along the way. Then very quickly I was like, 'This is why you're Tony Gwynn. Nobody else can do this.'
"It was half-serious and half-joking. I was basically saying, 'I see why you're such a good hitter. I'll do the work, but damn, but whatever you had, this was you, Tony."
Bowa managed Gwynn with the Padres from 1987-88. He remembered driving home from the ballpark one night around 11 p.m. and seeing the lights on at a nearby batting cage. He thought nothing of it at the time.
"The next day I get there, and he's always the first one there, and he's hitting and everything, and I said, 'Man, you got here early to hit,' and he said, 'Yeah, last night, too.' I said, 'That batting cage that I drive by?' He said, 'Yeah, I was hitting.' I don't know if he owned it, or knew the guy that owned it, but this is a great hitter, and it's 11 o'clock at night, and he's taking swings in the batting cage. He was an unbelievable guy. Forget what he did on the field. He was a great human being. I mean, unbelievable. It was an honor for me just to be able to manage him."
Bowa said Gwynn was the best pure hitter he ever saw.
"And I saw good ones," he said. "I saw Pete [Rose], I saw George [Brett] in the World Series, [Rod] Carew. They are all great hitters, but as far as who I want up to get me a base hit in a crucial part of the game, it has to be Tony."
Todd Zolecki is a reporter for MLB.com. This story was not subject to the approval of Major League Baseball or its clubs.