Phillies get back off mat to top Braves in 13 innings
Five-run deciding frame follows Papelbon's blown save; Hamels stellar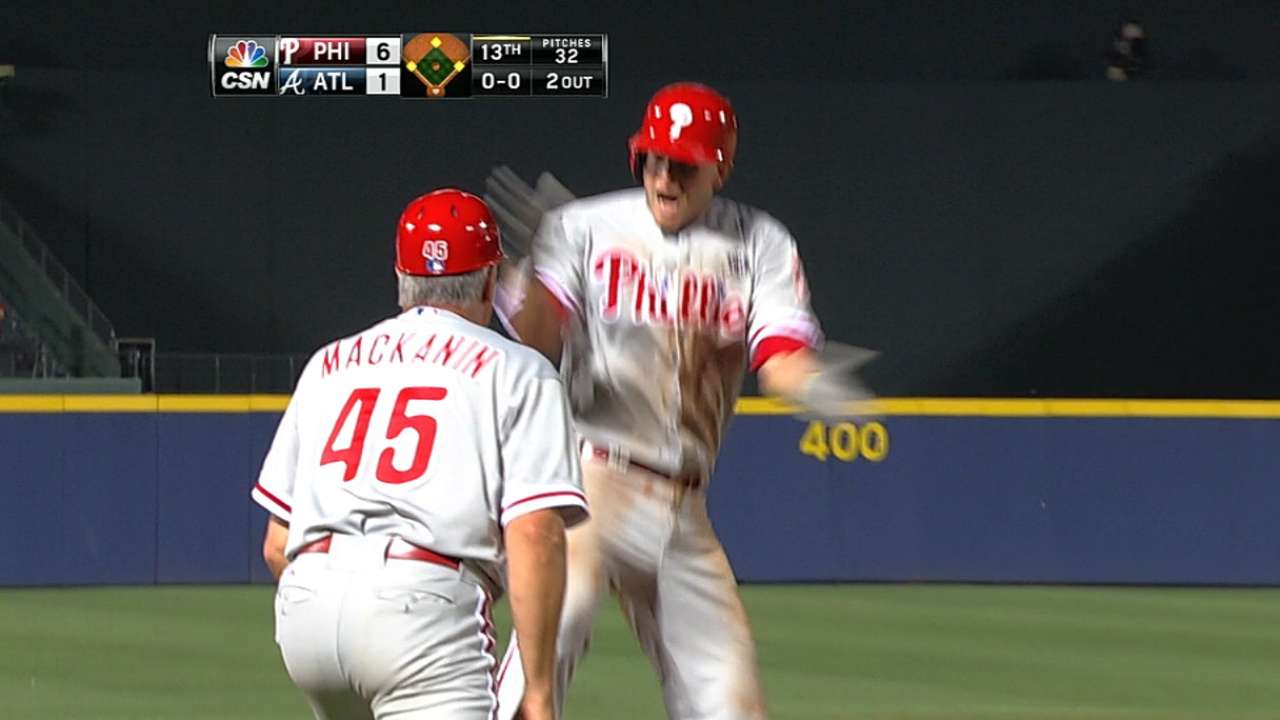 ATLANTA -- Phillies closer Jonathan Papelbon sounded like a frustrated, but relieved man early Tuesday morning at Turner Field.
He had blown his second save of the season and his first since April 2 in the ninth inning against the Braves to waste a splendid performance from Cole Hamels on Monday night, but the Phillies scored five times in the 13th inning in a 6-1 victory. The Phillies improved to just 30-38, but a quick peek at the National League East standings shows they are just 5 1/2 games out of first place.
Somebody make sense of that, please.
"I think it's just one of those years where it's going to basically come down to who can make a good little run in the division, divisional games," Papelbon said afterward. "I think tonight, despite me going out there and blowing the game, we really made a statement. I'm proud of the guys for picking me up. It's good to see. It's good to see that kind of coming around."
But can the Phillies get on a run? They have not won four consecutive games in more than a year, and they just dropped two of three at home this past weekend to the Cubs.
"Yeah, I definitely think we can," Papelbon said. "We haven't been catching many breaks, but that's part of it. You've got to play good baseball, and with good baseball, it seems like you get the breaks."
Papelbon entered the ninth 2-0 with a 0.36 ERA and 15 saves in 25 appearances since he allowed three runs in just one-third of an inning to blow his first save in a one-run loss to the Rangers in the second game of the season in Texas. He had allowed just 13 hits, one earned run, seven walks and had struck out 21 in 25 innings since.
But he allowed a leadoff single to Justin Upton, who hit a humpback liner just over the head of shortstop Jimmy Rollins. Chris Johnson followed with a ball that just got past second baseman Chase Utley. Andrelton Simmons then blooped a one-out single to shallow right-center field to score Upton to tie the game.
None of the balls were hit hard, but they each found the outfield grass.
"I'd rather get beat with line drives and mistakes and homers," Papelbon said.
The Phillies survived a botched play in left field in the 10th inning, when Domonic Brown misjudged Freddie Freeman's fly ball to the warning track. Brown jumped into the wall as the ball landed to his left. He then looked skyward as the ball bounced back toward the field. Freeman cruised into third for a triple, but Justin De Fratus worked out of the jam.
"It looked to me like a catchable ball," Phillies manager Ryne Sandberg said. "And then, I assume he thought the ball bounced over the wall. He lost track of it there."
The Phillies took the lead in the 13th. Ben Revere hit a leadoff single, stole second and advanced to third on Rollins' flyout to right. The Braves intentionally walked Utley to set up a potential double play. It was the fourth time this season a pitcher intentionally walked Utley to face Ryan Howard.
Howard, who homered in the second, was 0-for-2 with a hit by pitch the first three times Utley had been intentionally walked in front of him. This time, Howard hit a ball that went between Freeman's legs for an error to score Revere and hand the Phillies a one-run lead. Four more scored, including two on a triple from Reid Brignac.
Papelbon was off the hook.
"Hard-fought game," Sandberg said.
Hamels allowed five hits, two walks and struck out six in seven scoreless innings, finishing the night with a 23 2/3-inning scoreless streak, his longest since a 25-inning scoreless streak from Aug. 24 to Sept. 8, 2010. He also finished with a 0.30 ERA (one earned run in 29 2/3 innings) in four starts this month, and a 1.56 ERA (10 earned runs in 57 2/3 innings) in eight starts since May 6.
"Just being able to make pitches when I need to," Hamels said.
Hamels worked out of a big jam in the seventh to preserve his scoreless streak. He allowed a leadoff single to Evan Gattis, and Upton followed with a double to left field to put runners on second and third with no outs. Hamels then hit Johnson with a pitch to load the bases.
But Tommy La Stella lined an 0-1 fastball directly at third baseman Brignac for the first out. Hamels then got Simmons to ground an 0-1 cutter to Utley, who threw the ball to Rollins to help start an inning-ending double play.
Hamels had preserved the lead, but it wouldn't last for long. But this time the Phillies made up for their shortcomings and started a seven-game road trip with a win.
Todd Zolecki is a reporter for MLB.com. This story was not subject to the approval of Major League Baseball or its clubs.