Braves rally to force extras, but fall in 13 to Phils
Simmons ties game off Papelbon in ninth; missed chances throughout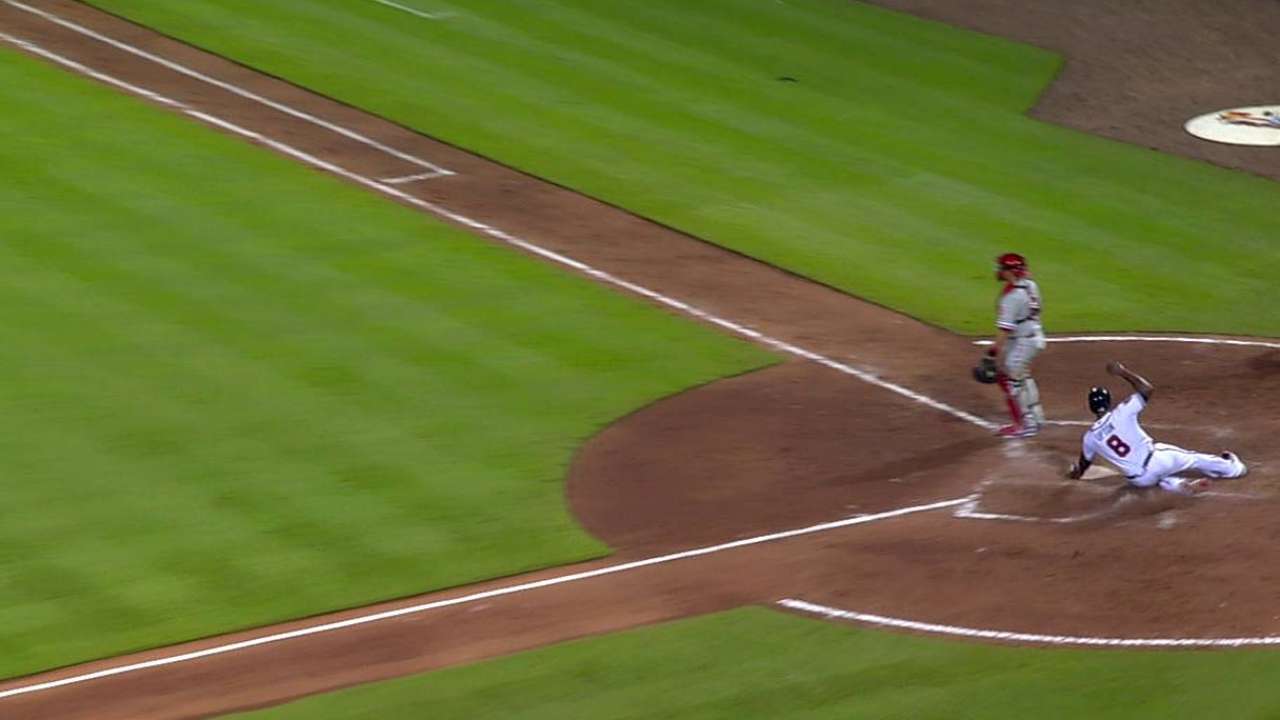 ATLANTA -- Freddie Freeman provided more indication that he's back on track, and Julio Teheran looked like an ace yet again. Unfortunately for the Braves, they also encountered discomforting familiarities on the way to suffering Monday night's 6-1, 13-inning loss to the Phillies.
Like 48 hours earlier against the Angels, the Braves squandered a number of prime scoring opportunities and consequently forced a fatigued David Hale to take the mound for what proved to be a frustrating and fatal 13th inning.
"We didn't score, and you start getting in the deep into the bullpen, and then you start putting guys into situations that they can hurt themselves or risk injuries, and it's not good," Braves manager Fredi Gonzalez said. "But we had some opportunities. We had some opportunities with the right people, I felt, at the plate, and it didn't happen."
Phillies center fielder Ben Revere singled to begin the final inning, and then advanced to third with a stolen base and sacrifice fly. He scored what proved to be the decisive run when Ryan Howard's scorching grounder got through Freeman's legs. Marlon Byrd added an RBI single, and Reid Brignac essentially sealed the deal with a two-run triple off Hale, who had thrown 42 pitches in Saturday's loss, which also concluded with a five-run 13th inning.
"You're always going to think about what could've been when you lose a game," Freeman said. "If I could have caught the ground ball, I might have been able to get the double play there. It's just one of those things, you have to play perfect baseball when you don't score enough runs."
While Freeman concedes he should have at least knocked Howard's sharp grounder down, the mistake was not nearly as bothersome as many of the others made by the Braves, who would have swept this past weekend's series against the Angels if Freeman had scored after reaching second base with none out during Saturday's four-run, ninth inning rally.
The Braves entered the 11th inning of this series opener against the Phillies having stranded two runners at the end of each of the previous four innings. Freeman's one-out triple off the top of the left-field wall in the 10th inning went to waste, and a bases-loaded, none-out threat in the seventh went unrewarded.
"The toughest thing is that we fought, we fought, we fought, hung in there, and they were able to get it done and we weren't," Jason Heyward said.
The Braves broke through in the ninth against Phillies closer Jonathan Papelbon, who had blown just one of his previous 16 save opportunities. Andrelton Simmons scored Justin Upton with a one-out single that landed in shallow right-center field.
When Papelbon ended the inning with consecutive strikeouts against Ryan Doumit and Heyward, there was reason to wonder if Gonzalez should have asked Tommy La Stella to execute a sacrifice bunt with the intent to advance the potential tying and go-ahead runners before Simmons came to the plate.
Gonzalez said his decisions to have La Stella swing away and pinch-run for Evan Gattis with runners at the corners and one out in the 10th inning were influenced by his desire to end the game before getting too far into his tired bullpen. He removed Gattis to try to stay out of a double play. But it did not matter, as Justin De Fratus got Justin Upton to pop up and then struck out Chris Johnson.
"Hopefully we keep having good outings by our starters and we can lay off a couple of those guys for two or three days in a row," said Gonzalez, who saw David Carpenter exit with right biceps discomfort during Monday's 12th inning.
Gattis extended his hitting streak to 16 games -- the longest by a catcher in Braves franchise history -- with a single in the seventh inning. But after B.J. Upton and Freeman recorded consecutives two-out singles off Jake Diekman in the eighth inning, Gattis ended that threat by striking out.
Most of the offensive production came after the exits of the starting pitchers. Teheran limited his damage over eight innings to Howard's second-inning leadoff homer.
Howard's solo shot provided an early advantage for Cole Hamels, who has worked 23 2/3 consecutive scoreless innings and has allowed just one earned run in the 28 2/3 innings completed during his past four starts. Hamels allowed the Braves to load the bases with none out in the seventh and then escaped the threat unscathed when La Stella lined out and Simmons grounded into his 10th double play.
"If you can take a positive out of this one, we had a lot of opportunities and we had a lot of hits," Freeman said. "Our offense has been swinging the bats well lately. We just didn't get the key hit tonight."
Mark Bowman is a reporter for MLB.com. This story was not subject to the approval of Major League Baseball or its clubs.