Bauer, Carrasco do heavy lifting to help Tribe
Backed by two homers, starter goes 119 pitches; righty logs first save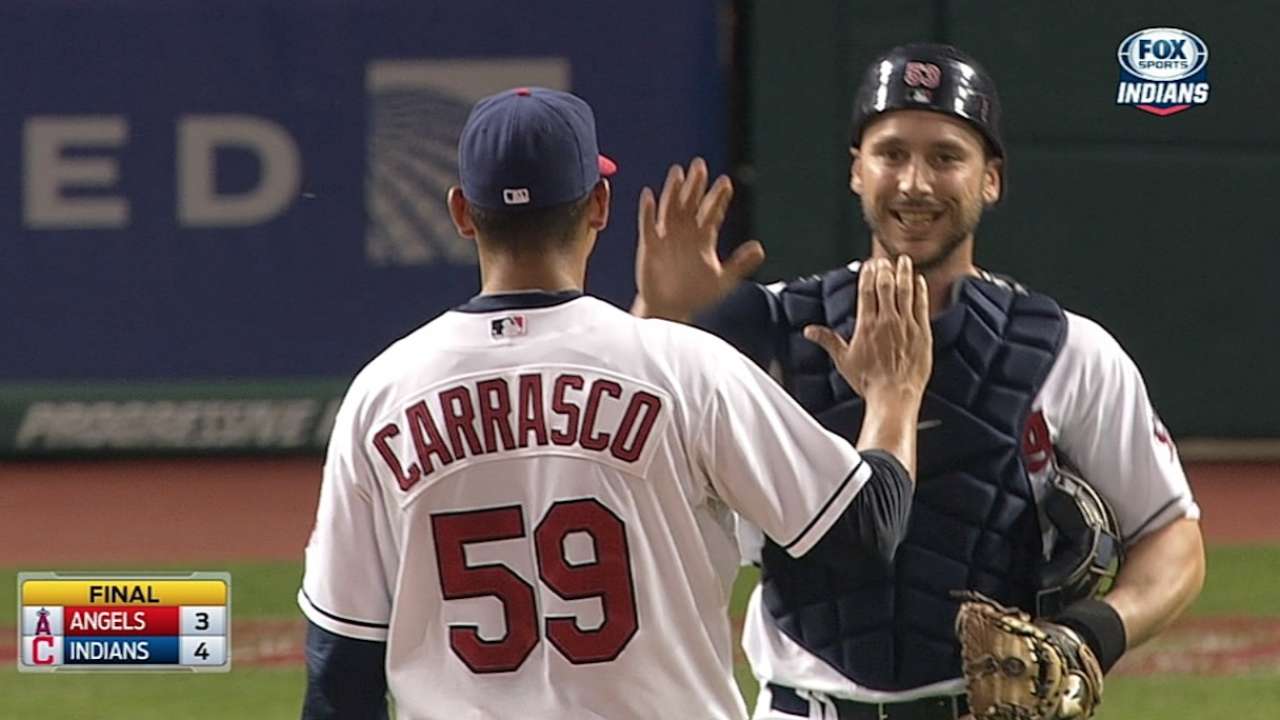 CLEVELAND -- Carlos Carrasco stepped onto the mound in the seventh inning on Monday with a one-run lead and one of the toughest lineups in the American League standing in his way. Two innings later -- even with Mike Trout, Albert Pujols and Josh Hamilton due up for the Angels -- his team called on him to pitch one more.
He remained as calm as ever. The crowd only got louder.
"He was stoic, like he kind of expected it," pitching coach Mickey Callaway said. "I didn't notice that he was over-anxious or too pumped up. He just said, 'OK.'"
Down went Trout on a groundout to second. Then Pujols flied out to left field. And by the time Hamilton had whiffed on a two-strike slider, Carrasco had gone seven outs for his first career save, and the Tribe had done just enough to edge the Angels, 4-3, at Progressive Field.
It was a fresh feeling the right-handed reliever more than welcomed after struggling to a 6.95 ERA as a starter to begin his season.
"My mentality is way different," Carrasco said. "Attacking the hitter and everything ... because the game was on the line, 4-3. I used more breaking stuff."
Of Carrasco's 33 pitches, only 11 were fastballs.
Carrasco ended his night with 2 1/3 scoreless innings, allowing just one hit while striking out four to send the Indians (36-35) above .500 once more. In doing so, he became the first Cleveland pitcher to record a seven-out save in a one-run game since Rod Nichols in 1991.
"I think today there was no reason to take him out of the game," Indians manager Terry Francona said. "It's a one-run game and you kind of have to prepare for that. But he executed pitches. Even after the leadoff walk, he speeds up his delivery, makes a pitch."
Adding to Carrasco's excellent effort out of the bullpen was yet another solid start from Trevor Bauer, who lasted 6 2/3 innings, holding the Angels to three runs on eight hits while striking out six. Perhaps more important, the Tribe was able to ride Bauer for a career-high 119 pitches and protect its depleted bullpen, which had combined to pitch 15 2/3 innings over the previous three games.
Of course, Bauer maintained that he could have gone deeper if needed.
"I would've liked to last longer, be more efficient," Bauer said. "I pitch every fifth day, so I'd rather go out there and be able to do that for the 'pen and throw a lot of pitches. I train to be able to do that. Hopefully as time goes along I'll be able to throw more pitches, especially on nights when I'm not as efficient as I could be."
For the Angels, who left 10 men on base and went 1-for-9 with runners in scoring position, it was a night of frustration and missed chances.
"We had a lot of opportunities," manager Mike Scioscia said. "A lot of opportunities and couldn't cash in on enough of them to get the game where we wanted, but we certainly had some opportunities."
On the other end, the Indians recorded only six hits, but they managed to make the most of them, plating four runs on five hits off Angels starter Jered Weaver. Two were a product of Asdrubal Cabrera's two-run homer in the first inning, while a third -- which gave the Tribe a one-run lead it never relinquished -- came on a fourth-inning solo shot by Carlos Santana.
Santana is hitting .343 with two home runs and eight RBIs since returning from the disabled list on June 6.
"He's starting to swing it. I think it was inevitable. He's too good a hitter," Francona said. "They're not just singles. He's going to take walks, hit home runs, have extra-base hits. It'll help us."
The Indians and Angels went back and forth through the first four innings.
Following Cabrera's home run, the Angels countered with two runs of their own in the next frame on Chris Iannetta's two-run double.
Each team tacked on one more run -- Cleveland on a Michael Brantley RBI single and the Angels on a John McDonald sacrifice fly -- and remained in a deadlock until Santana put the Tribe up for good on his solo shot.
As for Carrasco, who was moved to the bullpen after struggling as a starter earlier in the season, he says he is finally growing comfortable in his new role as a long reliever. Since losing his spot in the rotation, he owns a 2.18 ERA in 12 relief appearances, striking out 18 while walking just four.
"Before the [ninth] inning, I just went and set out in my mind what I need to do in the last inning," Carrasco said. "Because Mickey told me, 'Get going.'"
If Callaway has his way, perhaps the strong outing will get even more going for the 27-year-old Carrasco.
"Hopefully, that's an 'I'm a Major Leaguer' moment," Callaway said.
Alec Shirkey is an associate reporter for MLB.com. This story was not subject to the approval of Major League Baseball or its clubs.